Pirin is one of the most beautiful mountains in Bulgaria, which impresses with amazing natural beauties and impressive peaks.
Why are we telling you this? Because we want to introduce you to one of the most exciting, beautiful, but also hard-to-reach places in the region – Koteshki chal.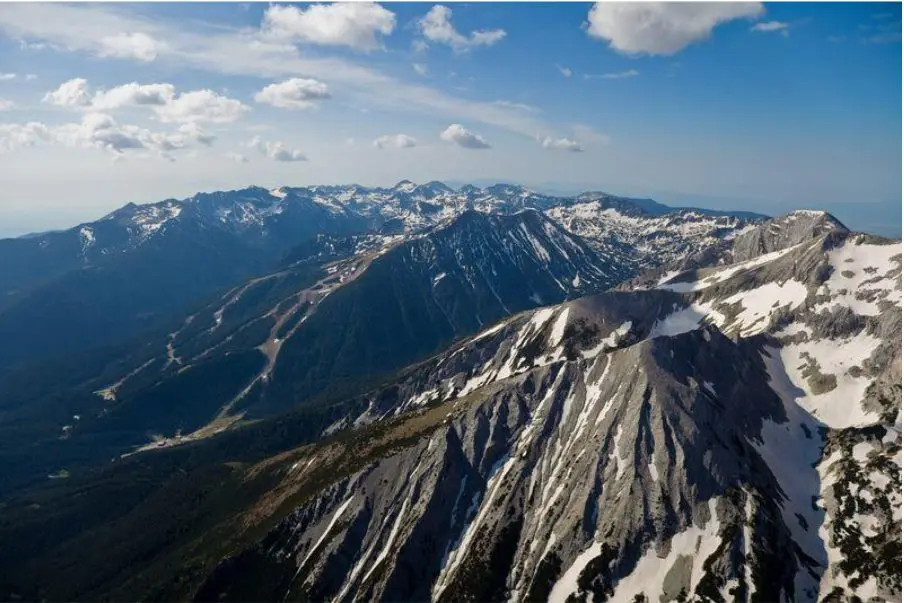 Image source: luckybansko.bg
What is Koteshki chal and where is it located?
Koteshki chal or Koteshki rid is a steep karst ridge that is a branch of the main karst ridge of Northern Pirin.
It separates from the ridge in the north-northeast direction in the direction of a nameless peak in the northwest towards the Banski Suhodol peak, and in its lower parts is the Duninoto kuche peak (2481 m).
As a peak, Koteshki chal is not very prominent and, generally speaking, it represents a sharp and extremely narrow rocky edge, the slopes of which descend almost vertically towards the cirques Bayuvi dupki and Banski suhodol.
According to experienced mountaineers, its technical passage is not particularly difficult, but since the edge is very narrow (only 20 cm in places) and its slopes are steep, it is pretty dangerous, especially in winter.
Then snow visors form and there is a danger of avalanches, which is why crossing the alpine ridge is quite risky and not recommended for people who do not have enough experience and are not equipped with the appropriate alpine equipment.
How can you get to Koteshki chal from Bansko and the region?
Koteshki chal falls within the boundaries of the "Bayuvi dupki – Djinjiritsa" reserve, and there are several hiking routes by which you can reach the chal and they start from the Vihren and Bunderitsa huts, as well as from the Yavorov hut.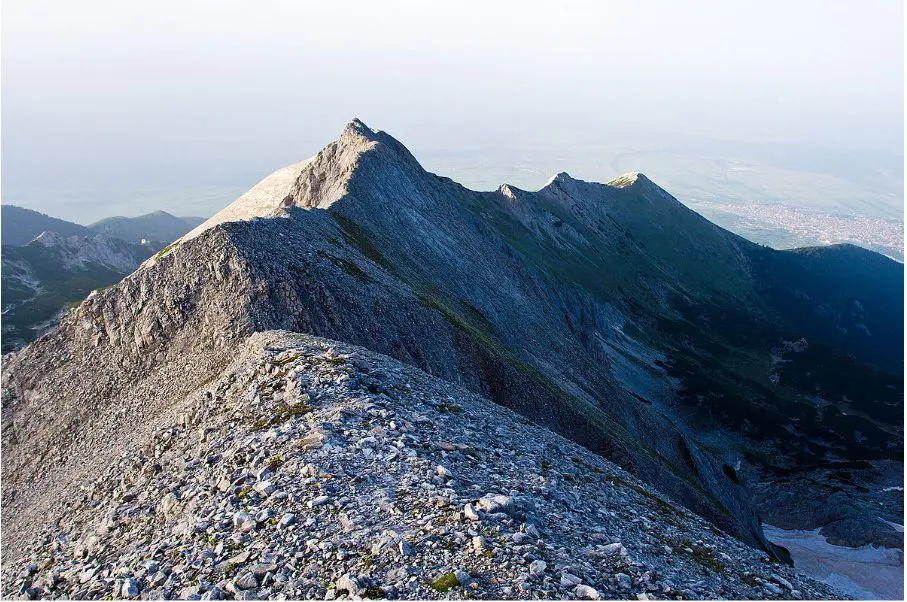 Image source: wikipedia.org
Popular routes around Koteshki chal in Pirin
Before introducing you to the routes, we would like to emphasize once again that crossing Koteshki chal is an extreme alpine experience.
Therefore, we recommend that if you are not well prepared or have a fear of heights, you should choose another, easier hiking mountain route around Bansko.
And if you still decide you can handle it, the better solution is to attack the alpine ridge by hiring a guide or joining a group that is led by trained mountain guides.
Koteshki chal – route from Vihren hut
This route is one of the most popular ones. Its starting point is Vihren hut, which you can reach either by private car or by regular bus line from Bansko.
From the hut, you should take the marked hiking trail that leads toward Koncheto. Before reaching Koncheto, however, you have to pass through Kazante and reach Premkata.
If you go through the Premka, the extreme crossing of the Horse follows. You have to be extra careful here as you will be walking on its crest and slips are not desirable.
The good thing is that the section is secured with ropes and you just have to hold on to them and not get distracted.
If you pass through Koncheto, you will also reach the Koncheto shelter, from where Koteshki chal begins.
At first Koteshki chal doesn't seem that difficult or dangerous, but after a few minutes of walking the rocks get steeper and the edge you have to walk on gets narrower and narrower.
Crossing the ridge of Chala takes little time, but it is quite extreme and dangerous, since, unlike Koncheto, there are no safety ropes here.
If you cross the chala, you can continue to the nearby peak Duninoto Kuche or return the same way to the Vihren hut.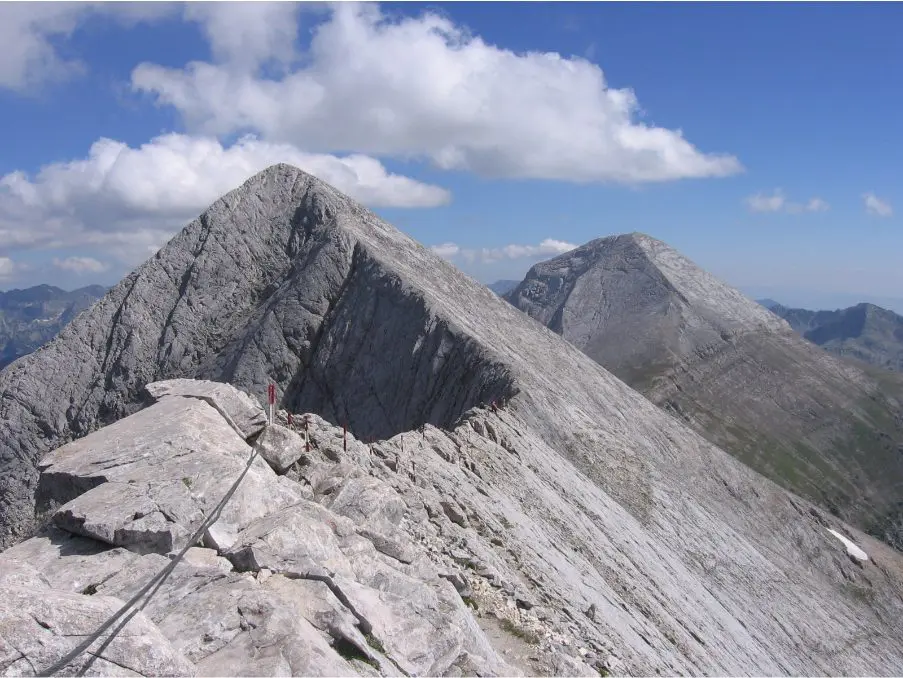 Image source: wikipedia.org
Koteshki chal – route from Banderitsa hut
This route starts at Banderishka Polyana and Banderitsa Hut, which you can reach by private car.

From the hut, you should go in the direction of the cirques of Banski Suhodol. After passing through the cirques, there is an extreme ascent of the Duninoto kuche peak and you will reach the Koncheto shelter.
From there it follows a passage through Koteshki chal and through Koncheto. If you pass through Koncheto, you should continue to Premkata, Kazanite and get off at the Vihren hut.
Koteshki chal – route from Yavorov hut
The starting point of this route is from the Betolovoto area, from where you have to take the tourist trail in the direction of the Yavorov hut.
If you reach the hut, after a short rest you should go in the direction of Pareva Polyana. The path that will lead you is well-marked (in green markings) and is quite wide, so you cannot miss it.
However, at some point the path narrows, but you have to keep following it and after about 40-50 minutes you will reach Pareva Polyana.
When you get there, look around for a forest path that starts at the northeast end of the clearing and enters the forest.
Follow this path and in about an hour you will come out of the forest and reach Premkata on the ridge of the chal, and from there through Koteshki chal to Duninoto kuche peak.
Koteshki chal – from Vihren hut (route no. 2)
As you already guessed, the starting point of this tourist route starts from Vihren hut.
From there, along a marked path, you climb Kazana, cross Koncheto and continue to the Koncheto shelter.
Here you can rest a bit and enjoy the beauty of Pirin, then it's time to climb Banski Suhodol. From there, there is a passage through Koteshki chal and for "dessert" a climb to Dunino kuche peak.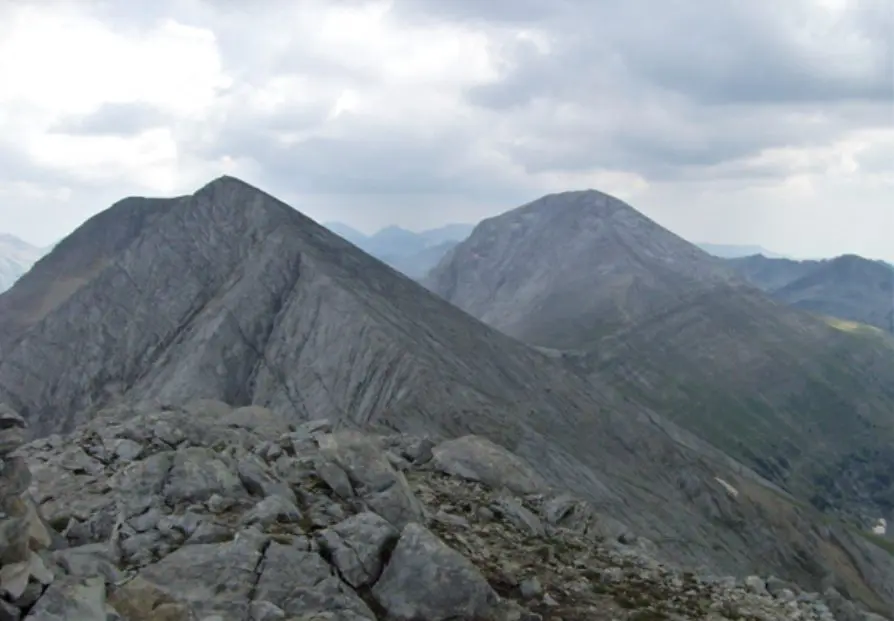 Image source: luckybansko.bg
Can you walk over the edge of the Koteshki chal?
As we shared above in the text, going over the edge of the chala is possible, but you have to be very careful.
The distance you have to cross is not great, but the edge you will have to walk on is extremely narrow and what is even more dangerous – it needs to be secured.
Also, the rocks are quite crumbly in places and it is highly recommended to be careful when grabbing onto rocks or stones.
Crossing the Koteshki chal is not for people who lack experience and good alpine equipment or who suffer from a fear of heights.
And something else. Although technically Chala is not a big challenge and can be crossed in winter, mountain guides do not recommend doing it, because in winter, as we have already noted, snow cap form, which are dangerous.
In addition, avalanches often occur in winter, further increasing the danger.
To save you all these worries, if you still decide to get your adrenaline pumping by going in front of Koteshki chal in Pirin, our advice is to undertake the adventure only with a qualified mountain guide.