Pools and Spa in Hotel Lucky Bansko & Spa
SWIMMING POOLS AND SPA CENTRE IN LUCKY BANSKO HOTEL & SPA
If you are searching for the best SPA hotel in Bansko, you have to visit Lucky Bansko SPA & Relax Aparthotel!
It is not only a luxurious 5-star hotel but also a health centre to solve health issues, complete supporting health therapy or pleasure procedures and stress relaxation.
The new ultramodern SPA centre opened in 2016 and offers more than 28 functions and modern equipment.
The only bio swimming pools in Bansko designed both for children and adults, with water temperature of 33 degrees, are purified without using toxic chlorine.
The water in the swimming pools of Lucky Bansko is purified using a new innovative chlorine-free technology, with ionization, ultraviolet radiation and sea salt electrolysis.

The children pool is 50-55 cm deep and the depth of the adult one varies between 140 and 160 cm.
There are additional extras for the adult swimming pool: underwater music and hydrojet.

The pools meet all safety requirements and there are certified life-guards taking care of those who bathe.

A salty pool – a small swimming pool located very close to the other two pools with water temperature 33º C.
It is salty because salts from Dead Sea are added to the water in order to help regenerate the skin, making it more vital and elastic.
Salt hall (relax zone) built with Himalayan salt bricks.
This is the only halotherapy salt hall – a magical place designed as relax zone to the pool with tender and calm background music.
The golden brown soft light in the salt hall comes from the walls made of bricks of 100% natural Himalayan salt.
Dry aerosols emitted by the Himalayan salt when it is warmed have strong antiseptic action.
When inhaled, fine salt particles absorb liquid (mucus) from the nose and sinus and take them out of the respiration system.
The remedy effect of halotherapy in cases of respiratory and dermatological diseases is proven to affect positively the psychological disorders.
In addition, salt crystals neutralize the electromagnetic smog which is accumulated as a result of the excessive daily use of mobile phones and computers.
50 minutes of therapy in a salt hall is equal to 4-hour walk in a pine forest.
Jacuzzi, shock bath, contrast, adventure and hydromassage shower.
Hydrotherapy is very favourable for the body, having both caring and protecting effect on skeletal system and muscles.
It improves blood circulation, relaxes the muscles, drains the lympha, eases the brain and the nerves, and relaxes the whole body.
2 Finnish saunas (one of them is herbal), 1 infrared sauna and 2 steam baths.
Those therapies are usually considered pleasant and relaxing but they also are very healthy.
Sauna is designed for people with healthy hearts because temperatures reach 80-100º C while the air stays dry.

Finnish sauna increases the heart beating rate as if walking; it stimulates the blood circulation and takes toxins out through perspiration.
Steam bath is gentler to the body since the maximum temperature reaches 55º and the air is humid. Breathing air mixed with aroma oils clarifies the respiratory tract; the bath also opens the pores, relaxes the nervous system, takes toxins out of the body, moisturizes the skin and makes it more elastic.
Infrared sauna is recommended for people who suffer heart diseases, arthritis, eczemas, chronic tiredness.

Hammam and Rasul for individual therapy

The Turkish bath (hammam) starts with warming the body, then it clear it with water, then perspiration on a warm stone bed follows, soaping and rubbing with "kese" (peeling glove), rinsing, and relaxing.
If you wish, you may combine it with a steam bath.
The therapy has detoxifies, purifies, and improves the overall health condition.
Rasul is a traditional Arab therapy which clarifies the skin deeply and gives you the sensation of cleanliness and relax.
It is recommended that you stay in steam bath for 10-15 minutes before rasul in order to relax. Then healing mud or clay shall be applied on your entire body in the rasul.

In our SPA centre we use healing mud from the peat bog of Kyustendil. It is a valuable natural product rich in chemical and biological substances: ions, acids, vitamins. It is used to heal diseases of the skeleton-muscular system, gynaecological and dermatological diseases, diseases of the peripheral and central nervous systems. Mud application has a complex healing effect on the body by improving metabolism, strengthening the immune system, the trophic of the tissues, and by reducing blood glucose and cholesterol.
Rasul also offers clay therapy. Healing clay has the extraordinary ability to extract the extra sebum, as well as the accumulated toxins and dirt, resulting in a revitalized, recovered, smooth and firm skin.

The temperature of the ice hall reaches -18 degrees and snow sticks to your skin. This innovative experience is only available in modern SPA centres.
It is normally used after sauna, but unlike contrast swimming pools and showers, the cooling effect of the ice hall is gentler.
The reason is the dry air that doesn't allow feeling the cold.
It energises the body, refreshes and relieves the mind. It is not recommendable for people with heart diseases.
Solarium
Ergoline vertical solarium is highest class device that ensures you uniform chocolate skin tan even in winter.
The device is seriously protected and only allows beneficial alpha rays to reach the body and make skin's colour to get darker.
Certificated Garra Rufa fish massage
The fish used to make fish feet massage are specially certificated.
These extraordinary heat-tolerant small fish which grow maximum up to 12-15 cm in an aquarium, live in water of up to 35º C and have healing qualities known for centuries.
They eat dead and diseased tissues and in this way they perform natural peeling and skin regeneration.
If they touch the body they release the dithranol enzyme which repairs the skin.
After a fish massage the skin is soft and tender and the massage feeling is pleasant and relaxing, like caressing with light pinching.
Fitness centre
Our fitness centre is equipped with TechnoGym devices.
We have 2 treadmills and 1 Cross Trainer for cardio exercises, 2 benches for sit-ups and back presses, 1 bench for dumbbell exercises, wall bars and a single-side Crossover.
Cardio exercises improve the heart health, increases resistance, accelerates metabolism, relieves stress and balances the hormones.
The sit-up bench is the most popular exercise for abdominal muscles which help building strong, resistant, balanced in power and functions abdominal girdle.
The bench for back presses aims at strengthening the muscles on the back of the body which tend to be less trained, and at restoring the balance between abdominal and back muscles.
The bench for dumbbell exercises offers the opportunity to exercise separately each side of the body. It also helps burning calories, building muscles and increasing your resistance.
Wall bars improve the balance, strength and flexibility.
The single-side Crossover (Fitness crossover or adjustable reel) is used to diversify the exercises for triceps, extension, biceps flexing, adduction/abduction.
Therapeutic bath of last generation hydrotherapy offers 15 programs in combination with pearl, swirling or tangent underwater massage.
When you use the bath, your body is conditionally divided into 4 different zones and procedures of different intensity and type might be applied to each of them. An additional effect is a colour (chrome) one.
Pearl bathe is amazingly tender, relaxes the senses and relieves all body tensions.
Swirling massage gives you the feeling of ease and perfection applying consecutive water flows in four zones while hydromassage helps the swellings go down and has relieving and painkilling effects.
Tangent massage is extremely efficient and protects articulations while fighting cellulite.
The thermal effect of water under pressure applied by an experienced therapist to the problematic body areas affect deeply the fat depots and helps fighting cellulite and making the skin smoother without pressuring the skeletal system.
Water bed combined with steam bath and Vichy shower
The SPA centre of the hotel also offers water bed with 6 functionalities: Water bed, chromotherapy with 6 colours, individual steam bath, Vichy shower, application of micronized seaweeds and, for the first time in Bansko, application of healing peat mud from Kyustendil.
It is highly recommendable for people with diseases of the locomotor system, but also for relieving stress, detoxification or just pleasure.
Cosmetic therapies
Our SPA centre offers extremely professional care for your face including different cosmetic therapies:

Intraceuticals – needleless (non-invasive) mesotherapy giving visible results after the first procedure. Strong antioxidant action is guaranteed. It consists of interdermal penetration of oxygen flow under pressure and hydration with 95% pure hyaluronic acid and multivitamin complex. It is a brand new technology which allows treating both the upper and lower eyelids, as well as the whole eye contour. This therapy conquered Hollywood and is daily practiced by celebrities like Madonna and Victoria Beckham.
Thalgo – indisputable expert of sea cosmetology with over 50 years of experience in skin care.
Every year Academie creates new products rich with active elements to answer your personal needs and provide you with visible results.For a maximum effect you might combine every cosmetic therapy of Thalgo or Academie with Overline devices of the Italian company Tecnology.
Ultrasound face peeling – removes the surface layer of dead cells and minimizes the signs of ageing – pigmented spots, wrinkles and dehydration.
Radio wave face lifting – regenerates firms loose skin with fast and visible effect for problem zones.

Manicure and pedicure studio
We offer manicure and pedicure in the studio using CND products. This is an innovative product that improves the nails' surface and smooths any roughness, leaving perfect appearance of natural nails.
The procedures offered by the studio are: classical manicure/pedicure, manicure/pedicure for children, feet polishing with electric file, application of nail strengthener. We also offer shellac manicure and pedicure (technology which combines the comfort of nail polisher with the durability of gel).
In order to make your hands/feet soft and smooth, you can complete a paraffin therapy which stimulates blood circulation. Paraffin ingredients include vitamins, collagen, and extracts that whiten the skin and smooth wrinkles.
Therapies for children
The hotel SPA centre offers healing and relaxing massages and therapies for children. For some children they are a matter of need, while others aim at creating healthy habits for body care.
Working hours:
Spirng, summer, autumn: 8:00 AM – 9:00 PM
Winter: 8:00 AM – 10:00 PM
Lucky Bansko SPA & Relax Aparthotel ***** combines luxurious vacation with healing procedures.
If you are a guest of the hotel, you can use the swimming pools, salt hall, ice hall, sauna and steam baths, adventure showers, Jacuzzi, and the fitness centre absolutely free.
In spring, summer and autumn all guests of the hotel receive 20% discount of winter rates for paid therapies and procedures.
The hotel is a wonderful choice for your luxurious vacation and a secure investment in your health!
---
---
Aqua Complex "Leonardo" With Outdoor Pool
The Leonardo Aqua Complex has two outdoor pools – one for children of up to 6 years of age, with a water slide.
The water is continually heated.
A lifeguard is provided.
The Aqua Complex is in the town of Bansko, in immediate proximity to Lucky Bansko SPA & Relax Hotel and is an inseparable part of Italian Restaurant "Leonardo".
Comfortable teak-wood deck chairs, a table, and luxurious pavilion tents are available for you. Professional sound systems are provided and the music can be heard even underwater.
Order our tasty cocktails, chilled wine and food suitable for consumption on a deck chair.
The Aqua Complex is open 7 days each week, from 10 AM to 8 PM, from June to September.
You can use a 50% discount after 4 PM during weekdays.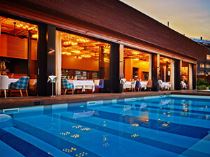 ---
---