About Bansko: Get to Know Bulgaria's Top Ski Resort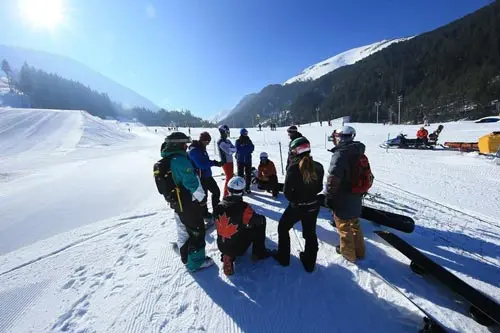 The town of Bansko is an internationally renowned mountain resort that attracts numerous tourists from Bulgaria and abroad in all seasons. In Bansko and the region, there are 320 accommodation facilities which have more than 16,000 rooms in guest houses, 2-star, 3-star, 4-star, and 5-star luxury hotels, providing fantastic value.
Shops offer a variety of goods such as sports goods, fashion goods, items of everyday life, folk crafts, and artwork. ATMs are placed at key locations such as public buildings, museums, hotels, bars, nightclubs, and near the ski lift.
A number of national and prestigious international alpine skiing competitions take place in the Bansko ski resort in the winter. There are ideal conditions not only for professionals but also for skiing amateurs and beginners – including plenty of snow, different pistes, and thrilling ski runs.
A variety of entertainment activities and attractions are offered both in the town and on the Pirin mountain. Outings and hiking trips to natural, cultural, historical, and architectural landmarks are organized, while some of these landmarks are unique not only to Europe but also on a global scale.
There are opportunities for many sports, including extreme sports such as snowboarding, rafting, and mountain hiking. The cultural calendar is full of international festivals, competitions, and concerts throughout the whole year.
Apart from vacation and team-building activities, Bansko provides beyond suitable conditions and great value for business meetings, conferences, and internships. For example, the 5-star Lucky Bansko SPA & Relax aparthotel has hosted the prestigious international fitness festival for three years in a row and welcomed 600 fitness instructors from all over the world in 2016.
The town has around 8,000 residents but the constant flow of tourists to the modern ski resort makes it very busy all year round.
Below, you will find all you need to know about the Bansko ski resort before visiting: its history, climate, culture, and up-to-date advice about the best deals for accommodation, equipment hire, and unlimited ski adventure.
Bansko Municipality and Ski Area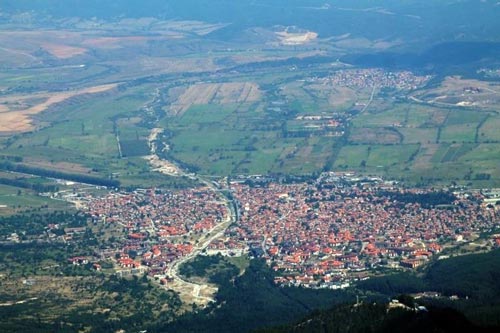 The town of Bansko is a well-organized municipality center. Bansko Municipality is situated in Blagoevgrad District and has a population of a bit over 12,000 people.
Apart from the municipal center of Bansko, the town territory includes the town of Dobrinishte, which is a balneology resort located 6 km from the town of Bansko, and the villages of Filipovo, Mesta, Obidim, Kremen, Osenovo, and Gostun.
The town is located about 160km away from Sofia Airport, thus being very fast and easy to reach for a ski holiday. Most hotels will even offer you one-way and two-way transfers for perfect convenience. All you need to do is fix your arrival and departure date and enjoy!
The museums and architectural reserves in Bansko Municipality and its Old Town are also well-maintained. For further information please visit the official website of Bansko Municipality.
Geographical Location and Map of Bansko Ski Resort
Bansko is situated at the northern foot of Pirin Mountain. Bansko Municipality borders the municipalities of Razlog, Sandanski, Kresna, Belitsa, Gotse Delchev, Garmen, and Velingrad which are included in the Pazardzhik District.
Bansko is easy to reach. It is located 160 km south of the capital Sofia, 120 km of which is a highway. It is 145 km from Plovdiv and 56 km from Blagoevgrad. You can use buses from Sofia and the bigger towns of Bulgaria.
Pirin is a mountain of alpine character and its relief is highly varied: from a flat surface on river beds to hilly and clearly expressed mountainous terrain. Bansko is situated at 927 meters above sea level; its height along the Mesta River is 600 m, and the highest point is the Vihren peak which is 2,914.3 m.
The average height is quite high – 1,033 m. This makes Pirin the second highest mountain in Bulgaria after Rila where the Musala peak is 2,925 m high. As a result, the resort attracts not only skiers and all other tourists but also alpinists.
Near Bansko is Pirin National Park which, together with Rila and Central Balkan, is one of the three national parks in Bulgaria. Moreover, the park is recognized by the United Nations as one of the territories of global importance in Europe. It has the natural biosphere reserve Bayuvi Dupki – Dzhindzhiritsa which is included in UNESCO's World Network of Biosphere Reserves.
Historical Climate Data
Systematized climate data from Stringmeteo shows the following patterns for Bansko in the period from 2000 to 2014.
| | | | | | | | | | | | | | |
| --- | --- | --- | --- | --- | --- | --- | --- | --- | --- | --- | --- | --- | --- |
| Month | Jan | Feb | Mar | Apr | May | Jun | Jul | Aug | Sep | Oct | Nov | Dec | Year |
| Average high °C | 3.1 | 5.5 | 9.6 | 15.7 | 20.8 | 23.9 | 26.8 | 26.9 | 23.1 | 17.2 | 11.1 | 5.3 | 15.7 |
| Daily mean °C | −1.6 | 0.7 | 4.3 | 9.6 | 14.5 | 17.7 | 20.2 | 20.1 | 16.1 | 11.1 | 6.4 | 0.3 | 10.0 |
| Average low °C | −5.7 | −4.1 | −1.1 | 3.5 | 8.1 | 11.2 | 12.6 | 12.3 | 9.0 | 5.1 | 1.6 | −3.6 | 4.1 |
All of the above are averages, and checking the forecast before arriving is always a good idea when you want to stay comfy and healthy abroad. Record lows in Bansko are −24.8°C. in January and December, while record lows are 36.5°C in August.
The History of Bansko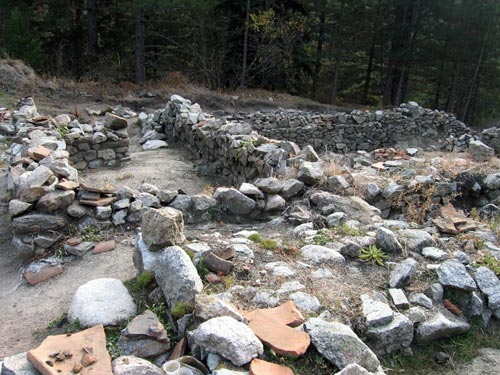 Bansko takes its visitors not merely on a wild ride around the slopes and pistes, but also on a wild ride back in time.
The Bulgarian Bansko Municipality was established around 1850. However, there is definite evidence that this region has a rich history dating back to ancient times. The population was wealthy, or at least this is what the remains and then expensive jewelry found during the archeological excavations testify for.
During excavations carried out 4 km from Bansko, a town-fortress was discovered dating back to Thracian times. The finds suggest that the warlike tribe of Dai lived here which is mentioned in the Iliad by Homer. Other finds reveal an even more ancient history: at greater depth, evidence of human activity is found which dates back to 5000 BC, i.e. the ancestors of the Thracians.
In different periods of this rich history, the town-fortress was rebuilt as here there is also an early Christian temple. The development continued until the fall under Ottoman rule. The locals here last resisted the conqueror.
During the Bulgarian Renaissance, there was extensive trade with the Aegean coast and also with large shopping centers in Western Europe.
This period is characterized by quick progress and the development of national consciousness. Thus, the region became a center and a repository for the Bulgarian Renaissance and has great importance for Bulgarian history as a whole.
Here Paisiy Hilendarski (Saint Paisius of Hilendar) wrote "Istoriya Slavyanobalgarska" (Slavonic Bulgarian History) and here the prominent enlightener Neofit Rilski (also Neophyte of Rila) was born and lived. Bansko was home to a large number of clerics and teachers, and also hajduks participating in the armed struggle for liberation.
In the turbulent history of the region, it is worth mentioning the Kresna-Razlog Uprising. It was then proclaimed the Razlog Kingdom, its center being Bansko, which existed for 7 days only.
Later, in 1896, Bansko was the district center of the Internal Revolutionary Organization of Macedonia, and Edirne and Bansko people participated in large numbers in Ilinden–Preobrazhenie Uprising in 1903.
Today's municipality, as a territory, was included in Bulgaria in 1912.
Local Legends About Bansko
Every culture tells its stories, and every place has its identity rooted in the myths about its foundations. When talking about Bansko, campfire stories are many, and each of them is fascinating.
One legend says that Bansko was founded by the blinded army of Tsar Samuil after the Battle of Kleidion.
Another legend says that the town of Bansko was established by an Italian painter called Ciociolino. This legend is often used as an explanation for the fact that the name Chucholin is rather popular in Bansko, but nearly nowhere else around Bulgaria.
Then, a third version of the locals is that Bansko became a residing spot for a Slavic tribe called the Peruns. Later on, the settlement grew to become a bigger town – until it became what we know today as a modern and well-developed European ski resort.
The Religion of the Locals
Browsing information about the snow cover of a foreign ski resort is one thing, but learning more about the local culture and religion is also a must for your experience.
According to the Bulgarian census of 2011, the religious composition of the Bansko municipality goes as follows:
Orthodox Christianity: 89.97%
Islam: 4.47%
Protestantism: 1.83%
Catholicism: 0.18%
Atheism: 1.00%
Another 2.55% of the population preferred not to answer the question in the survey.
A great testimony to the local orthodox tradition is the large number of Christian temples dating back to different epochs in the history of Bansko. Anyway, locals will not expect you to engage in any religious rites or traditions, so you can observe safely from the comfort of your own beliefs.
The Local Economy
More than 60% of the population of Bansko Municipality is engaged in tourism. Agriculture is also well developed where livestock farming, potato production, and furniture production are the most common.
Bansko Municipality is one of the top 10 municipalities which have attracted the most funding from EU funds per capita. Thus, the Bansko Municipality in Bulgaria has excellent infrastructure and well-regulated traffic, including transit and freight traffic, a well-maintained road network with pedestrian zones, parking areas, and bike lanes.
As of today, Bansko easily competes with world-renown ski resorts in France and Switzerland – with comparatively lower costs and nearly the same overall value. As a result, the town recently became a hotspot for digital nomads who look for a budget-friendly mountain accommodation for home offices and remote working.
Cultural and Natural Landmarks Around Bansko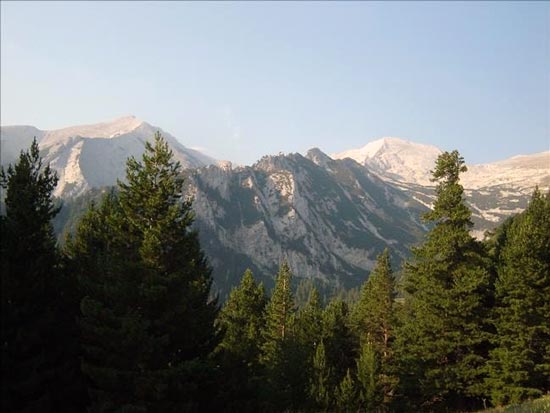 The guests of Bansko Resort have the opportunity for hiking and excursions to unique natural landmarks in the outstanding scenery of Pirin Mountain. This includes routes and trips to see the landmarks in the Rhodopes and Rila by using lifts and walking on foot.
Baykushevata Mura (Baikushev's pine) is situated only 14 km from Bansko and it is something you can rarely see. The pine is more than 1300 years old, its perimeter is about 8 m and it is more than 25 m high.
In addition, 5-star Lucky Bansko Aparthotel Spa&Relax organizes hiking tours whose itineraries include distinctive natural attractions:
Okoto (Eye Lake)
Ribno (Fish Lake)
Muratovo
Vasilashki Lakes
Valyavishki Lakes
Popovo Lake
Vihren peak
Todorka peak
Rila monastery, etc.
Many tourists also take advantage of the possibility to visit the Yagodinska vase with a 1,100-meter path on its lowest floor which is electrified and accessible.
Cultural tourism is well developed in Bansko as the region has a rich past and many historical, religious, and architectural landmarks. There are over 140 cultural monuments from different ages, some of which are unique and of global significance.
Such is the church in Dobarsko at a distance of 20 km from Bansko. The church dates back to 1614 and its mural paintings reflect the settlement of blinded soldiers of Samuil in these parts after the tragic battle in Belasitsa Mountain in 1014. The mural paintings are well preserved and protected by both UNESCO and the local laws on cultural heritage.
There is a great interest in Paisiy Hilendarski's memorial. Only here you can see the exact copy of the cell where Paisiy Hilendarski wrote "Istoriya Slavyanobalgarska". There are also other cultural landmarks here: including the museums of Neofit Rilski and Nikola Vaptsarov and the Bansko Art School with permanent exposition.
As long as you check regularly, you can see these places host different historical expositions, events, and educational happenings.
The Velyanova Kashta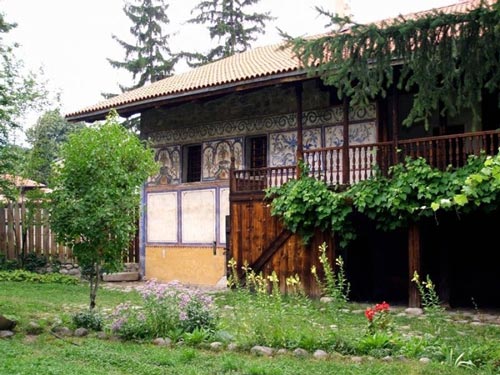 Among the many attractions in Bansko is Velyanovata Kashta (Velyanov's house). Located near the city centre, it shows the lifestyle and spirit of the region during the Bulgarian Renaissance.
This house is decorated with frescoes and wood carvings which show grace and a sense of beauty. At the same time, it is also an embrasure to protect the family – thick stone walls, windows with strong bars, and shelters.
Apart from Velyanova Kashta, all houses here at that time were made with walls over a meter. In addition to protection, they had a very practical household solution on the living floor – built-in cupboards, closets, etc. Downstairs there were the "offices" – stalls or workshops.
Events and Festivals
Many tourists come to Bansko to visit its numerous international festivals, competitions, and cultural celebrations that are organized throughout the whole year.
Among them, we can mention:
A ballet festival
An opera festival
An international jazz festival
A Festival of the Balkan Music and Cuisine
A festival that gathers folk dances and Latin dances
Classical and modern ballet events
Traditional Bulgarian cuisine fests
Open-air music near the main ski area
Street dancing
Sports events, etc.
There is also a Bulgarian-Macedonian tour of big hip-hop stars, a children's international forum for beauty and talent "Little Miss & Mister Galaxy".
The Kukeri Festival is also very interesting both for foreigners and Bulgarians where you can see a variety of attractive bizarre ritual clothes. It "opens the year" on 1 January and is the culmination of the Christmas and New Year holidays that the resort organizes in December.
In addition, many après ski and lively bars, restaurants, and hotels have their own live music and event calendar, where you can see local artists jamming with the crowd.
Spending Quality Adventure Time in Bansko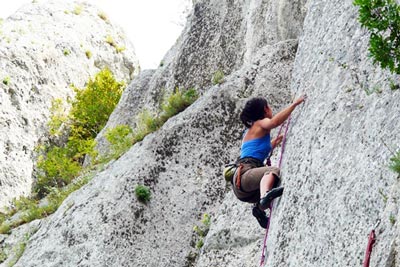 Bansko has a lot to offer beyond the ski season and the top ski pistes throughout the snow park.
In fact, Bansko offers a variety of attractions for tourists' leisure time regardless if you're visiting in mid-December or mid-July. They range from leisurely mass sports, mountain riding, cycling, and hobbies, to extreme adrenaline attractions. Rock climbing with different difficulties is organized in 10 places and the Peshterite (Caves) locality is 3 km from Bansko.
The organizers of these attractions provide professional mountaineering and mountain rescue instructors, secure training rocks, and offer all the necessary training equipment.
Rafting and kayaking take place along the Struma and Mesta rivers. The tourism business in Bansko works with specially selected rafting clubs which have proven their professionalism in organizing these attractions at a guaranteed level of safety offering it to guests.
In addition, there are other attractions in addition to the ski holidays – including off-road trails on terrains with different slopes and difficulties.
Sports in Bansko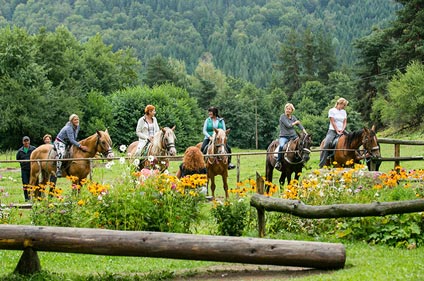 The perfect climate, ski areas, marked pistes, and snow conditions allow Bansko to host multiple professional sports events such as FIS World Cups, Alpine, and biathlon competitions. Nevertheless, Bansko is among the ski resorts where sports are not limited to events – they are rather a lifestyle norm.
In Bansko, there are conditions for different types of mass sports. Modern sports playgrounds are built where you can play tennis, football, basketball, and volleyball outdoors.
They have fences, modern pavement, and summerhouses for rest. Near the playgrounds, there are secure play areas with climbing frames and cradles.
Golfers can accept the challenge of playing on mountainous terrain. In Bansko, there is an 18-hole course of championship type and another one that has 5 holes. You can also practice in a fully-equipped, modern golf academy which is among the leaders in Central and Eastern Europe. There is a special transport to the courses and back.
In Bansko, attractive hobbies are also organized. One of the options for the fishermen is outgoing to the nearby Ribarnika Complex. You do not have to wear accessories as you can rent everything on site.
There they will be able to immerse themselves in their hobby among the unique natural scenery, and then the catch will be deliciously prepared and consumed outdoors. There are several dams as well.
Hunters can go to different state game breeding farms – Old Dikchan, Harami Bunar, Batishta, Vishteritsa. Here you can hunt mainly red deers, mouflons, and wild boars. All this can be just a photo hunt which is one of the great attractions in the area – all you'll need will be packed lunches and plenty of enthusiasm!
Mountain horse riding is organized 10 km away from the town of Bansko – in the Rusaliite Base. There is an instructor and horse guide, so it is also suitable for beginners. It can be replaced by archery or air rifle, and, in addition, you can visit a peanut and pheasant farm.
From June to September, the area is also suitable for mountain biking. There is a 2,250 m bike lane built by Bansko Municipality, but there are also 200 km marked routes.
Skiing in Bansko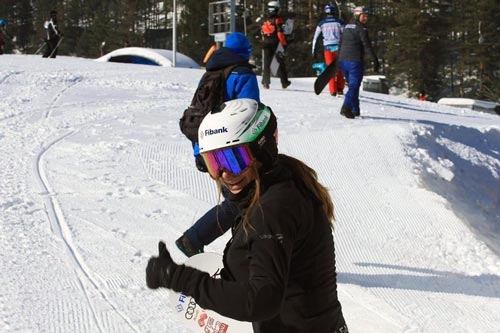 From mid-December to March and April, Bansko is attractive with its excellent skiing conditions and ski extras. Over 40 million euros are invested in the ski slopes and their ski facilities for modern technology and equipment for sports, safety, and comfort.
Thus, Bansko ski resort has won international recognition – for example, there is a competition for the European Cup in alpine skiing and biathlon. In 2019, in Bansko, the World Ski Cup for men is held, and in 2020 – the World Ski Cup for women. The Financial Times mentions Bansko as the best ski resort in entire Eastern Europe.
Ski Slopes
Along with the professional sport for advanced skiers in Bansko, conditions for amateurs and beginners are also provided. Of the 75 km of Bansko ski slopes, 35% slopes are for beginners, 40% slopes are for intermediate and the other 25 % are for the advanced. All slopes are secured and well maintained.
There are also a number of ski schools, ski wardrobes, and ski equipment. For the youngsters, there is a mobile trail carousel and a children's ski garden, where a ski instructor helps them get on track.
A unique 16-kilometer-long ski track is built, connecting the town with the largest slope. It is illuminated, secured by snow machines, and suitable for both skiers and snowboarders of intermediate level.
Lucky Bansko SPA&Relax is one of the luxury hotels in the area where you can buy lift passes directly from the reception desk, rent ski equipment at preferential prices, and enjoy a free shuttle to the main gondola lift and back. A VIP ski pass is also available.
Ski Lifts
There are various lifts in Bansko for the ski slopes. These lifts are convenient for fast access to the beginning of a slope or a piste, allowing tourists to enjoy an incredibly beautiful panorama. From the lifts, you can choose the chair lifts, cabin lifts, and tow lifts.
Their total length is 22 km. The cabin lift has an 8-seat cabin and serves slopes number 1 and 2, it is 6315 meters long and connects the town with the ski complex. There are 3, 4, and 6-seat gondola station lifts – the tow lifts are single and two-seat lifts and there is also a children's tow lift.
To use the drag lifts and gondola lifts in the area, you will need a lift pass – the best way to ski Bansko flexibly and conveniently. The lift and ski passes can be purchased in the ski centre of the town, or directly in the hotel reception in Lucky Bansko aparthotel.
There are 230 snow machines and these can cover all the routes used so that snow cover can be guaranteed until May.
Snowboard
Another recognition of Bansko as ideal conditions for winter sports came from the Snowboard Committee of the International Ski Federation. In January 2018, the World Cup was held here, with a preparatory 10-day camp for snowboarding in Bansko which started the world-class competition.
Snowboarders were able to prepare themselves in the excellent conditions in Bansko both for the World Cup in Bansko and for the Olympics in Pyeongchang. This year, in Bansko there were starts for the Snowboard World Cup with over 200 of the best snowboarders taking part.
Virtually all the ski schools in the area will offer snowboard training individually or in groups. Ski, snowboard, or cross country skiing – whatever your passion, a local ski school will help you live it.
Bansko's Honours
Bansko is receiving more and more international recognition, and it has gradually become popular through different gestures of appreciation worldwide.
Some of the recent ones among them include:
A Peak on Livingston Island in the South Shetland Islands, Antarctica is named after the town of Bansko: Bansko Peak.
Bansko is ranked among the best ski destinations on the planet, according to the World Ski Awards.
In 2021, Bansko municipality was awarded the Best Round-the-Year Destination prize by the Bulgarian Hotel and Restaurant Association.
Bansko was a filming location for some world-renown productions like "The Expendables 2", "All She Wrote", "The vampire Ghost of Obidim", etc.
In addition, Bansko was listed among the best places to live in Bulgaria according to the Fantastic Removals Blog.
International Relations: Twin Towns & Sister Cities
A twin town is a town that has founded official or social relations with another one, normally in a different country.
As a top-line ski resort, Bansko is currently twinned with four other cities in Europe, namely:
Didymoteicho, Greece
Amphipolis, Greece
Doxato, Greece
Zakopane, Poland
Twinning towns rely on the concept of bringing reconciliation and prosperity by exchanging experiences, know-how, events, and tourists.