Snowboarding in Bansko
Snowboarding in Bansko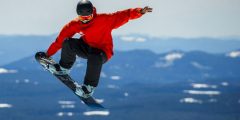 In 2017, the ski resort hosted 3 competitions for the snowboard world cup: Parallel Slalom, Snowboardcross and Parallel GS.
The tracks in the resort offer amazing conditions both for beginners and experts in the snowboarding.
The skill level in this sport suggests using a track with a specific difficulty – blue, red or black.
Pirin park also offers unprepared terrains for the fans of off-track snowboarding.
To the fans of free style, we recommend visiting the Bansko Fun park. We guarantee a good time.
These terrains, however, hide many dangers and if you choose them, it is important to be accompanied by an experienced instructor.
Snowboard instructors and schools:
All ski schools in Bansko offer snowboard lessons with well trained instructors.
When choosing an instructor, it is advisable to learn about their experience as such and to trust verified snowboard schools.
The instructor prices start at 80 BGN for a two-hour lesson.
There is a British snowboard school in Bansko.
Snowboard for rent:
The prices for snowboard rent vary between 15 BGN and 50 BGN, the amount not always guaranteeing good quality.
Lucky Bansko recommends consulting with the instructor you've chosen when choosing snowboard.
For the foreign guests of the resort it is advisable to visit the snowboard wardrobes for rent together with their instructors in order to avoid communication issues since not all staff at the wardrobes speak English.
Manol Kalniev – a snowboard instructor with many years of service in Bansko recommends:
Respect the mountain
Always bring adequate equipment
Follow the instructions of the snowboard instructors and avoid unsecured tracks