Geography and location
Do you want to immerse yourself in an unforgettable atmosphere that will reward you with peace and pleasure? If the answer is yes, then you should definitely visit the Ecozone "White rocks". The White Rocks Complex is 20 km away from the town of Gotse Delchev(near the village of Gaitaninovo) and is located in the popular reserve "Slavyanka".
The ecozone, as well as the reserve itself, are part of the Natura 2000 protected areas, so they will certainly be able to offer you an unforgettable experience. Whether you are a fan of eco-routes or bike paths, here you will be able to find everything.
The location of the eco zone is more than superb. However, the Slavyanka Reserve has a rich variety of plant species. During most of the year, a variety of natural plants bloom here, which contribute to the formation of a magnificent landscape.
That is why we encourage you to visit the place to enjoy its magic. This is a great place to create memories with your family, so don't waste any more time, but take your car and head here.
Nature
Ecozone "White rocks" is popular with tourists, precisely because of its nature, which is surrounded by the impressive mountain area. On the territory of the complex, it is quite possible to meet a variety of conifers, shrubs and flowers.
The vegetation is extremely unique for Bulgaria. Also, there are over 1200 species of insects, foxes, wild boars and many other animals typical of this region of the country.
Regardless of the season, evergreen plant species coexist here, which according to experts are typical of Mount Olimp. We recommend that you visit the area in the fall or early spring. Then the surrounding landscapes look more than magnificent.
As a matter of fact, a curious fact that perhaps most people do not know is that this was the site of a former marble quarry that operated until the end of 2006. Over time, however, its activities ceased due to the abundant spring water and, accordingly, the quarry was filled with drinking water.
This, in turn, allows for the breeding of different species of fish, such as grass carp, catfish, carp and many others. Given the fish diversity, the complex offers its visitors to practice sport fishing.
One of the main reasons to visit the place is to be able to:
to enjoy the majesty of superb nature.

to escape from the busy city life.

explore different landscapes.
According to various scientific studies, it has been proven that time spent in nature can have an extremely positive effect on us. Our busy daily lives are filled with stress and anxiety, which harms our whole body.
When you immerse yourself in the nature of the Ecozone "White rocks", you will feel instant relief. Staying in green landscapes and fresh air will reduce levels of stress, fear and angerwhile increasing pleasant emotions.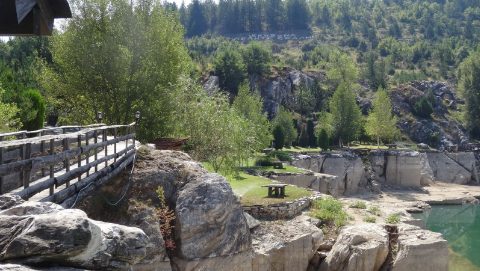 What does the eco zone include?
As you may have already understood, years ago the eco-zone was a former mining quarry. This in turn leads you to think, how can this land become such a cozy and relaxing place? In order to get a proper answer, you need to visit the complex.
Here you will be able to enjoy:
traditional cuisine

active recreation

calm

fairytale landscape
Of course, Ecozone "White rocks"offers more than just relaxation. The most popular activity among the guests is undoubtedly fishing, which can be practiced by anyone. There are even special hearths next to the pond, where you can prepare your catch!
If fishing is not your passion, don't worry, because here are:
eco routes

bike paths

places for excursions

natural and cultural landmarks

playgrounds

sports facilities (for tennis, basketball and mini golf)
In terms of attractions, you have many options. The geographical location of the ecozone is more than great because it allows for the organization of walks even to neighbouring Greece. But before you go there, do not forget to see the iconic ancient Roman city – Nicopolis ad Nestum and the monastery "St. Georgi Pobedonosets '' in the town of Hadjidimovo.
The border with our southern neighbour is so close that in literally 10-15 minutes you will be there and you will be able to enjoy the magnificent villages and localities. And, if by chance the temperatures do not tolerate you, the possibility to dive into the cool waters of the White Sea is not excluded.
How to get from Lucky Bansko Hotel?
We know that the holiday in Lucky Bansko Hotel is more than amazing, but if your adventurous spirit does not give you peace, why not organize a walk to the Ecozone "White rocks"? To begin with, it is appropriate to specify that it is part of the White Rocks Complex.
Once you start your car, you should head to the town of Gotse Delchev, from where you will accordingly reach the complex itself. The total distance you will have to cover is 67.3 km, which will take you approximately 1 hour and 10 minutes without heavy traffic.
Of course, the duration of the trip can be increased, as you will pass by such interesting sights and iconic villages that you can not stop to see them. A typical example of this are the village of Leshten and the village of Kovachevitsa.
When you arrive you will notice an asphalt road that leads to the ecozone itself. Don't worry, the road is fully maintained all year round, which makes it easy to pass. If you want to take a walk, the complex has a large parking lot where you can leave your car.
Visiting the eco-zone of white rocks is possible every day, but of course it all depends on you. We, for our part, guarantee that here you will be able to enjoy real "relaxation" while filling your time with various activities.