Coziness, tranquility, relaxation, delight
Luxury, comfort, coziness, tranquility. And so many opportunities for relaxation, entertainment, sport. This is Lucky Bansko hotel, which makes it perfect for а couple's getaway.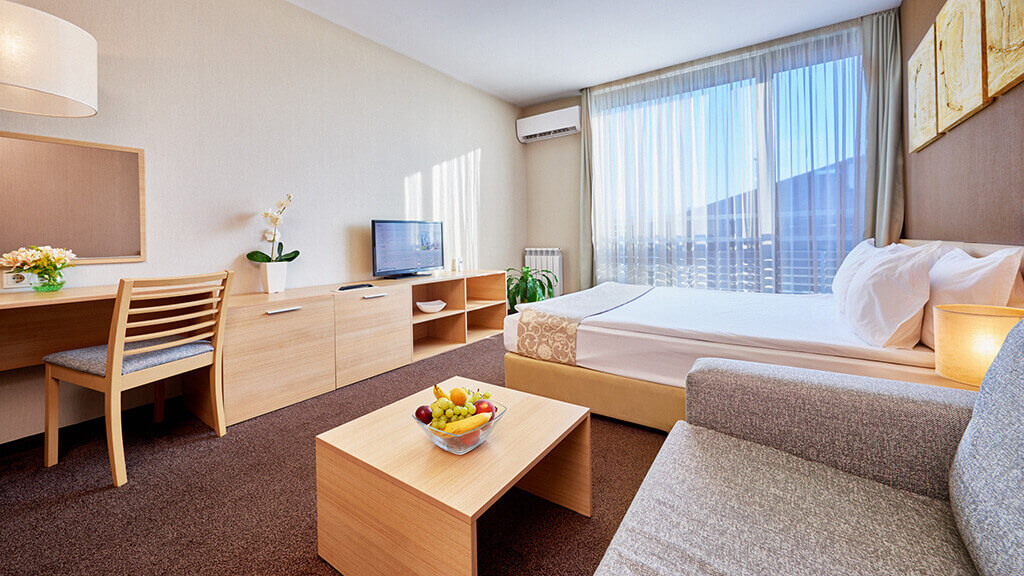 Accommodation options are varied. You can choose between Lux studios up to 25 sq. m, Luxury, Delux, Executive, Lux+ and Executive+ apartments with square footage respectively of 35, 55, 65, 83 sq. m.
There is also a presidential suite, as well as a Grand Presidential Apartment, both designed in mountain style and with many extras.
All studios and apartments are soundproofed, modernly furnished according to international standards for five-star hotels. They are provided with everything a modern person is used to in his everyday life – Internet, telephone, TV with multiple channels, including movie ones, and built-in safes for money and valuables.
The kitchenettes are equipped to the last detail that a housewife can think of. The bathrooms are superluxurious – no need to mention the showers, baths, towels, hairdryer, high-end cosmetics, and there is even phone and SOS system.
Adding the full range of services that the hotel's guests can enjoy so they are carefree, this is a wonderful opportunity for a two-person getaway where you can "leave the world" and pay attention to one another.
When it comes to the many additional opportunities for relax and pleasure, it's only a matter of choice. The hotel has unique SPA center with state-of-the-art equipment and technologies, and it offers a range of treatments extremely popular in Hollywood.
During their winter getaway for two at Lucky Bansko, guests can indulge in culinary delights in three restaurants – national and international dishes, authentic Italian cuisine, and alpine cuisine using ancient Swiss and French recipes.
The lobby bar offers a cyber-cafe with computers equipped with Internet. You can get a dose of Adrenaline and emotions, for example, in the two escape rooms in the hotel.
Those who have chosen a winter getaway for two Lucky Bansko can also enjoy the full cooperation of the hotel for skiing adventures – free transportation every 15 minutes to the gondola lift and every hour to the ski runs, also equipment, beginner teachers, specialized wardrobes, maps.
Getaway for two with the ultimate SPA pleasure and relaxation
The SPA center offers a lot of activities to make the getaway for two in Lucky Bansko even more enjoyable. For the guests of the luxury hotel, the modern fitness center, steam baths, saunas, jacuzzi, salt and ice room, adventure showers are free of charge.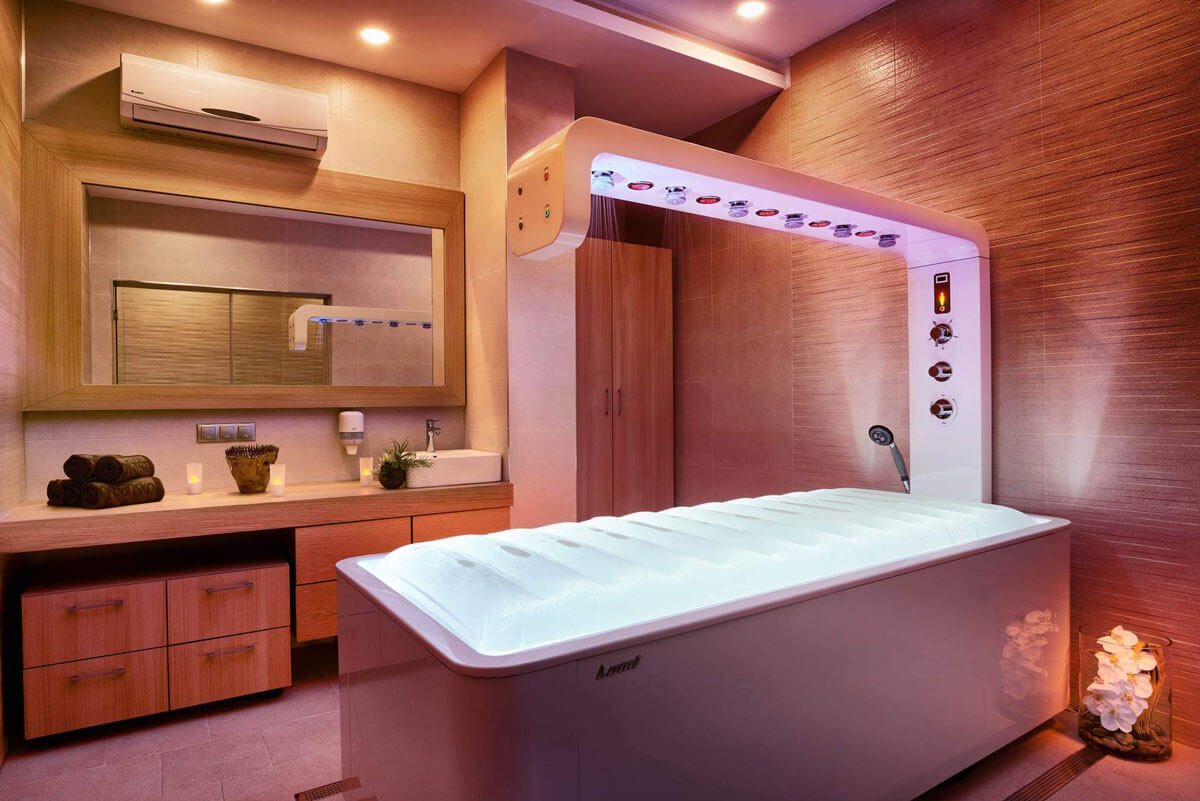 Biopools, which are unique for Bansko are also free of charge for the guests. Water in them is cleansed not with chlorine, but using innovative technology – through ultraviolet light, ionization and electrolysis with sea salt. In addition, the adults pool has hydrojet and underwater music. Of course, there is a professional lifeguard to observe safety.
The salt hall is a relax zone with halotherapy – nice relaxing background music and soft changing wall light which also has calming effect. The hall is entirely lined with Himalayan salt and too is unique for Bansko.
Its main effect is the purification of the respiratory system. 50 minutes in the room equal to 4-hour walk through the pine forest. The aerosols emitted during heating act antiseptically, and are also useful in the treatment of skin problems and mental disorders.
Among the many opportunities for pleasant experiences and relaxation in the SPA center of Lucky Bansko is the hydrotherapy in a special bath for combination of whirlwind, pearl and tangentor massage.
Equipment is state of the art with 15 programs for different type and level of intensity procedures on different parts of the body. Besides the general restorative effect on the body and the tone, the procedures are successfully used against cellulite, and there is a pain-relieving effect.
The waterbed has a 6-color chromotherapy, Vichy shower, personal steam bath, bodywraps with mud and algae. In addition to taking stress away, it contributes to the detoxification of the body, and has a positive influence on the motor apparatus.
Among the many other offers of the SPA are the Finnish saunas, one of which is an herbal, infrared sauna, hammam /Turkish bath/ and Rasul Arab therapies. Cosmetic procedures include Intraseuticals – needle-free mesotherapy of the eyelids and around the eyes. The restorative and toning effect is very fast, the technology is very popular in Hollywood.
Unique culinary journey in a romantic atmosphere
Those who chose a winter getaway for two in Lucky Bansko will have the opportunity for a culinary journey to different countries. You can taste delicious Swiss, French and Italian specialties made with authentic recipes preserved over the centuries. Of course, you can taste traditional Bulgarian cuisine as well as international dishes.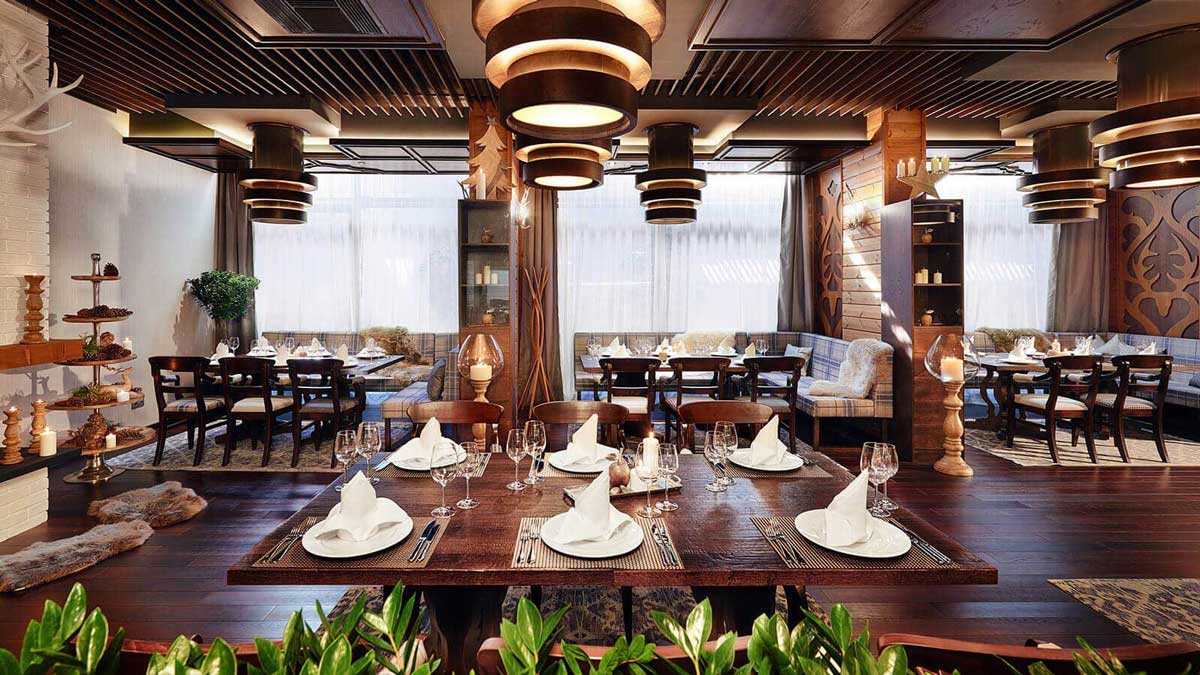 And all this is accompanied by quality vintage Bulgarian and foreign wines, and various other beverages. All three luxurious restaurants for the guests of Lucky Bansko offer a fresh and cozy, relaxing atmosphere with pleasant background music and perfect service.
The newest hotel restaurant is Fondue with selected Alpine specialties from the mountainous regions of Switzerland and France. The interior is designed in Alpine style and creates a sensation for a restaurant in the Alps. It also has booths that enhance the feeling of coziness
Here, you can order different types of Switzerland 's most popular national dish – fondue. The menu includes fondue dishes with specialized cheeses, meat, with fish and seafood, chocolate. As Fondue is traditionally prepared at the table, customers can actually see the modern technological equipment – their tables have local ventilation and no odor is spreading. Fondue is open from mid-November to March 31st.
Leonardo Restaurant is part of the aqua complex at the hotel. It is open year-round and is specialized in Italian cuisine using unique antique recipes. It also has BBQ station
The setting is tailored to the cuisine specialty of the restaurant and creates a Mediterranean feeling with its many greenery, spaciousness, light, discreet aromas of flowers and herbs. As an attraction here, there is also a show cooking – if desired, guests can watch the preparation of the food.
Le Bistro is a restaurant with contemporary design, varied menu, it offers breakfast, lunch and dinner with Bulgarian national and international dishes, and exquisite wine list.
Adrenaline getaway for two
When choosing Lucky Bansko for a couple's getaway, always think of the opportunities for exciting skiing experiences, regardless of the level of skiing.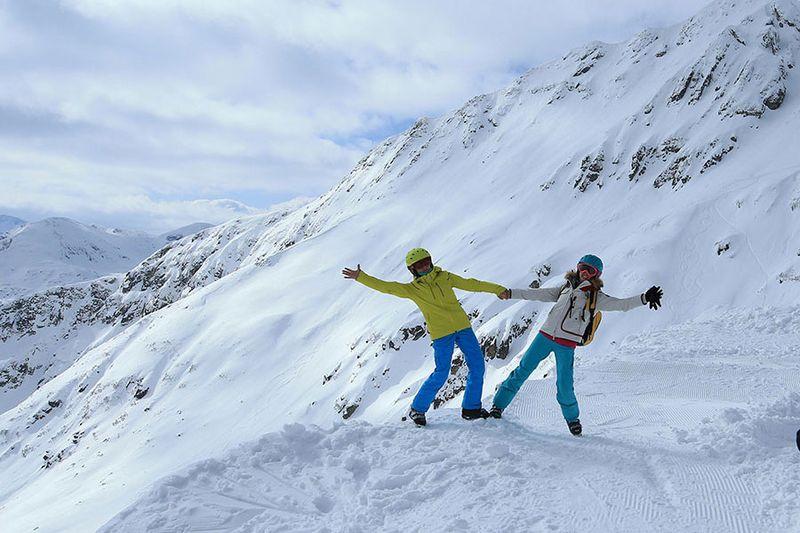 In Bansko, snowboard and ski slopes are perfectly maintained and secure, and each one can be reached quickly and conveniently with modern lifts.
In fact, the positive emotions begin right when you get on the lifts – you get to enjoy unparalleled beautiful views that one remembers for a lifetime. you can also make some great photos. The longest lift in Bansko is the Gondola lift – it is 6 233 meters, making it the second in the country after the Simionovski lift at Vitosha mountain, which is 6270 m. Each cabin has 8 seats are 8 and enchanting journey in the wonderful scenery of the Pirin lasts about 25 minutes and goes 597 meters up. The other 8 lifts are chair lifts with 4 and 6 seats.
The tracks themselves offer entertainment for tourists with different proficiency level in winter sports – from beginners, through advanced to proven masters. Beginners' slopes are 30 per cent of the total length of the tracks, 45 per cent of them are for more experienced and 25 per cent are for the masters.
For the inexperienced, Lucky Bansko helps for training and rental of equipment and offers ski wardrobes. The training can be for one, two or three persons, or for larger groups, with different duration during the day according to the tourists' preferences. One thing is for sure – regardless whether they are a beginner, advanced or experienced athlete, our guests raise the adrenaline with pleasant emotions on the tracks.
Lucky Bansko – with a prize awarded to only 1 percent of the hotels in the world
When choosing a couple's getaway, it is always good to see in advance what's the hotel's reputation – both national and international. Since its establishment until now Lucky Bansko has won at least one innovation prize annually – for building, hotel, services, standards.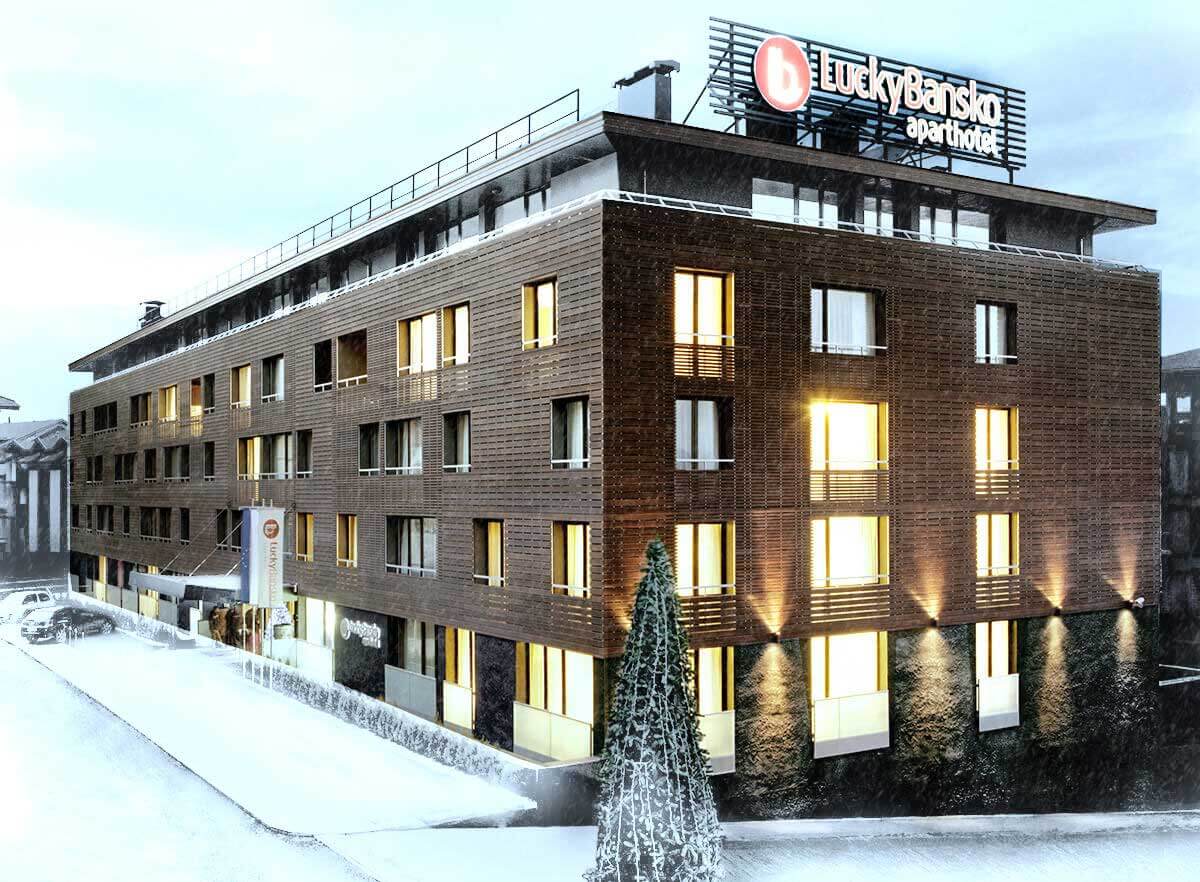 Awards are given from various Bulgarian, international and world organizations in the industry, tour operators, authoritative and very popular tourist sites and editions with charts. There is no need to list all in the different categories, it is enough to mention a few.
Lucky Bansko has received awards from, for example:
The Bulgarian Hotel and Restaurant Association – as an innovative apartment hotel and the best mountain hotel in Bulgaria;
the best hotel in the Bansko area, awarded by the Portal of Municipalities in Bulgaria and Kmeta.bg;
Best Hotel, awarded by Bansko Municipality;
Awarded as a mountain hotel at the Balkan awards;
"Lucky Bansko" has also been awarded two of the international awards given by the German FIT Reisen to innovative hotels after detailed checks and research;
Awards from Tripadvisor are especially prestigious. This is the biggest worldwide platform for research and analysis of the tourists' opinions on the places they visit.
Ever since the year 2000, the website is used by millions of tourists as a reliable guide for hotels, restaurants, and attractions.
For the period between 2014 and 2017, Lucky Bansko received 8 awards from Tripadvisor, some of them more than once. These are: Traveler's Choice; Luxury and best quality in Bulgaria; Excellent hotel; Top 3 of Bulgarian hotels.
It should be noted that for Lucky Bansko receiving the Travelers' choice awards has become sort of a tradition – three times so far, including for 2017. And this honor is given to about only 1 percent of the hotels in the world!