You dream of a vacation in the Balkans, but you have a dog that you don't want to leave with relatives or in a dog hotel while you relax somewhere nice.
You wish you could take it with you, but that's not always possible. So you change your plans and give up on the desired destination.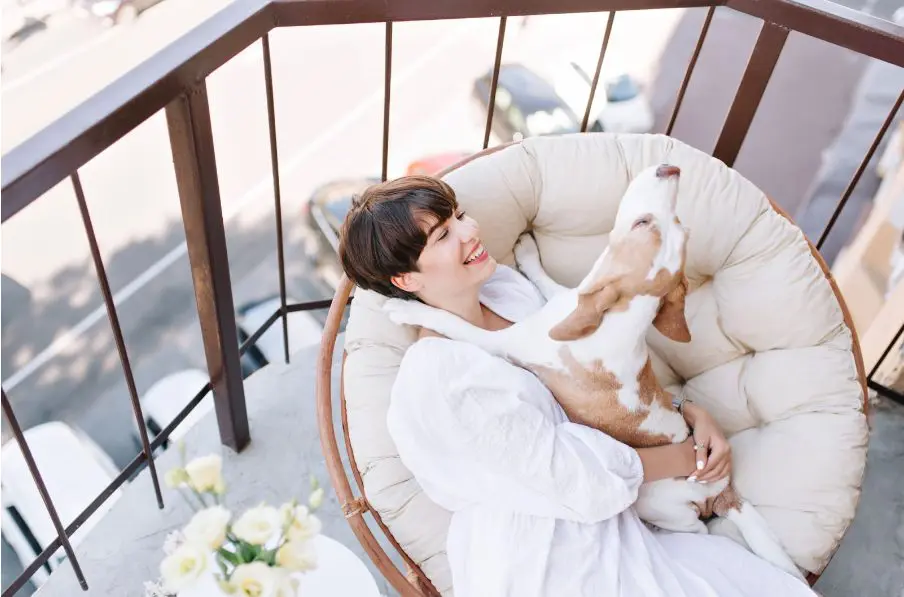 Image source: freepik.com
How often have you not visited a desired location because of your pet?
We are sure that the scenario we presented above is painfully familiar to all dog owners.
The truth is, staying in pet-friendly hotels still proves to be a problem for people who don't want to leave their pooches alone while traveling.
And it arises because not all hotels and accommodations accept pets, which in turn usually creates significant difficulties when planning a vacation.
In these circumstances, quite a few people with a four-legged pet either cancel their plans to go on holiday with a dog and stay at home, or look for alternatives such as renting a caravan or leaving their beloved four-legged friend with friends or a pet hotel.
If you too have a dog that you adore and are heartbroken when you have to leave it, chances are you too have had to give up a desired vacation simply because the hotel you stayed at does not allow pets .
The good news is that you no longer have to give up your dream mountain vacation with a dog, thanks to Lucky Bansko Aparthotel, which welcomes four-legged guests with open arms and provides amenities for the whole family.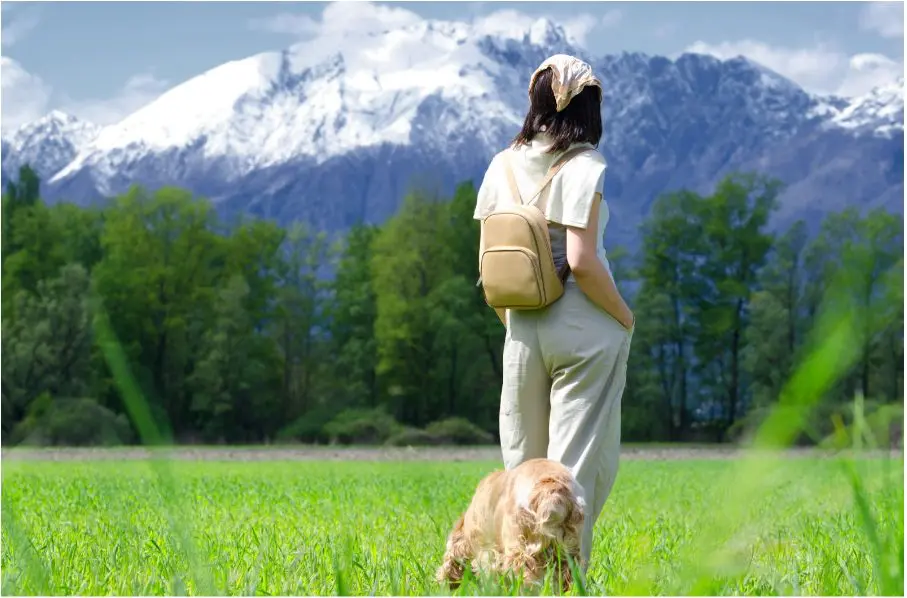 Image source: freepik.com
On holiday with a dog – how to plan your stay successfully
Planning a vacation with a pet takes extra effort, but the fact that you can vacation with your beloved four-legged creature and have fun together is priceless.
Here are some useful tips on how to plan a hassle-free and carefree mountain holiday with a dog.
Choose dog-friendly accommodations
As mentioned several times, not all hotels and accommodations welcome pets with open arms.
Therefore, before making a reservation, make sure that the hotel's policy allows domestic dogs, cats or other pets on its territory.
Be sure to read very carefully under what conditions animals are allowed, whether you have to pay additional fees or deposits for the dog's stay, whether it can enter the dining areas or only some of the common areas are accessible to it, etc. etc.
It is also important to check up to how many kilograms and which breeds dogs are accepted, as almost all hotels have some restrictions that must be respected.
Prepare all necessary identification documents
Make sure your dog has a chip or wears a collar with its own details, including name, your phone and contact address.
Be sure to carry the dog's passport with you and check that all mandatory vaccinations are listed in it.
Make sure the dog is well-trained and socialized
If your dog is constantly barking or whimpering when you leave it alone, or always causing some damage when you're not around, it's a better idea to attend a dog training course before you book your holiday.
Do you agree with us, that if the pet cannot stay alone in the room for several hours and barks continuously, it will cause problems for you and ruin the rest of the other hotel guests?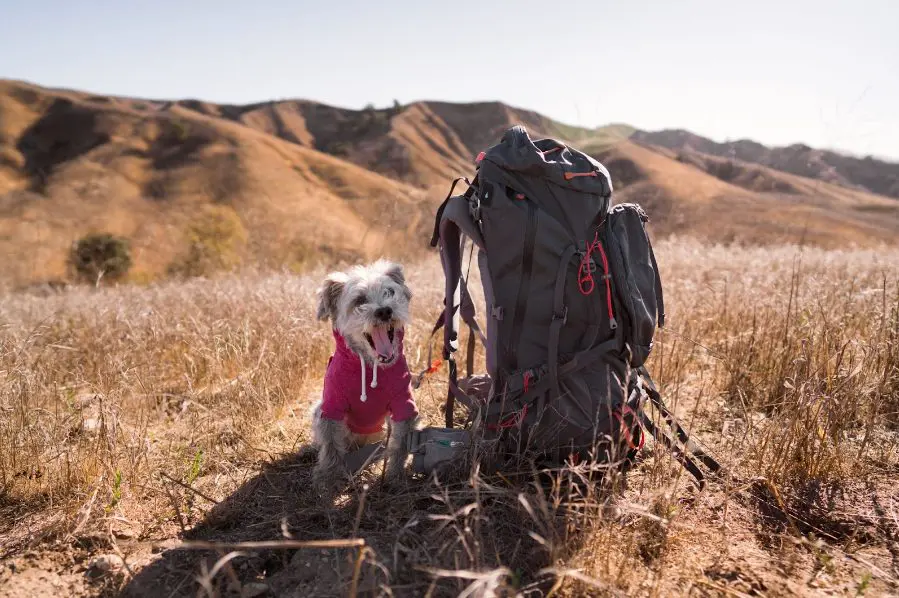 Image source: freepik.com
Choose suitable transport when traveling with a dog
If the destination you have chosen for a vacation with your pet is located in the heart of one of the mountains in Bulgaria, the most convenient option for travel is your personal car.
With this option, it is good to prepare a place for the dog (seat) and ensure you can put a seat belt on it.
It is good to prepare a bag with food, treats, a toy and water. It's also a good idea to take frequent breaks along the way.
If you are going out of the country or traveling by other means of transport (plane, train, ferry), before you start your journey make sure you are familiar with the rules for traveling with a dog, as well as the requirements for vaccinations and documents for crossing borders.
Prepare the dog's luggage
Just as you prepare your luggage, you should also pack your pet's travel bag.
When packing, include food (canned and kibble) that will be enough to feed your four-legged friend during the hotel stay, a bowl, treats, favorite toys and his bed.
If your dog has a favorite blanket or other item, take that too. Dogs love consistency and an object that smells like him will help him stay calm and adapt to unfamiliar surroundings more easily.
Remember also to bring enough cleaning bags and a first aid kit.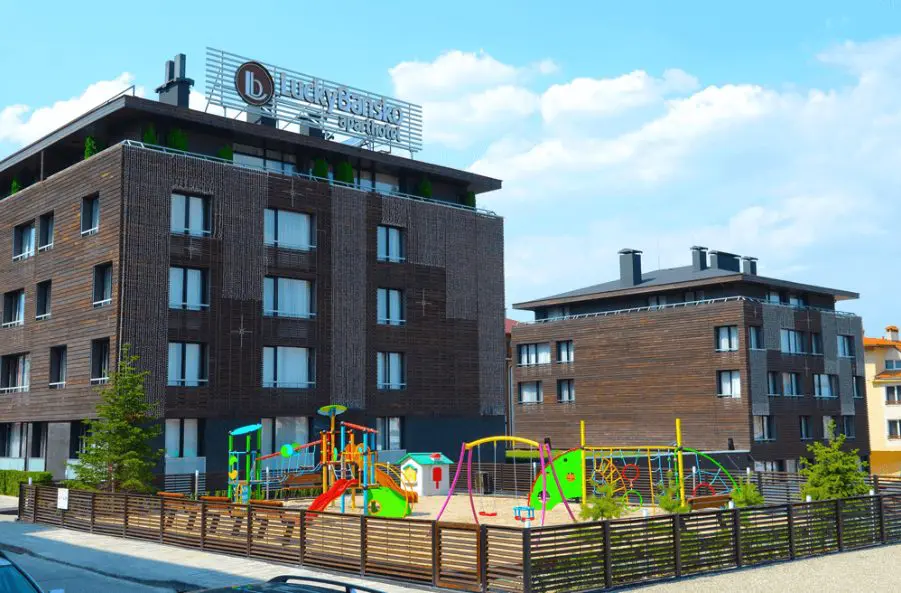 Image source: luckybansko.bg
Policy for the accommodation of pets in Aparthotel Lucky Bansko
As we mentioned above, Aparthotel Lucky Bansko is one of the few hotels in Bansko where you can comfortably settle in and spend a fantastic vacation at a spa hotel with a dog.
If you like the idea, here is the policy for accommodating domestic dogs in Lucky Bansko:
Pets weighing

up to 40 kilograms

can stay on the hotel premises.

Upon check-in, you must present the dog's passport at the hotel reception, in which all mandatory immunizations must be entered.

It is also necessary to leave

a deposit of BGN 100

. The deposit is required to cover any damage caused by the dog during your stay. If there are none, the deposit is returned.

You must also pay a "Disinfection" fee, which is

20 euros per night

for pets weighing up to 10 kilograms and 30 euros per night for four-legged pets weighing more than 10 and up to 40 kilograms.

In spa hotels with pets, such as Lucky Bansko, dogs are not allowed in the restaurants that operate on the hotel grounds and in the

spa area

.

They cannot visit the outdoor pool and children's areas. Access is free to the common areas of the hotel and the room you have booked.

When booking a vacation with a dog in the mountains, Lucky Bansko will

accommodate you on the first floor

. This is done to make the walks (yours and your pet's) more comfortable.

When walking in the common areas of the hotel, the pet must be led on a leash. In addition, upon check-in it is necessary to contact the cleaning staff to arrange the hours when the room can be cleaned.

It is not advisable to leave your pets alone for a long time. It is also good to know that

you should try to stop the dog's barking and whining in a timely manner

so as not to disturb the other guests of the hotel.

Suppose during your stay in pet-friendly hotels such as Aparthotel Lucky Bansko the dog causes material damage or bodily injury. In that case,

you are responsible

and must cover the damage by paying a certain amount

as it's owner

.