You're probably already discussing your summer break. Do not rush, however, to think of the seaside.
In our country there are mountain resorts where you can have a luxurious beach. Plus all the possibilities for entertainment and emotions – such as attractive hunting, extreme sports, etc. offered by the mountain. Plus – of course, accommodation in 5-star luxury and amenities under all international standards.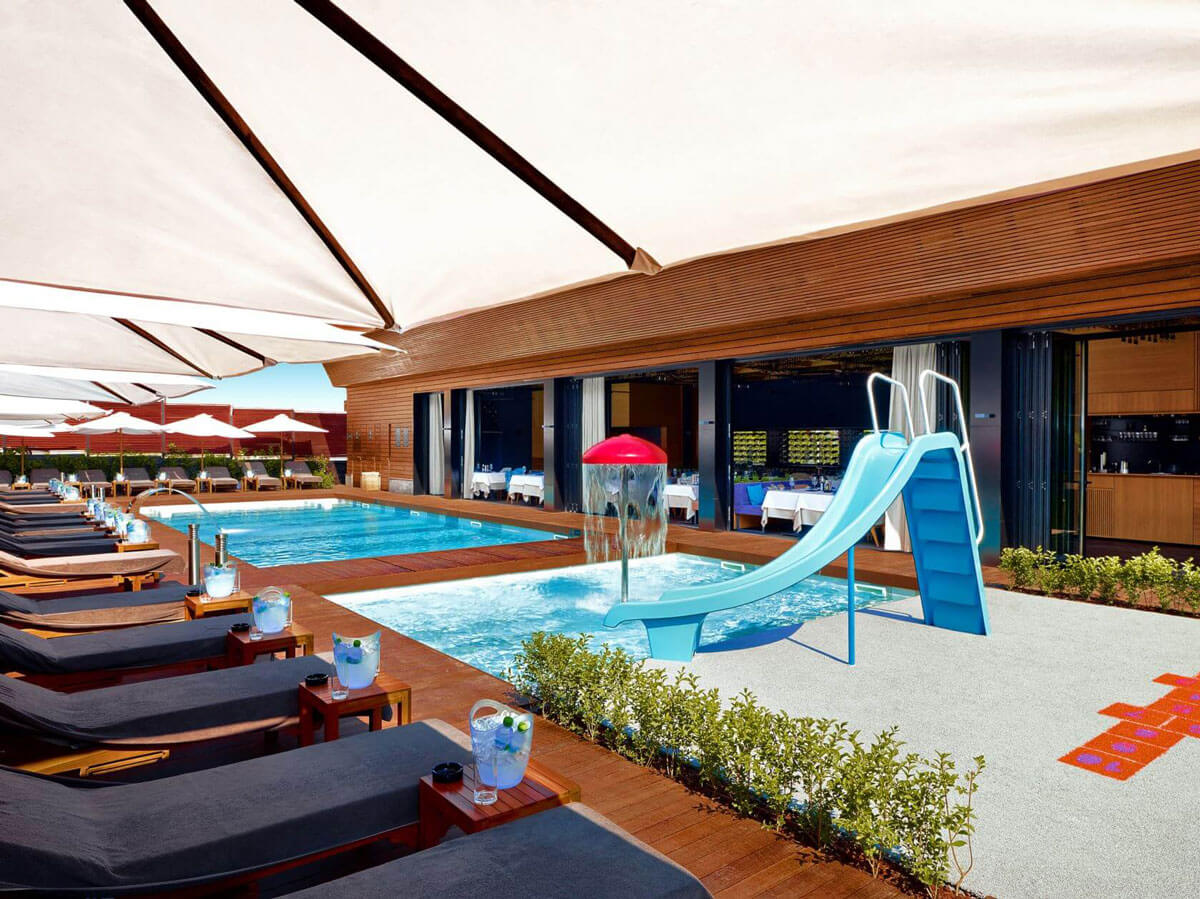 You need to familiarize yourself with the suggestions of one of the leading hotels in Bansko – Lucky Bansko Spa & Relax Aparthotel. One of the many offers of this luxury hotel in Bansko is for Aqua Holiday. This holiday is especially suitable for couples and families, but also for big families, friendly companies, company teams.
Imagine relaxing on teak deck chairs. Two open-air pools with constantly heated water and a professional savior. Pleasant, unloading music that is also heard underwater, creating a magical feeling…
And from the luxurious Italian restaurant Leonardo, which is an integral part of the Aqua Complex, you can carry your orders – chilled wine, cocktails, something to eat. You can also choose a VIP tent for two.
In fact, the pools are right next to the restaurant. So Leonardo has a direct view of the two outdoor pools. A view that is very romantic in the evening and fascinates with the fairy lights in the water. Aqua complex is open weekdays and is open from 10 AM to 8 PM, on weekdays after 4 PM there is a 50% discount. The restaurant is open from 10 AM until midnight.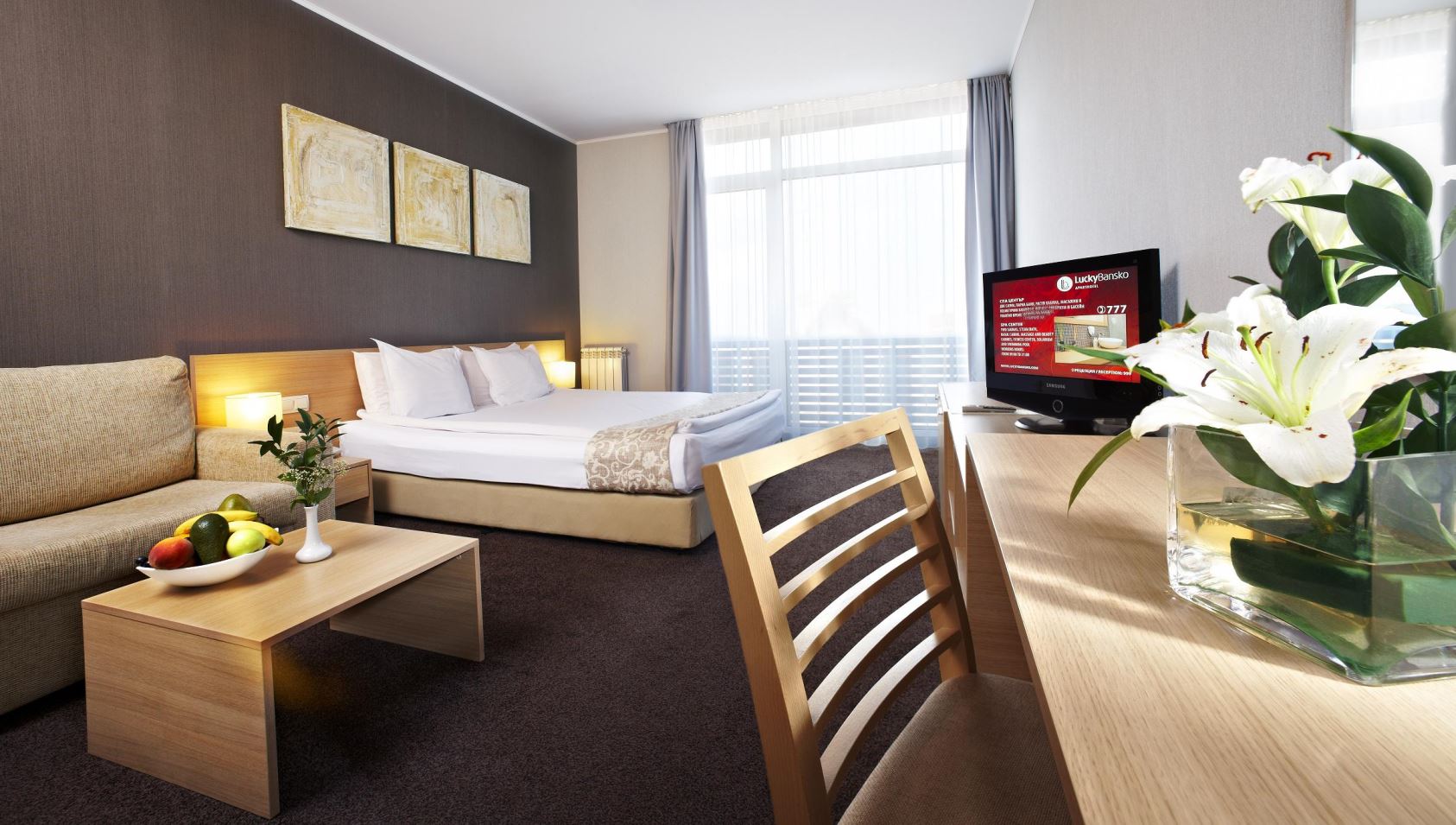 As we mentioned, the offer for Aqua Holiday at Lucky Bansko Spa & Relax Aparthotel is suitable for families. The two pools are "glued", one of them is for children. So under the immediate supervision of parents, kids can have fun in the water under the jets of the mushroom and descend on the water slide.
There is also an option for free accommodation for children under 18 years of age, free admission to the Aqua complex, a number of discounts, a specialized children's playground from 8:00 to 22:00 with a variety of games and attractions.
The package also includes use of fitness, sauna, jacuzzi, indoor pools for children and adults, a pool with Dead Sea salts, etc. Naturally, the hotel will have TV and movie channels, wireless Internet, computer zones.
You will be accommodated in studios or apartments – at your choice, which are luxurious, modernly furnished and equipped. Including a kitchenette where you will find everything from the refrigerator, hot plate and microwave to the utensils.
Of course, there is nothing to stop you from taking advantage of the hotel's modern SPA center – here are therapies and procedures that can be found in only a dozen places around the world. A 40-minute stay in the Salt Room or the Relaxation Zone, the therapeutic effect is equivalent to a 4-hour walk in the pine forest! This is thanks to the combined effect of the microparticles released from the heated Himalayan salt, the relaxing musical background and the soothing effect of a combination of colors.
You can also indulge in suggestions of emotional experiences amongst the magnificent mountain scenery amidst amazing landscapes – outings, treks and excursions to unique natural and cultural landmarks, fishing, hunting, golf and other sports including extreme, horseback riding, archery and etc.
So, relaxing feeling from both the sea and the mountains, gathered into one. A great choice!