There are days left until the beginning of the new ski season and you have decided not to miss this year to go down the white slopes of our most popular ski resort. That's why you have prepared in advance. You have chosen a hotel in Bansko, you have taken a few days off and the only thing left for you is to take care of the ski equipment.

Ski rental in Bansko or own ski equipment?
Every skier or snowboarder, whether a beginner or experienced in white sports, wonders whether to buy their own equipment or rent one. You are probably asking yourself this question and wondering which is the best and most profitable solution for you personally.
The truth is that buying your own equipment only makes sense if you are a professional skier or if you go down the slopes for at least a few months a year. In all other cases, the better solution is to look for equipment and ski rental.
Why?
When renting

ski or snowboard equipment

you are sure that once you arrive at the hotel in Bansko you have everything you need to go to the slopes or

ski school

the next day.

If you are a beginner in white sports and go down with

ski equipment for rent

, you will get acquainted with the equipment and

find out which model of ski, ski boots, poles or helmet is most comfortable for you

. So later, if you decide to buy your own equipment, you will know exactly what to look for.

Technology in the world of winter sports is evolving at a rapid speed

. And this means that if this season certain models are relevant, then the next will be obsolete.

Ski wardrobes in major ski resorts such as Bansko

monitor the development of ski equipment and strive to maintain ski and snowboard equipment, which is current at the moment. By

renting ski equipment

, you have the opportunity to use skis, shoes and poles of the latest generation.

When booking ski rental in Bansko, you do not have to transport heavy and bulky ski equipment yourself,

pay additional fees

at airports and look for a place to store it after arriving at the hotel.
Ski and ski equipment rental in Bansko – ideas, recommendations, prices and more
How to rent ski equipment?
As a ski resort, visited every winter by millions of tourists, in Bansko there is no lack of ski schools or hotels that have a wardrobe and rent ski and ski equipment.
However, if you want to be completely confident that you will not have to look for a place to rent equipment once you arrive at the hotel, our advice is to book it in advance.
Hotels such as Lucky Bansko Aparthotel work with leading ski schools in the resort and offer online reservations for both ski and snowboard equipment and the rental of ski instructors for individual and group training.
You can make a reservation completely free of charge, and if you decide to stay in Lucky Bansko you get a 10% discount after you check in at the hotel. You can also take advantage of the free shuttles offered by the five-star hotel to and from the ski centers for ski rental. This way you will not waste any time moving from and to the wardrobe from which you rented your equipment.
Prices and terms of use of the rented equipment
The prices of ski equipment for rent depend both on the time for which you want to rent it and on the class of the equipment itself.
As standard, the rental equipment includes:
If you are a beginner or intermediate and looking to rent equipment Economy class, depending on the term of use the prices are as follows:
Ski

–

from BGN 23 per day to BGN 100 for six days.

Ski boots

– from BGN 23 per day to BGN 100 for six days.

Full equipment (skis, shoes and poles)

– from BGN 30 per day to BGN 150 for six days.
Renting ski equipment Economy class for children will cost you:
Ski

– from BGN 15 per day to BGN 70 for six days.

Ski boots

– from BGN 15 per day to BGN 70 for six days.

Skis, shoes and poles (set)

– from BGN 20 per day to BGN 100 for six days.
The prices for renting equipment of Premium and Superior class for a period of use between one and six days are the following:
Ski Premium

– from BGN 30 per day to BGN 130 for six days.

Ski Superior

– from BGN 40 per day to BGN 190 for six days.

Premium ski set

– from BGN 40 per day to BGN 190 for six days.

Superior ski set

– from BGN 55 per day to BGN 240 for six days.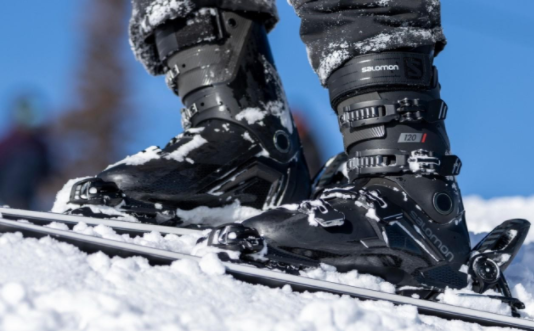 In addition to the basic set of ski or snowboard equipment that you can rent in Bansko, the wardrobes in the ski resort also offer:
Helmet

. You can rent it either for BGN 10 per day or use it completely free of charge if you rent a full ski set.

Ski jacket and pants

. You can rent them upon prior request and for BGN 25 per day.
Where can you practice your favorite winter sports?
Not by accident Bansko is our most popular winter resort. The available ski slopes are suitable for both professionals and beginners and intermediate skiers and snowboarders. Depending on your level of preparation, you can choose to go downhill on the slopes with a low degree of difficulty, as well as on one of the ski slopes for intermediate or experienced skiers.
Access to each of the slopes is extremely easy, and at each station you will find hot tea or a delicious breakfast, which you can support yourself before going down the selected slope. All ski slopes in Bansko are very well maintained, and some of them are suitable for night skiing. Webcams are located along the slopes, which transmit up-to-date information (live), so that you can monitor the condition of the slopes at any time through your mobile device.

How to enjoy skiing or snowboarding if you have no experience?
If you have never skied before, Bansko is the perfect place to start. There are many ski schools in the city that offer training for beginners of all ages. The training is of duration according to your wishes and needs.
You can enroll in a ski school both for a day and to visit it during your entire stay in Bansko. The training groups are led by licensed experienced instructors and again, depending on your desire, you can sign up for training in a group of up to 8 people, as well as for ski lessons for two or for individual training.
Enrollment, prices and terms of training in ski schools in Bansko
The ski resort has over ten licensed ski schools to choose from. You can enroll in courses after checking into the hotel in Bansko, but if you want to be sure that you will not waste your time, the better option is to book a ski course in advance.
Lucky Bansko Aparthotel offers an extremely easy way to get the ski lessons you need. For this purpose, all you have to do is fill in the form for reservations for training in a ski school stating what type of training you want (group, private small group or individual), how much time and how many hours a day you want to attend.
Prices for ski and snowboard schools in Bansko for the 2019/2020 season
Group training
The group training is standardly conducted in groups of 8 people. If you join such a group you will be trained by qualified instructors who will introduce you to the intricacies of skiing. Prices are determined both by the hours you want to take and by the training time.
For example, you can take two hours for one day at a price of BGN 55 (main season) and BGN 60 (high season) or four hours for one day at a price of BGN 85 (main season) and BGN 95 (high season). And you can attend group training and more days, such as for six days the prices for two hours are 225 BGN (main season) and 230 BGN (high season), and for four hours are 340 BGN (main season) and 390 BGN (high season).
Training in a small group
The training in a private group is conducted by a ski instructor. The prices of the ski courses in a small group are for two people. So, if you want to attend this course, the prices for two for two hours in one day are BGN 190 (main season) and BGN 225 (high season).
For four hours of ski lessons per day the prices are BGN 350 (main season) and BGN 350 (high season). If you want to attend the two-hour courses for six days, then you will pay BGN 850 in the main season and BGN 870 in the high season. The prices for four hours for the same period of time are 1275 BGN (main season) and 1440 BGN (high season).
If you want all the instructor's attention to be entirely on you during the training, then you can sign up for individual ski courses. The prices of the individual courses for two or four hours for one day are BGN 130 and 240 (main season) and BGN 140 and 280 (high season). The six-day training for two hours a day is BGN 780 (main season) and BGN 840 (high season) and BGN 1240 for four hours (main season) and BGN 1,400 (high season), respectively.