Home / Other activities / Yoga courses
Yoga courses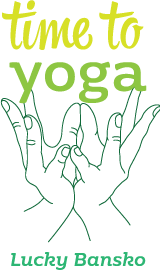 New in 2018*
Yoga courses in hotel Lucky Bansko
(Massages and mountain hikes included)
6, 5 and 4-day yoga classes with Indian instructors Kamal Kishor and Prakash are organized at the Lucky Bansko Spa & Relax Hotel.
They are held on according to a schedule announced in advance each month from April to December, inclusive.
Periods:
Starting day: Tuesday, Wednesday or Thursday, according to your chosen course duration.
Last day with departure: Sunday.
---
Reservation terms:
Reservation is guaranteed with 50% prepayment/ for online reservations 100% of the amount due is prepaid within 30 days prior to the date of the course.
The prepaid deposit will not be refunded in case of cancellation or change of the reservation!
FOR INFORMATION AND RESERVATIONS: