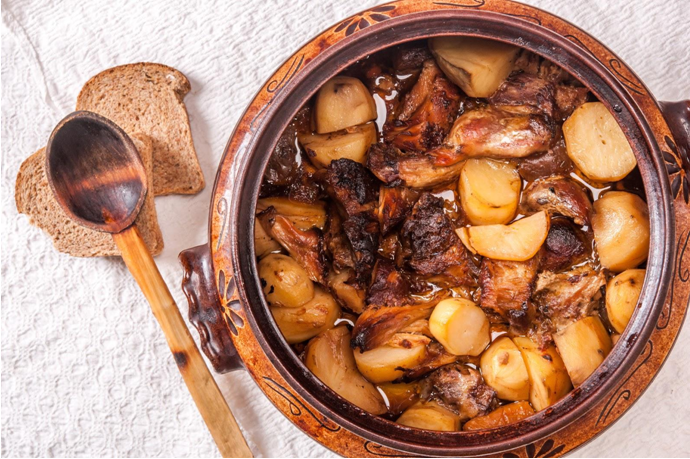 There is no doubt that Bansko is one of the most popular resortsin Bulgaria, which with its beauty is known not only in our country but also abroad. In addition to the breathtaking mountain views,snowyslopes and variousadventures, you'll also find an incredible cuisine.
One thing is for sure, you cannot stay hungry in Bansko. The cuisine of Bansko is undoubtedly one of the most delicious in the country and offers a variety of traditional Bulgarian dishes for every taste.
The traditional cuisine of Banskois unique and anyone who wants to try it should visit a tavern or restaurant where the menu is prepared according to the original recipes of Bansko.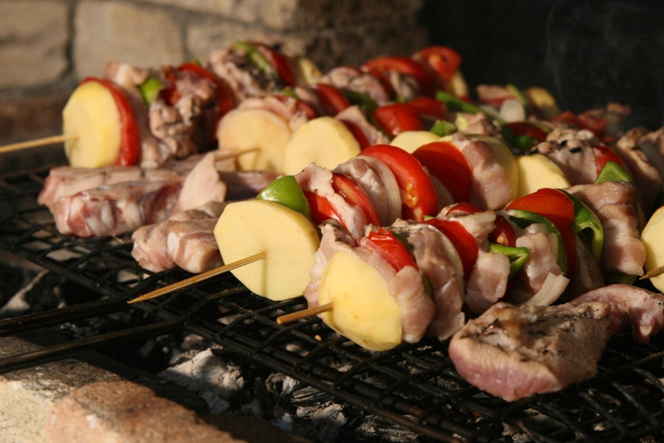 Many of Bansko's specialties are prepared according to special recipesand they containsecret mixtures of spices, which explains their unique taste and aroma. So be sure to visit this beautiful Bulgarian resort, which can surprise its visitors with a unique delicious cuisine that includescenturies-old culinary traditions. The Bansko cuisine is a unique mix of flavors and aromas,as its ingredientsbest represent the nature in the region.
The cuisine of Banskoembodies the lives of local people throughout the centuries. It includes simple fresh products that were available to ordinary Bulgarian residents in Bansko. Homemade spices and meat sausages are one of the things the Bansko master chefs are proud of.
If you love authentic Bulgarian cuisine, be sure to try the specialties of Bansko. The wonderful combinations of spices and fresh products, as well as the special method of cooking used by the local people, guarantee excellent culinary results. Bansko has a rich variety of delicious dishes. However, in order to list them we will have to write a book, so in this article we will look only at some of the most famous ones.
They are culinary masterpieces of the Bulgarian national cuisine and are present in the menus of most of the taverns in Bansko. And some of these dishes are an integral part of the traditionalfestive table of the local people. We will now dive into the depths of Bansko cuisine and introduce you to some of the most popular regional dishes.
Traditional dishes of Bansko:
Warm dishes
Kapama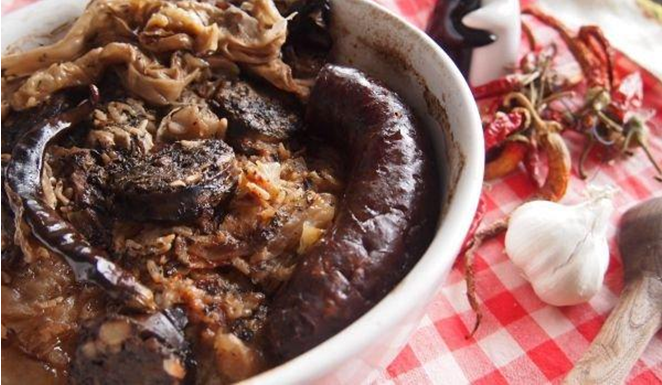 This is one of the most delicious and ingredient-rich dishes in the region, so be sure to try it. It is a typical winter dish and is prepared mainly on big holidays. Its preparation requires about 5-10 hours cooking on low heat. Served together with a chomlek. Bansko's kapama is prepared in a clay pot with rice, sauerkraut, red beets (also called beet) and various types of meat: pork, chicken, veal, rabbit, bacon, black-pouding, flat-sausage.
Red wine and spices such as cumin, red pepper, bay leaves, as well as dill from Bansko – one of Bansko's special spices, are also added. When serving the cooked kapama in separate portions, all the contents of the pot are placed in a tray. The sausage is cut and the chicken meat is boned and the portion is complete by placingone piece of each product in the plate.
Katino meze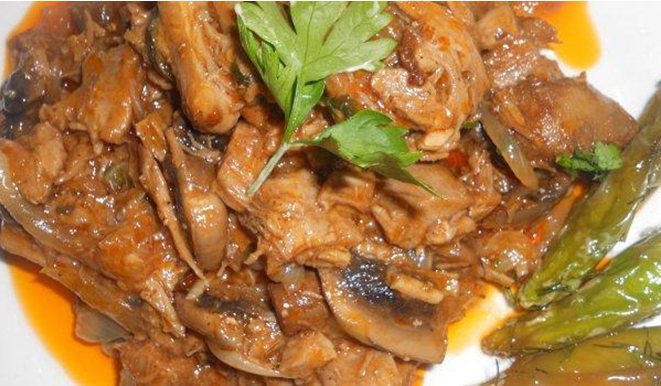 Another deliciousBansko dish for the fans of local food. The necessary products for katino meze are pork, mushrooms, onions, chutney, pepper, savory. The dish is cooked stewed and becomes uniquely delicious.
Chomlek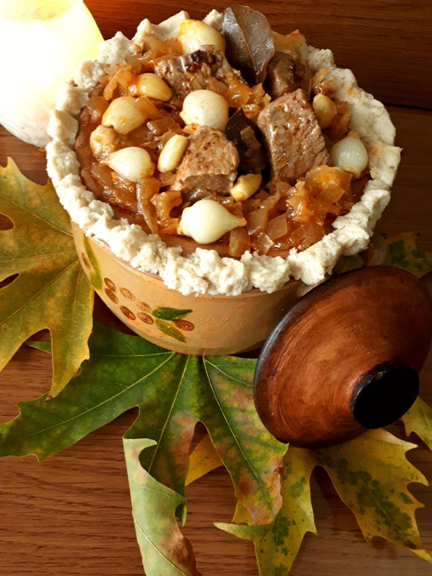 This dish is considered the delicacy of thePirin Mountain and rightly so. The dish is a must at the holiday table of the locals. A delicious and satiating dish, perfect for cold winter days. It is usually served with red wine. Chomlek is prepared in a clay pot for about 10 hours.
The main ingredients for chomlek are whole potatoes, veal shank (but also pork if we don't have one), carrots, onions, tomatoes, various spices: black pepper, bay leaf, tomato paste or tomato juice, white or red wine. Although it is prepared with simple products, the dish is very appetizing. The dish is baked for about 4 hours without the potatoes.
After baking the the chomlek, it is removed from the oven, the shank is boned, then the peeled and sliced ​​potatoes are added to the baking pan, then all is placed back in the oven for an additional 30 minutes.
Kostureta with beets and bacon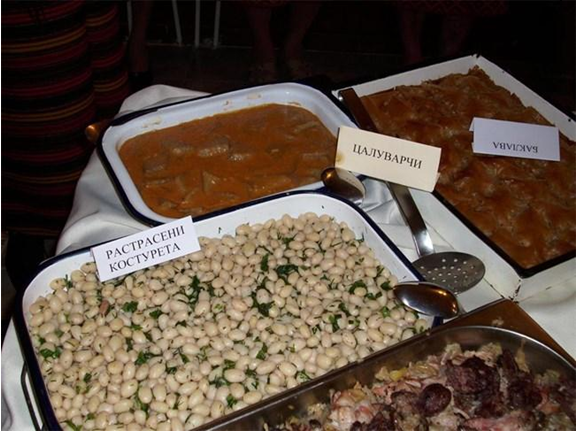 This tasty stew type dish with an interesting name is actually prepared very easily. Oldkidney beans are used for the preparation and they are cooked slowly in a clay pot. Once boiled, the water should be changed so the beans can boil again with new water.
Then a head of red pickled beetroot is added, which is called "chekane", as well as dried red peppers of choice and pieces of bacon. It can be served with a piece ofBanskoflat-sausage and a glass of red wine.
Kombari with kadzhel /potatoes with sauerkraut/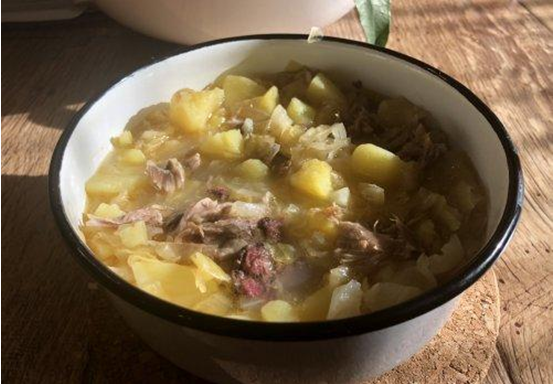 Another delicious recipe from the authentic Bansko cuisine, suitable for the winter season. It is made from sauerkraut (called kazhel),potatoes (called kambari), onion, dried red peppers, dill seeds, black pepper, salt, oil.
Barkada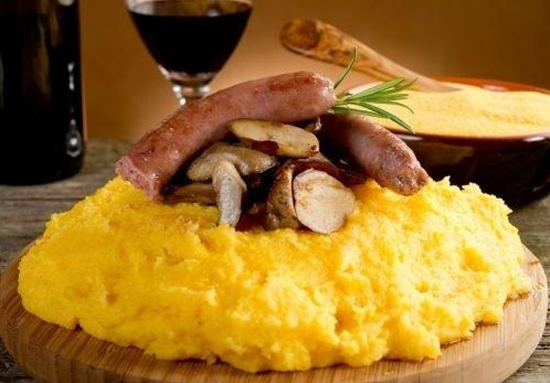 This is a type of corn polenta. It is shaped like a nest and is served stuffed with Basko blood-pudding, bacon, liver.
Sui chushchi with noga and usho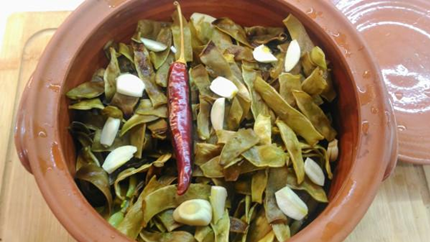 Dried green beans with pork legs and ears. It also contains lard, red pepper, garlic, parsley, black pepper and salt to taste. Served with red wine.
Traditional culinary delicacies of Bansko:
Bansko flat sausage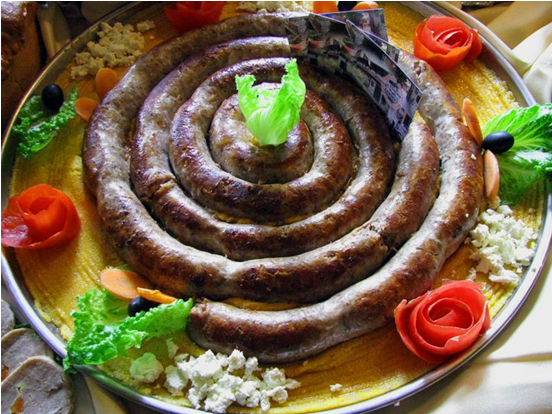 A regional delicacy with an incredible unique taste – this is the Bansko flat-sausage. It is made from veal and pork. The proportion of the meats is 7 kg. pork to3kg. beef. The other ingredients are pork liver, leek, cumin, pepper, savory, dill. The mixed products are stuffed into pork intestines and then dried like any other flat sausage.
Banski starets/Babichki/Babek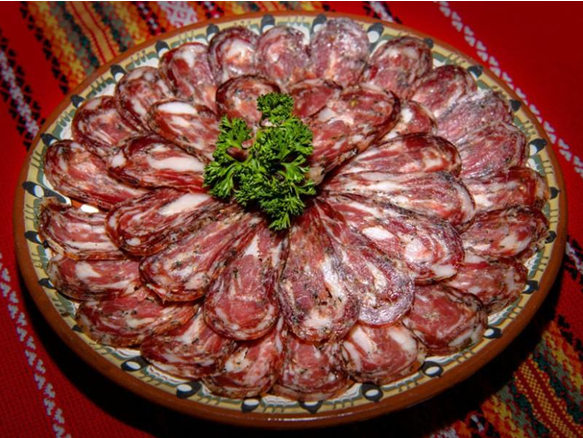 This well-known delicacy from the region has become a symbol of Bansko and no table in Bansko can go without it. A number of Bansko dishes are served together withBanskistarets. It is made of pork fillet and bonfile.
Ingredients of Banski starets:
● pork
● bacon
● pig liver
● pork tripe (for the stuffing)
● salt
● black pepper
● cumin
● salt
This type of legendary flat sausage is also prepared in other regions of Bulgaria, but the Banskistaretshas a distinctive taste thanks to the original recipe according to which it is prepared, as well as the spices that give it an original taste. Once ready, the flat-sausage is hung somewhere to dry in an airy place. The delicious appetizer is ready for consumption after a stay of at least 6 months.
Kreshchina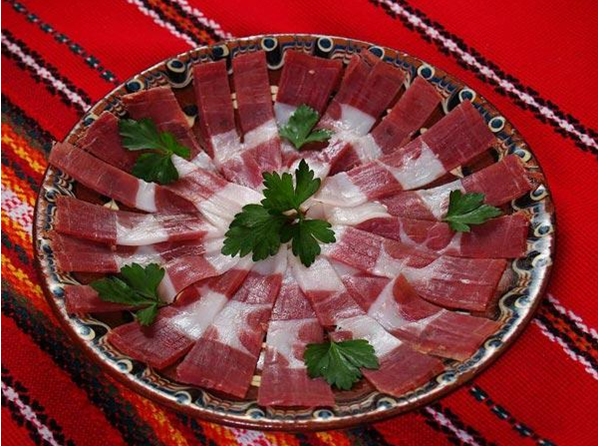 It is made from the most tender and colorful part of dried pork leg.
Bansko blood-pudding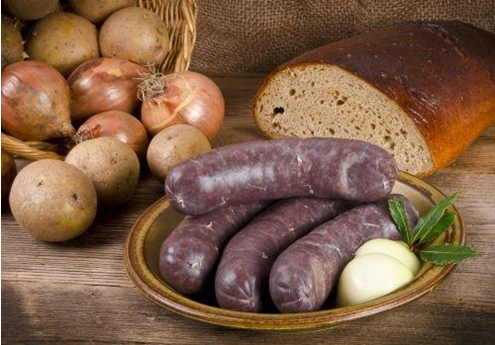 Desserts:
Borek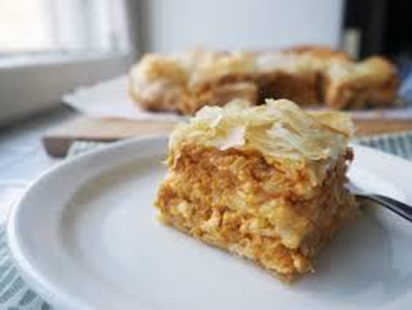 An appetizing and super quick to prepare Bansko dessert. It is made from pumpkin, flour, oil, ground nuts, sugar. The products are mixed and everything is baked in a tray. It can be served with an ice cream ball. According to the modern recipe dough crusts can be used.
Kukurini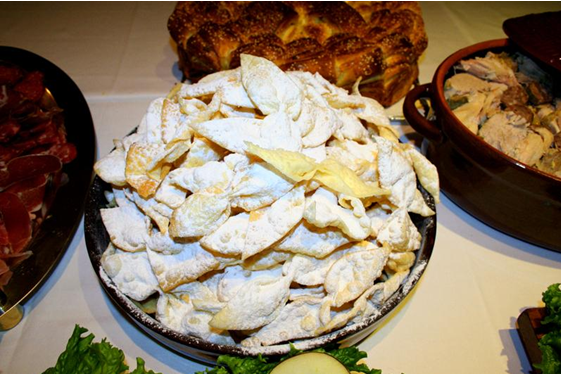 The name of this dish in Banskois translated as "curls". It is a sweet doughy rings that curl around the edges when fried. As it is quick to prepare and does not require many products, this dessert has been preferred during periods of hunger and poverty.
The kukurini are made from dough which includesegg, flour, two tablespoons of oil. The dough is left for 1 hour, then the thin crust is rolled out. A cup is used tocut circles from the dough. Using a knife, cuts are made from the center of each circle to its periphery.
The doughy circles are arranged two or three on top of one another and sticked with a protein. When arranging, make sure to cut the sections and then fry them until they are red in an oil bath. When ready, sprinkle them with powdered sugar and then are ready to serve.
Shupla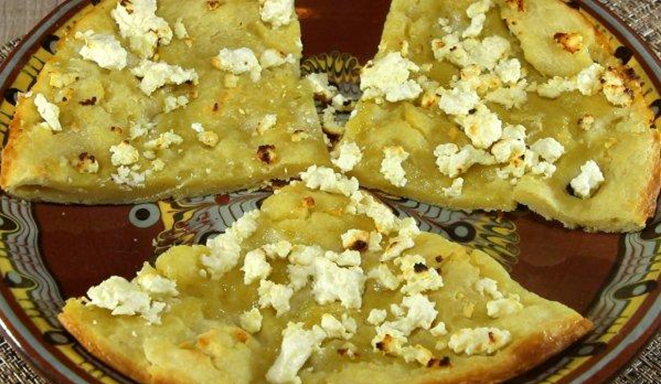 This is a type of pastry breakfast typical for the region of Bansko and Razlog. The ingredients for it are two eggs, baking soda, flour, crushed cheese, water. The ingredients are mixed to form a dough that is placed in a tray and baked. Smear with oil just before it's prepared.