Do you love winter sports, or are you looking for the perfect place to spend the Christmas and New Year holidays? Chances are high that your research will land you in Bulgaria's most popular winter resort – Bansko.
The mountain town provides perfect conditions for skiing, high-end SPA hotels, and some precious cultural landmarks you'd like to see at least once in your lifetime. Meanwhile, the entertainment and attractions in Bansko are sufficient to keep you occupied no matter how long your stay. As for the nightlife in Bansko… You better read on to find out.
When you have finally chosen the hotel for your Christmas holiday in Bansko and you have prepared your ski equipment, you can probably hardly wait to indulge in the epic adventure that awaits you around the resort.
The only thing left is to research details about Bulgarian food and the best restaurants in Bansko to enjoy tasty, authentic cuisine. To make it easier for you, we will take a short walk around the Bansko bars and restaurants – and, trust us; there's plenty to choose from.
So, where can you eat delicious food while resting or skiing in Bansko? Let us introduce you to some of the most popular restaurants in Bansko and the kinds of cuisine they serve in the paragraphs below.
Traditional Bulgarian Cuisine in a Bansko Mehana or Tavern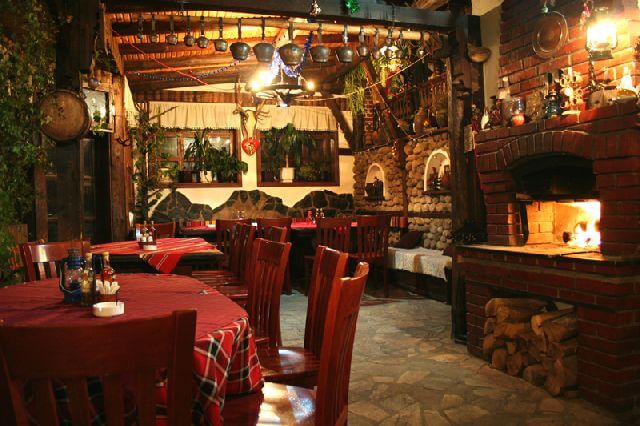 Traditional Bansko food has a home, and it's called "mehana".
It's a Bulgarian word meaning a tavern, and you can find these types of restaurants all over the country.
On the other hand, Bansko is one of the best places in the country to visit this kind of Bulgarian restaurant. The region boasts plenty of signature dishes you can't try elsewhere, and traditional Bansko cuisine is considered a type of cultural specificity to the town. This being said, everyone who has come on a holiday or ski in Bansko has to visit a mehana at least once!
The taverns in Bansko will offer you national and regional dishes prepared for centuries in this region. Each tavern has its own authentic recipes, and you can visit a different restaurant each evening. You can be sure that the dishes you try will have a different flavor and aroma based on who prepares them.
Once you end up in a mehana, Bansko will reveal itself to you in a way you can't experience on the ski slopes. Instead of just a dish, you will get an out-and-out experience characterized by live music, folk-style furnishing, and open fireplaces that warm up the soul and the body.
Taverns are the perfect place for family and friendly gatherings, celebrating different events, or just for a warm, romantic dinner with loved ones in an intimate setting.
Unsurprisingly, taverns make up a large part of the Bansko restaurants. The abundance gives scope for experimenting and finding what suits your taste best. Still, some mehana restaurants are (reasonably) very popular among the guests of the town.
You don't even have to search for Bulgarian food near me because we have everything settled for you!
The Obetsanova Tavern
This tavern is among the oldest taverns in Bansko. If you have the time and the desire to try the traditional Bansko cuisine in an authentic atmosphere and the company of friends, you will be pleased with your visit.
Here, you will find various game meat dishes, traditional Bansko dishes, and an extensive wine collection. The setting is pleasant, the menu is well-chosen, and the mood will be taken care of by an orchestra that performs live folk and popular music.
Or else said – you will experience both the local cooking tradition and the time-honored version of the Bansko nightlife.
The Vodenitsata Tavern
Vodenitsata Tavern is located in the Bansko old town, and it is designed in a traditional Bulgarian style.
It is a very cozy and pleasant place, especially if you were going down the white ski slopes of Bansko all day long. Here you will again enjoy traditional Bulgarian dishes – Bulgarian kebab, specialties from Bansko cuisine, and a large assortment of alcoholic beverages.
The Kasapinova Tavern
Here, the hosts will welcome you with Macedonian music and a warm, restful atmosphere. Among other traditional restaurants in Bansko, this one stands out with its delicious fire-roasted dishes.
Moreover – the menu of Kasapinova tavern keeps things delightfully uncomplicated, and the service is impeccable.
The Baryakova Tavern
The restaurant is one of the most preferred ones by the guests of the town because of the outstanding atmosphere, service, and food. We would hardly surprise you if we told you that at Baryakova tavern, you could enjoy dishes from the local Bansko cuisine and a rich wine collection.
Old town kebabs are a big deal, indeed. Anyway, we assume that while you are skiing in Bansko, you will want to try something other than traditional cuisine, right?
So, let's move on to some other types of restaurants Bansko has to offer – starting from the ones serving delicious Italian cuisine in a refined setting.
Mediterranean Cuisine Restaurants in Bansko
Yes, Mediterranean cuisine is one of the most popular cuisines in the world. It is, therefore, perfectly logical for Bansko to have restaurants offering Italian cuisine for its multinational tourist flow.
If you are among the fans of Mediterranean and Italian cuisine, be sure to visit one of the most favored and classy restaurants that offer it in town.
Leonardo Bansko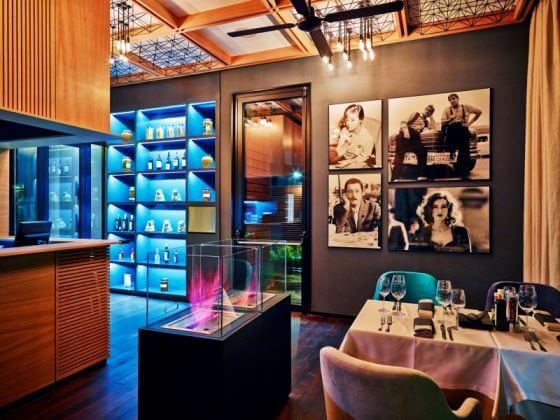 If you think you've had enough pizza and spaghetti ever to be surprised by Italian cooking again, you're sincerely wrong.
Italian cuisine is not just pizza and spaghetti. It's much more than that, and Leonardo is the place to reexplore food as a distinctive cultural trait.
If you want to taste original Italian recipes in a stylish and urbane setting – the restaurant is only one – Leonardo Bansko.
At Leonardo, all dishes are prepared with fresh ingredients coming directly from different regions of Italy, and the recipes are entirely original. Believe us – every bite will make you dream of Italy…
The environment welcoming you to Leonardo is stylish, exquisite, and entirely in the spirit of Italian tradition. The menu is precisely selected and varied, and the dishes you can try here, you will certainly not try anywhere else – not only in Bansko but also in Bulgaria.
If you'd like to experience one of the biggest attractions in Bansko while eating – to see how the chefs prepare the dishes that the hosts will serve you – you can just sit near the show cooking section of the restaurant.
Leonardo Bansko Restaurant is one of the most preferred places among tourists. And though it's a bit pricier than the average food prices in Bulgaria, it's all worth it.
Come Prima
You can also enjoy refined Mediterranean cuisine at the Come Prima restaurant.
The setting here is sophisticated, and the menu features both renowned Italian cuisine and a rich collection of wines from around the world.
Alpine Cuisine
Touring the Bulgarian mountains is the perfect occasion to indulge in a traditional mountain-style interior and alpine cuisine. And though Pirin mountain is not exactly the Alps, it can easily give you the same vibes – and better.
Fondue Restaurant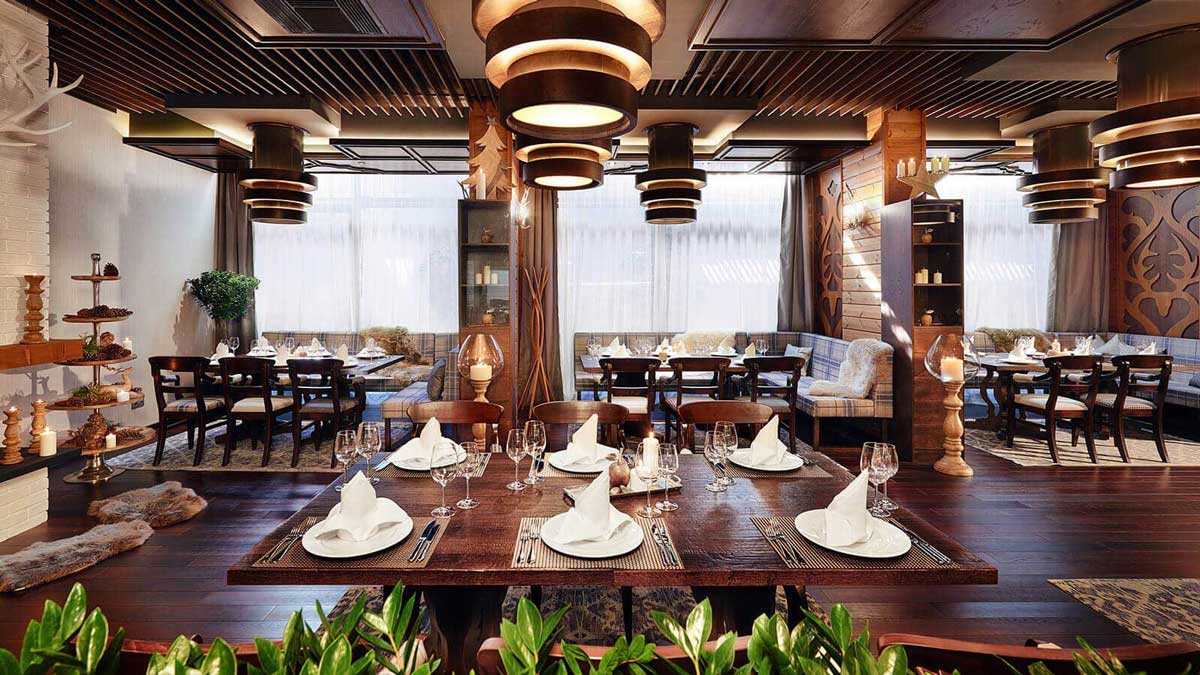 Have you ever wondered what makes Switzerland so popular as a destination, especially in winter?
What is the thing that all skiers who go down the slopes of the Swiss or French Alps dream of enjoying at the end of the day? Fondue, of course!
Well, if you want to gather around the table with friends to eat a delicious fondue while you are on a Christmas holiday in Bansko, then Fondue restaurant Bansko is just for you.
Fondue Restaurant is the only restaurant in Bansko that offers Alpine cuisine. The restaurant will impress you not only with a cozy, sophisticated atmosphere and perfect service but also with carefully selected dishes from French and Swiss cuisine.
Here you can try a cheese fondue according to original recipes, a uniquely tasty Raclette, seafood dishes, and desserts that you will want to try again and again… And again.
Armenian Cuisine
While skiing in Bansko, you did not expect to find an Armenian restaurant right there, at the foot of the Pirin mountains, right?
Armenian Restaurant Egur, Egur
The restaurant is the only one in the city that offers Armenian cuisine. The setting is very stylish, and the menu is oriented towards presenting typical and popular traditional dishes of Armenian cuisine.
The Classic Restaurants in Town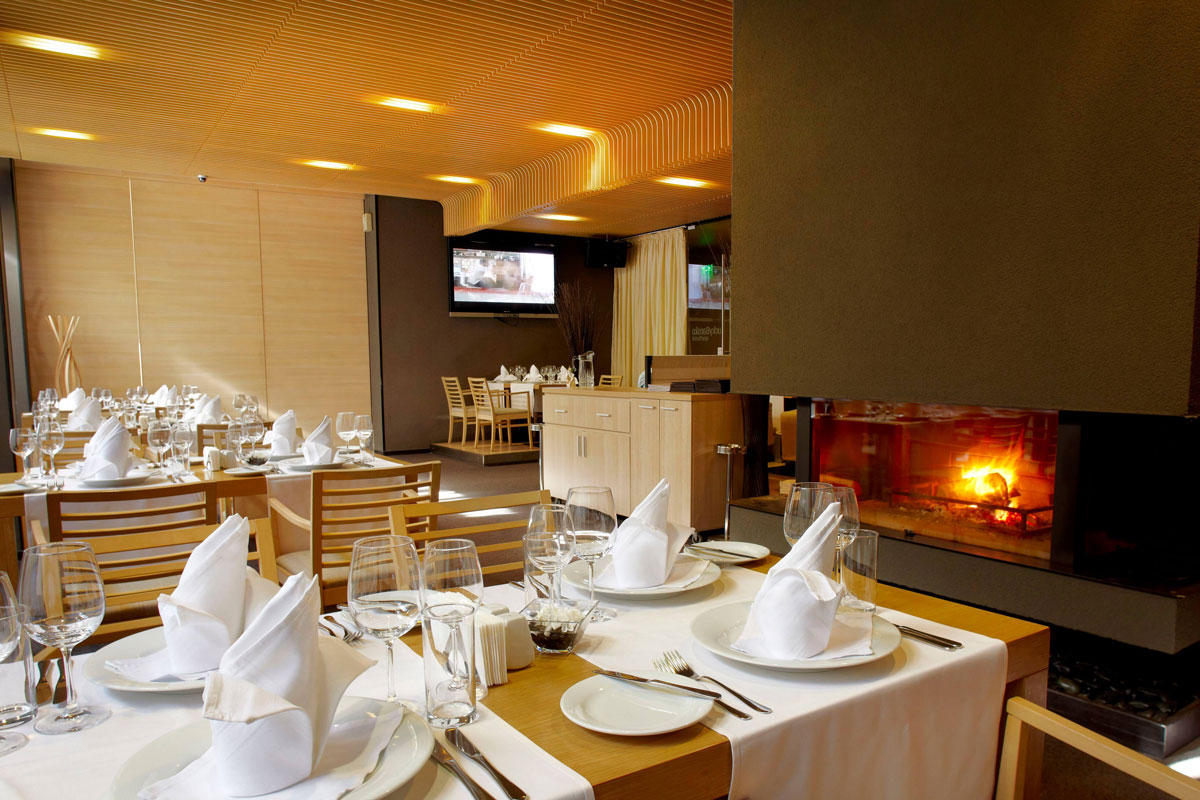 Do you fancy eating at a place where the menu is varied and international? Bansko has much to offer again.
One of the best restaurants with such a menu is Le Bistro. The restaurant offers a cozy atmosphere and a menu that will surely appeal to you.
Elegance, class, and dishes from the most popular cuisines await you at restaurant Le Bistro. Here, you can taste traditional Bulgarian dishes and dishes from Italian, French, and Spanish cuisine. And for those of you who are vegans, there is a special menu that will exceed all expectations.
The restaurant offers average Bulgaria food prices, and the Lucky Bansko aparthotel guests will have a free breakfast in Le Bistro included in their booking price.
Antique Chateau Bansko
Antique Chateau Bansko restaurant will offer you a varied menu of dishes from Bulgarian, Greek, and Mediterranean cuisine traditions. The atmosphere is very original and intimate, and the service is definitely up to standard.
Also, if you love wine, you can taste the rich wine collection from all over Europe.
Sushi Bar with Japanese Cuisine
In recent years, sushi bars have become very popular and loved in Bulgaria, too. But if you have not been able to try sushi yet, it is a good time to do so while skiing in Bansko.
Sushi Bar and Teppanyaki Grill
This is the most popular sushi restaurant that will take you directly to Asia. Only here, right in front of you, chefs will prepare your sushi with original Japanese recipes.
The Sushi Bar and Teppanyaki Grill has a sophisticated and stylish setting. In addition, the menu is pretty abundant, and the opportunity to enjoy the master skills of Japanese chefs who prepare food in front of you is a unique experience.
And Others
Other restaurants you can't go wrong with include:
Smokey Mountain Bansko Bar & Grill
Veranda BBQ & Wine
Le Petit Nicolas
"Five M" Restaurant & Good Bar
Or Restaurant Victoria Bansko
Also – if eating out every day is not wise for your budget, you can simply find the nearest Bulgarian store and stack yourself up for the day. When buying food in Bulgaria, prices are not much different than in the rest of Europe, though you can find both cheaper and more expensive places to shop.
A simple "Bulgarian food shop near me" or "Bulgarian store near me" search will get you there, and you will have plenty to choose from.
The Pubs and Bars in Bansko
An international resort is just supposed to have a few super cool pubs at it, right?
If, after a long day on the ski tracks, you want to try live beer, then we advise you to visit one of the most popular pubs in Bansko – Bar dinner and beer Boulevard.
Besides the live beer, here you will find tasty local grill dishes, popular desserts, good service, and a stylish setting.
In the list of best bars in Bansko, you will also find the Queen's Pub. Here, the atmosphere will appeal to you, and your fatigue will disappear as you taste delicious French fries, chicken wings, and beer from various world-renowned brands.
If you're wondering how much is a beer in Bulgaria, you can expect anything between BGN 3 and BGN 15, depending on what and where you're drinking.
Night Clubs
The holiday will really evolve into something else if you take your time and visit one of the nightclubs in town at least once during your stay.
There's plenty to choose between, and you can go to a nightclub, a discotheque, or a karaoke bar.
Some of the famous nightclubs playing a role in Bansko Bulgaria nightlife are:
Oxygen Bansko – the palace for house, dance hall, and drum and bass music. Oxygen regularly invites famous guest DJs, so if you enjoy this style of music, the club will definitely appeal to you.
Jack's House – popular hip hop, pop, and R & B music. The setting is delightful, the service is up to standard, and the mood degrees are always high.
At the end of the day, there's nothing better than experiencing the variety of Bansko – so there's no need to even choose. Just schedule, budget, and enjoy – because making the best memories in Bansko is as easy as one-two-three!