Ayurveda Clinic
The Аyurveda Clinic Lucky Bansko is situated in apart hotel Lucky Bansko.
Аyurveda Clinic Lucky Bansko is the first of its kind Indian Ayurvedic Centre in Bulgaria. It offers a treatment according to the Ayurveda system which purifies, rejuvenates and beautifies your body based on the methods Purvakarma and Panchakarma.
Аyurveda is an ancient science for health and well-being which has been practised for more than 5000 years.
Download the brochure here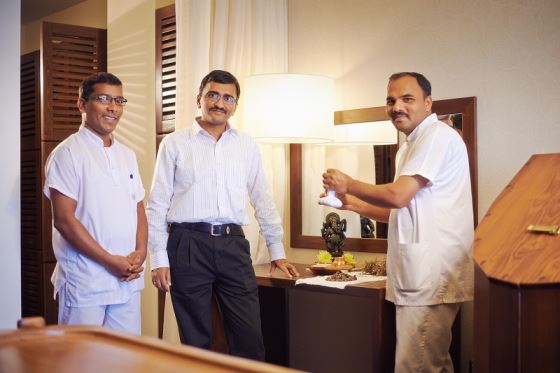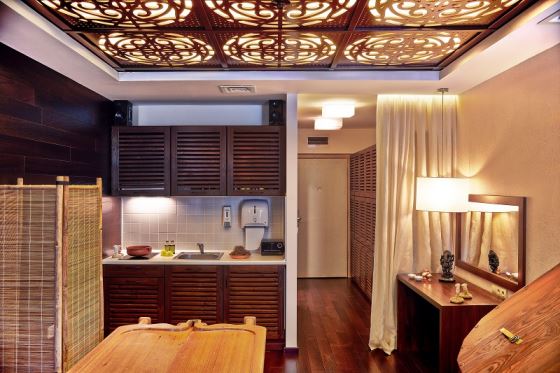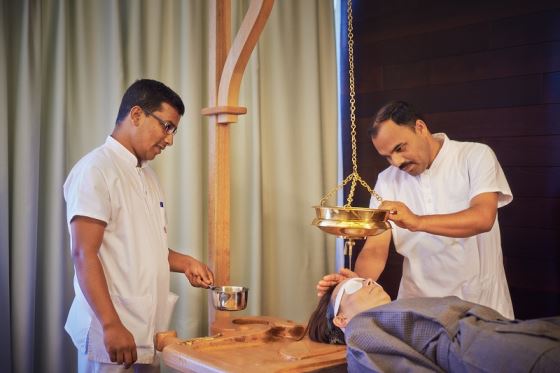 Purvakarma is the combination of external health procedures (includes rubbing oils, herbal sauna, hot intensive compresses, herbal and oil massage, pouring oils over specific body parts, thermal procedures and much more) which prepare the body for internal purification, bringing out the toxins, and which also beautify.
Panchakarmа is the method for internal purification of your body which removes toxins, radicals and heavy metals through a combination of therapies (purgative and laxative therapies).
The combination of the two methods is supplemented with individually selected Ayurveda nutrition schedule that takes your personal Dosha (body type) into consideration.
According to the Doctor here, the best results for your body and its appearance are achieved when there is a good combination of treatment methods of healing Аyurvedа along with detoxification procedures like Purvakarma and Panchakarma,  Ayurvedic nutrition, medical gymnastic and relaxation.
The courses are held in 10,15, 20 or 25 day-periods in Аparthotel Lucky Bansko during spring (April and May) and autumn (October and November).
During this period you will be taken care of constantly and this will include medical examination and observation, 2 or 3 daily therapies with original therapeutic oils, Indian herbs and detoxification tea, bio food prepared according to the requirements of Аyurvedа (your personal body type/ Doshas – Vata, Pitta and Kapha will be taken into consideration), rest and relaxation, yoga, mountain hiking and entertainment.
Of course, in case you are already healthy, the focus will be oriented towards purification, rejuvenation and beautification.
What are the advantages of Аyurveda Clinic Lucky Bansko?
India comes to Bansko – you'll get a qualified and adequate purifying programme, without the necessity to travel to another continent;

Our licensed Indian doctor has 14 years of medical practise, taught by the doctor of the Indian Prime Minister, will take care of your needs.

The therapies will be handled by two Indian therapists, who own more than 12 years of medical experience in Аyurvedic procedures;

There will be simultaneous accommodation of no more than 6 people in the centre, so each individual client will get maximum attention and care;

All the oils, herbs and healing materials are imported from India, personally selected by our doctor;

You will receive qualified treatment, combined with full purification, rejuvenation, recovery, energizing and anti-stress effect in 5***** luxury. 
What are the effects of Purvakarma and Panchakarma purification on your body?
You will purify your body and it will be free of toxins, pesticides and heavy metals;

Your body will be balanced at an appropriate energy level, your spirit will be released, and your mind cleared;

You will be more energetic, relaxed and happy;

Your immunity system will be strengthened;

You will look younger and more beautiful;

During the course our Indian doctor will advise you on how to take care of yourself in order to be healthier. 
What kinds of diseases can be treated by Ayurveda?
Disorders of the Digestive and Excretory systems;

Cardiac disorders and high blood pressure;

Respiratory illness;

Joint diseases;

Dermal illnesses;

Women's fertility issues and sterility;

Mental problems and stress;

Motive disorders.   
Our Doctor recommends a 15 day treatment course in the case of lighter disorder and a 25 day treatment course in the case of a more serious disorder, in order to achieve the necessary therapeutic results.
What is included in the programme?
10,15,20 and 25 days accommodation at 5-star apart hotel Lucky Bansko;

Initial, current and final medical examinations – a qualified translator in English language will be provided;

The necessary Аyurvedic procedures and therapies prescribed for you by ayurvedic doctor;

Balarut and Navara rice, and healing oils for wet therapies, prescribed personally for you by our doctor;

Herbs for treatment (payment if extra needed as the treatment will continue a couple of months);

Intake of decoction of herbs, balancing the dosha during the day

3 Ayurvedic nutritious meals per day (mainly vegetarian bio food, milk products included);

Live (ionised) water;

Yoga sessions ( 5 days per week – morning and evening sessions);

Individual plan for a healthy way of living, nutrition and body attitude and consciousness.
Transfer:
Upon reservation, as part of our service we can organise a transfer from and to apart hotel Lucky Bansko.
Reservation policies:
The guests can pay for their programmes in BGN (the price will be calculated according to the rates fixed by UBB) or in Euros.We accept payments by VISA or MasterCard.

Deposit – Every participant is required to make an initial deposit of 25% of the value of the chosen programme, no later than 3 days after the confirmation of the reservation. Our advice is to enroll in advance, as we can accommodate a maximum of 15 guests together during the same period.After the deposit is received your reservation is guaranteed.

Final part of the deposit – the rest of the amount due for the entire programme should be paid no later than 7 days before your arrival.
Annulment policy (Cancellation of reservations):
The deposits are refundable in their full amount no later than 15 days before the date of your arrival at apart hotel Lucky Bansko.

In case of cancellations 7 to 14 days before the date of arrival, the deposit of 25% is non-refundable.

In case of cancellations less than 7 days before the date of your arrival, a fee amounting to 50% of the full amount of the 7 days programme is non-refundable.

In case of early departure a fee equal of the price of two night's package will be charged.

In case of delay (for any reason) the full package fee is payable.

In the calculation of the deadlines, all calendar days (including weekends) will be used.
In order to enroll into the AYURVEDA CLINIC, please contact us via tel: +359 2 806 61 78; +359 879 111 222 or e-mail: info@ayurvedabansko.bg