You love to spend the winter in the mountains and every year you are looking for a new and profitable destination. You have also considered a holiday in Bansko, but since it is our most popular ski resort, you think that the prices for holidays in the winter are too expensive and are not profitable for you. And you are wrong. Because it is during the best winter months that the holidays in the resort are the most profitable.

Why rest in Bansko after the New Year holidays?
During the first months of the New Year, tourists in the resort significantly decrease as they return to work after many days of holidays. To attract guests in January and February, all hotels in Bansko (and not only there) offer extremely tempting and affordable holiday packages that you can take advantage of.
In other words, you will have your winter vacation in your favorite resort at much cheaper prices. You just have to follow the offers and packages for holidays in Bansko after the New Year holidays and choose the offer that is most advantageous for you and your family.
How can you have fun in January and February in Bansko?
To ski or learn to ski
Bansko has one of the longest ski seasons, which begins in mid-December and ends in late April. If you are an avid skier, January and February are the best months for fun on the white slopes.
During these months there is already enough accumulated natural snow, the slopes are open 24 hours a day and you can spend a whole day on the slopes if you wish. If you want to learn to ski, there are over 10 ski schools at your disposal, where you can make your first attempts at skiing.

Sightseeing
Bansko is not only a popular ski resort. It is a city with a centuries-old history that has something to show its guests. Alone or with your family, you will be interested to visit Benin's house, the house of Nikola Vaptsarov, the Holy Trinity church, Velyanov's house, the monument of Paisii Hilendarski and many others. And you can going to the nearby towns of Razlog and Dobrinishte or take a day trip to the villages of Leshten, Kovachevitsa, Banya and Ognyanovo.
Relax in the SPA center
Almost all luxury hotels such as Lucky Bansko have their own SPA centers, which you can use the whole family for free while you are a guest of the selected hotel. The SPA areas have hot pools, saunas, hot tubs, salt rooms, steam and herbal baths, which you can try after returning from a walk or ski run. And if you want to take care of yourself even more, the SPA centers, also offer massage therapies, aromatherapy and beauty treatments that will detoxify your body and remove the accumulated stress.
Try authentic Bansko cuisine
There are many restaurants in Bansko that offer authentic Bansko cuisine. The dishes are prepared according to old recipes and in a way that Banskalii have prepared them for centuries. One or two family dinners in one of the famous Bansko pubs will like to your whole family.
Be sure to try the Bansko kapama, chomleka, Katino meze and bacon beans. Of course, all this accompanied by homemade red wine and an appetizer " banski starets ".
Have fun in an escape room
Your family will be very happy if you all get involved in solving a mystery in the escape rooms available at Lucky Bansko Hotel. You just have to choose a room and the fun can begin. And if your children are old enough and want to cope on their own, give them freedom, and you have fun in one of the games rooms, around the pool or sit in the lobby bar for a drink.
Take a leisurely walk and have beautiful views all around you
Bansko is beautiful all year round, but winter is definitely its season. Then the town looks like a fairy tale. The peaks are covered with snow, the small streets are quiet and the chimneys of the houses are smoking. And you walk slowly and enjoy this whole idyllic picture and you want to never leave.
Visit the ice rink
If in the big city you still do not have time to spend with the whole family, in Bansko you can all have fun together on the ice rink. You will find it located on the main street of the city. Get on the skates and show the little ones how adults can have fun too.
Take a snowmobile ride
If you love adventures, you can organize a family snowmobile ride on one of the many routes in the mountains. The experience is unique and will appeal to everyone. You can rent the sledges from Banderishka Polyana and have real fun on one of the 14-kilometer snow trails.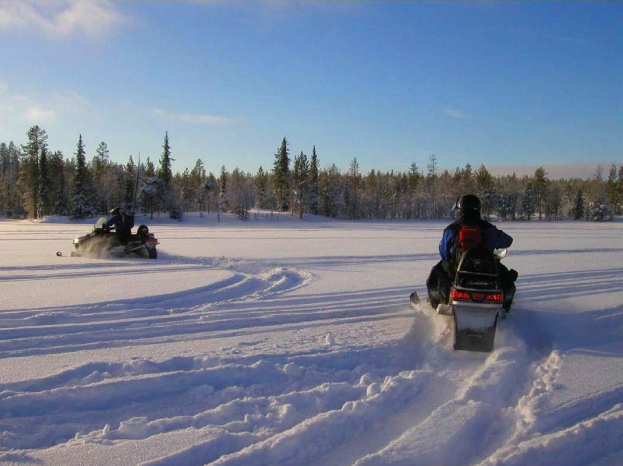 Holidays in Bansko after the New Year holidays are one of the best decisions you can make. You will be in the resort during the best months for skiing, you will have fun with the whole family, you will see many sights and you will relax. And all this at very decent prices.