SPA center
LUCKY BANCKO SPA & RELAX is the best SPA hotel in Bansko, as evidenced by the numerous awards, with which it has won in a number of prestigious national and international competitions.
LUCKY BANSKO is not just a 5-star hotel, but a place where you can take care of your physical and mental health by restoring the lost harmony between them in the stress of everyday life.
The luxurious ultramodern SPA center is our pride and the high level of the services it offers gives us a reason for real satisfaction!
With its 28 functionalities and modern facilities, the SPA center gives you the opportunity to relax, to help solving a health problem or to reduce stress while giving yourself pleasure.
The SPA center offers:
SPA treatments, massages and therapies
Pools
Water appliances
Saunas and steam bath
Salt and ice room
Solarium, MaRhyThe and massage devices
Gym
If you're a guest of the hotel, you have free use of the organic pools, the salt and the ice room, the saunas and the steam baths, the adventure showers, the Jacuzzi and the gym.
Listen to the music that sounds when you're underwater to set the mood.
We believe that the pleasure of various therapies and the perfect service in the SPA center will make you come back to us again and again.
SPA treatments, massages and therapies – prices
Working hours
Winter (from 01.12): 08:00 am – 09:00 pm
Spring, SUMMER and AUTUMN: 08:00 am – 09:00 pm
The SPA center of LUCKY BANSKO SPA & RELAX apart hotel offers a wide range of treatments and therapies for body and face.
119 BGN
50 min
CLASSIC MASSAGE
145 BGN
50 min
CLASSIC MASSAGE + THERAPY WITH THERAGUN, USA.
130 BGN
50 min
DEEP TISSUE MASSAGE
130 BGN
50 min
AROMA MASSAGE
119 BGN
50 min
AYURVEDIC MASSAGE
160 BGN
75 min
MASSAGE WITH VOLCANIC STONES
170 BGN
80 min
ROYAL MASSAGE
145 BGN
50 min
POWDER MASSAGE
69 BGN
25 min
AFTER SKI STRETCHING
65 BGN
25 min
FАСE AND SCALP
65 BGN
25 min
COLLAR MASSAGE
69 BGN
25 min
BACK MASSAGE
75 BGN
30 min
BACK AND LEG MASSAGE
69 BGN
25 min
REFLEXOTHERAPY(Zone therapy)
59 BGN
30 min
SEA ADVENTURE
55 BGN
25 min
SWEET DREAMS
40 BGN
15 min
SHORT HOLIDAY – back massage
110 BGN
50 min
THE LITTLE PRINCESS
160 BGN
90 min
DAMASCENA – BULGARIAN ROSE
The beneficial effects of rose oil on the body and senses have been known since the time of the Thracians. The modern ritual begins with a gentle peeling of the whole body, which cleanses and revitalizes the skin. It continues with the rejuvenating mask, during which you will feel a surge of new strength. Next is a hydromassage bath for deep hydration with Bulgarian rose and milk – preparation for a relaxing massage that will restore the balance between body and mind, enveloping you with the aroma of the Bulgarian damask rose.
PROCEDURES IN THE TURKISH BATH (HAMAM)
82 BGN
25 min
ORIENTAL PEELING KESE
92 BGN
25 min
PEELING WITH HONEY AND COFFEE ON THE WHOLE BODY
169 BGN
55 min
ORIENTAL PEELING WITH FOAM MASSAGE
210 BGN
90 min
ORIENTAL FAIRY TALE
ANTI-CELLULITE AND WEIGHT LOSSING PROCEDURES
69 BGN
30 min
RADIOFREQUENCY BODY LIFTING (ONE ZONE OF CHOICE)
276 BGN
RADIOFREQUENCY BODY LIFTING (5 ZONES OF CHOICE)
75 BGN
40 min
ANTI-CELLULITE MASSAGE
300 BGN
PACKAGE 5 ANTI-CELLULITE MASSAGES
BODY THERAPIES: THALGO – FRANCE
80 BGN
30 min
THE MAGIC OF INDIA
80 BGN
30 min
EXOTIC ISLAND
HYDROMASSAGE THERAPIES IN A PROFESSIONAL BATH
45 BGN
20 min
INTENSIVE RELAXING MASSAGE
50 BGN
25 min
INTENSIVE LYMPHATIC MASSAGE
50 BGN
25 min
ANTI-CELLULITE TANGENTIAL MASSAGE
DETOX THERAPY WITH AEMOTIO WATER BED
130 BGN
55 min
MANUAL VICHY SHOWER MASSAGE /massage, chromotherapy/
130 BGN
55 min
WRAPPING WITH MICRONIZED ALGAE
150 BGN
55 min
WRAPPING WITH DEAD SEA MUD AND EXFOLIATION WITH SEA SALTS
120 BGN
55 min
WRAPPING WITH HEALING PEAT MUD
130 BGN
85 min
MARITE – WHOLE BODY
70 BGN
30 min
MARITE – BACK
70 BGN
30 min
MARITE – LEGS
60 BGN
25 min
MARITE – COLLAR
– N/A –
40 min
LYMPHATIC DRAINAGE
– N/A –
PACKAGE OF 3 LYMPHATIC DRAINAGE PROCEDURES
– N/A –
SILHOUETTE PACKAG
25 BGN
CHILDREN'S MANICURE
80 BGN
APPLYING GEL ON A NATURAL NAIL
50 BGN
PARAFFIN THERAPY FOR HANDS
25 BGN
POLISHING OF STEPS
COSMETIC FACIAL THERAPIES: THALGO – FRANCE
150 BGN
55 min
SPIRULINA BUSTER – DETOXIFICATION THERAPY
120 BGN
55 min
MOISTURIZING RITUAL THE HEART OF THE OCEAN
160 BGN
55 min
HYALLU-PROCOLLAGEN program
180 BGN
75 min
SILICIUM program
COSMETIC FACIAL THERAPIES: AKADEMIE – FRANCE
100 BGN
30 min
ANTI-WRINKLE EYE CONTOUR THERAPY
130 BGN
55 min
THERAPY WITH MANUAL CLEANING
130 BGN
55 min
HYALURON program
130 BGN
55 min
ANTI-WRINKLE THERAPY
130 BGN
55 min
THERAPY FOR HYDRATION AND NOURISHMENT
130 BGN
55 min
THERAPY FOR MEN
140 BGN
55 min
HYDRATION PROGRAM + RADIO FREQUENCY LIFTING
COSMETIC FACIAL THERAPIES WITH INTRACEUTICALS
210 BGN
55 min
REJUVENATE – PROCEDURE FOR DEEP HYDRATION AND REJUVENATION
220 BGN
55 min
OPULENCE – WHITENING THERAPY
210 BGN
55 min
ATOXELENE – UNIQUE LIFTING THERAPY
210 BGN
55 min
VITAMIN A + BOOSTER
210 BGN
55 min
VITAMIN C + BOOSTER
210 BGN
55 min
COLLAGEN + BOOSTER
210 BGN
55 min
ANTIOXIDANT + BOOSTER
INTRACEUTICALS PACKAGE OFFERS
SPECIAL FACIAL TREATMENTS
55 BGN
20 min
Ultrasonic facial peeling
65 BGN
25 min
Radiofrequency facelift
45 BGN
40 min
DETENSOR therapy
Therapies for children
In addition to the pool, the SPA center of the hotel offers its youngest guests healing and relaxing massages and therapies.
For some children, they are necessary for health reasons, while for others they are intended to create useful habits of body care.
Thalgo
The Thalgo products – an undisputed leader in marine cosmetics, are the basis of several therapies and facial programs.
Intraceuticals
The latest in the field of rejuvenation
Intraceuticals is a mesotherapy created on the basis of nanotechnology, which you will find only in LUCKY BASNKO SPA & RELAX.
This is a needleless (non-invasive) therapy that "awakens" the skin to new life.
The serums have different effects (rejuvenation, detox, bio botox, vitamin C, vitamin A) and give visible results after the first procedure.
The therapy is intradermal penetration with pressurized oxygen jet and hydration with 95% pure hyaluronic acid and multivitamin complex.
Intraceuticals is a technological advancement that allows – for the first time in the fight against the signs of aging – direct treatment of the lower and upper eyelids, as well as the eye contour.
The therapy that conquered Hollywood is used daily by Madonna and Victoria Beckham.
Academie
In many of the treatments we use the products of Academie – innovative cosmetics of the highest class, which in its effectiveness and guaranteed visible results is a world leader in the fight against skin aging.
The Academie products are light and pleasant, without intrusive odors and parabens.
They are suitable for all skin types.
They hydrate, nourish and rejuvenate.
Can be used in combination with radiofrequency skin tightening.
Radiofrequency skin tightening
The procedure regenerates and tightens the skin, restores its elasticity, has a lifting effect and stimulates the production of elastin – a building part of collagen.
The radiofrequency skin tightening uses bipolar radiofrequency energy that penetrates deep into the skin and literally melts old, sagging and torn collagen and elastin fibers.
It is applied on one or several areas – wherever the skin is too loose.
No side effects such as redness and swelling.
The result is visible immediately after the procedure and improves in the next 48 hours.
Ultrasonic peeling
Cleanses the skin and reduces pigment spots.
Functionalities and facilities
The SPA center has 28 functionalities and modern facilities.
Pools
Bio pools
The 2 indoor bio pools are the only ones of their kind in Bansko: for children – 3,0 х 3,0 m with a depth of 50 cm; for adults – 16,90 х 4,60 m with a depth of 1,40 – 1,60 m.
Water is purified by innovative technology through ionization and electrolysis with sea salt and ultraviolet light.
The pools meet all safety standards and are serviced by a certified lifeguard.
Salt pool
The pool (measuring 2,0 х 2,0 m with a depth of 90 cm) is located next to the two bio pools.
The water temperature is 30 degrees and the high salinity is maintained by adding Dead Sea salts.
Salts have a regenerating effect on the skin.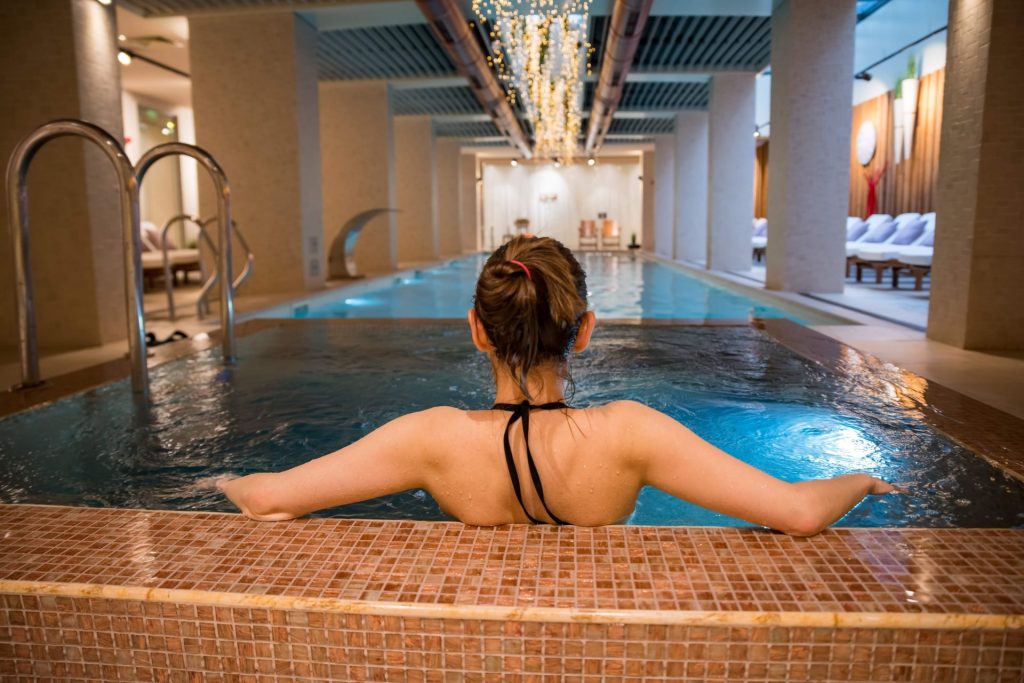 Water appliances
Hammam (Turkish bath)
Room for individual therapy.
The procedure includes warming the body, rinsing with water sweating on a stone bed, rubbing with a bag (peeling glove), rinsing and rest.
During the procedure the skin significantly increases its ability to absorb nutrients from the masks that are applied to it.
Detoxifying, cleansing and healing effect.
Relaxes the subtle senses.
AEMOTIO water bed
UNIQUE EXPERIENCE!
Has 6 functionalities:
water bed
chromotherapy in 6 colors
individual steam bath
shower Vichy
applications with micronized algae
applications with healing peat mud from the region of Kyustendil- used for the first time in Bansko.
Especially useful for people with diseases of the musculoskeletal system.
Reduces stress, detoxifies and gives great pleasure.
Shock bath
Improves blood circulation in the fine capillaries of the skin.
The effect of using the bath is comparable to staying in an ice room.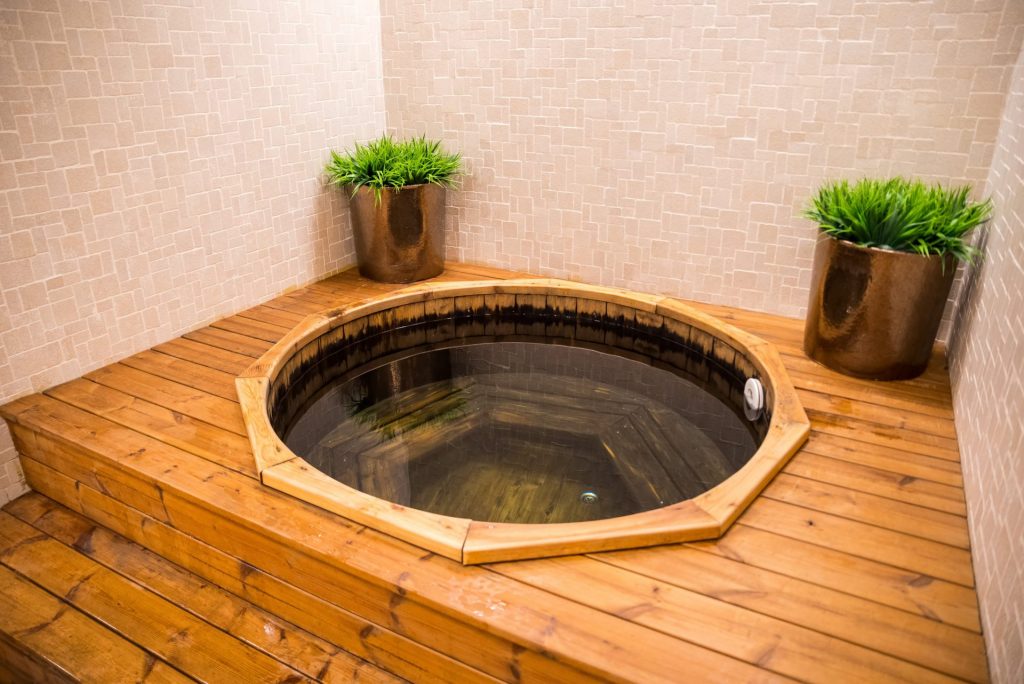 Hot tub
The latest generation device with 15 programs, among which:
pearl massage- for the peripheral nervous system
whirlpool massage- to absorb swelling and soothe pain
tangential massage.
Massage functions (of different type and intensity) can be applied to four areas of the body.
Warm water, directed under pressure to the problem areas, helps to eliminate cellulite.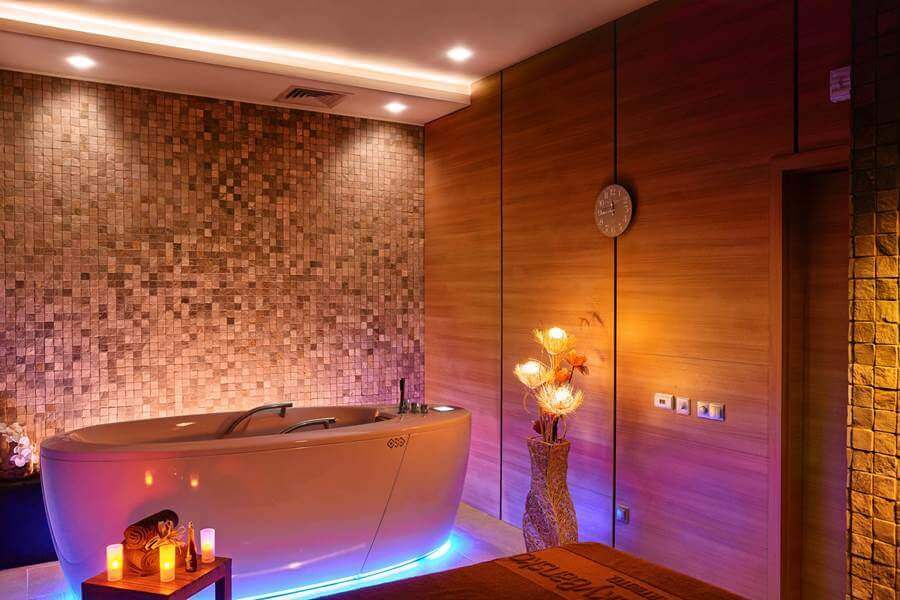 Showers
Contrasting, adventure shower and hydro massage- massage, tone and entertain.
Aquarium with garra rufa
The small heat-loving garra rufa fish naturally removes dead and diseased tissue from the feet and stimulates skin regeneration.
The fish are certified for use.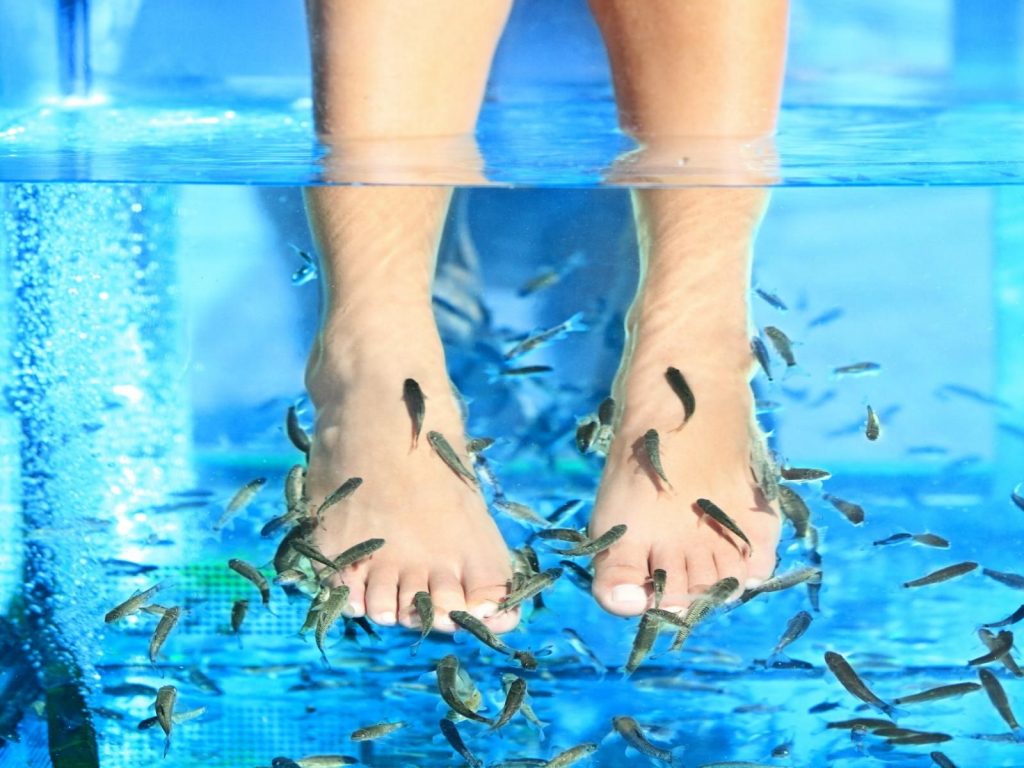 Sauna and steam bath
Finnish saunas
Two Finnish saunas (one-herbal) with an air temperature of 80-100 degrees.
This experience opens the pores, removes toxins from the body and has a relaxing effect.
Not recommended for people with cardiovascular diseases.
Infrared sauna
The decisive factor here is the healing effect of infrared rays, which penetrate into the tissues at a depth of 7 cm and can help with arthritis, trauma, eczema and other problems.
Steam bath
Has a relaxing effect, opens the pores and removes toxins from the body.
It is considered a more gentle method than the sauna because of the lower temperature (55 degrees), but we must not forget that high humidity also burdens the body.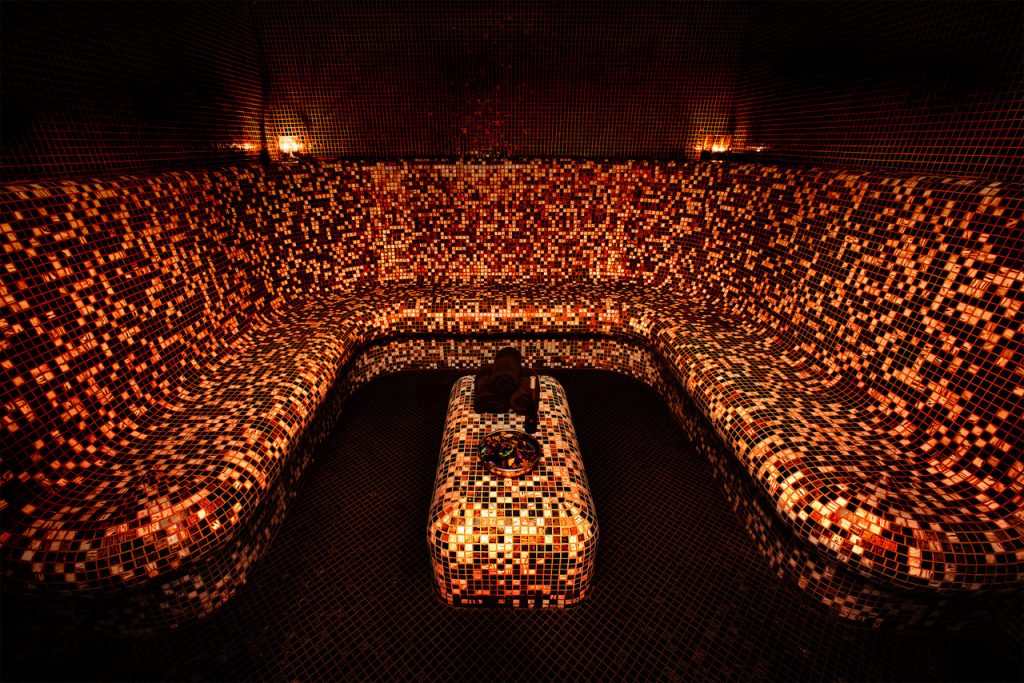 Salt and ice rooms
Salt room
A place with a magnetic atmosphere, which in combination with the gentle background music has a relaxing and calming effect.
The soft golden brown illumination of the room is due to the walls built with bricks of 100 % Himalayan salt.
Inhaled fine salt particles lead to the absorption of secretions from the nose and sinuses and their removal from the respiratory system.
Halo therapy has a healing effect on respiratory and skin diseases and has a positive effect on mental disorders.
Salt crystals neutralize the electromagnetic smoke that accumulates as a result of excessive use of mobile phones and computers.
A 50-minute therapy in the salt room is equivalent to a 4-hour walk in a pine forest.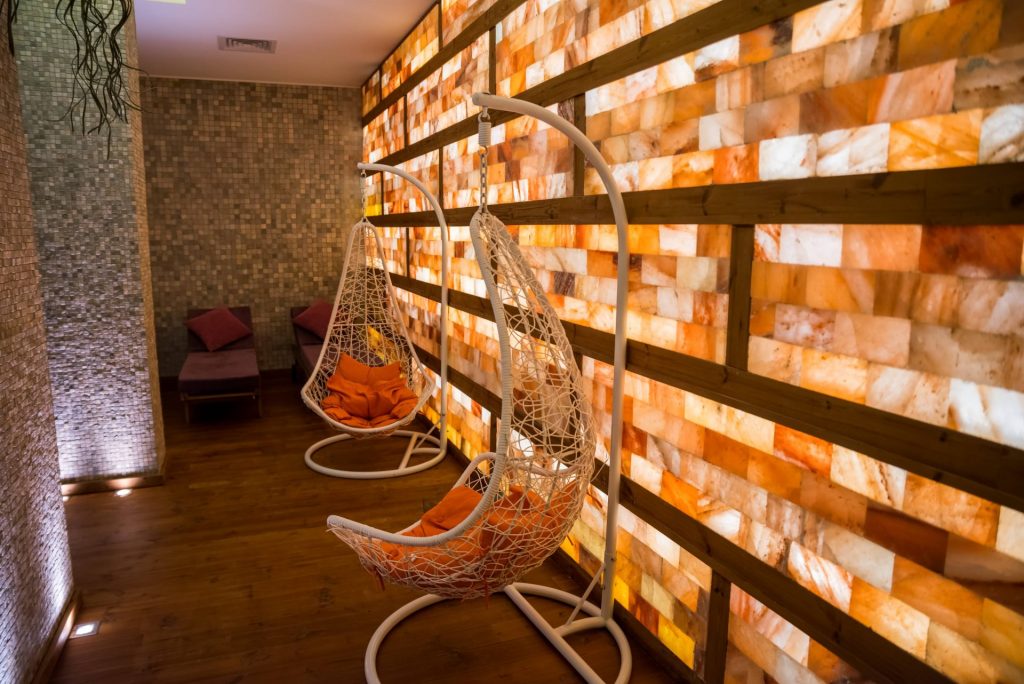 Ice room
The temperature in the room is below 0 but the air is dry and the cold is not so strong.
Has a toning effect.
It is used after a sauna in order to cool the body and return it to normal temperature.
Not recommended for people with heart problems.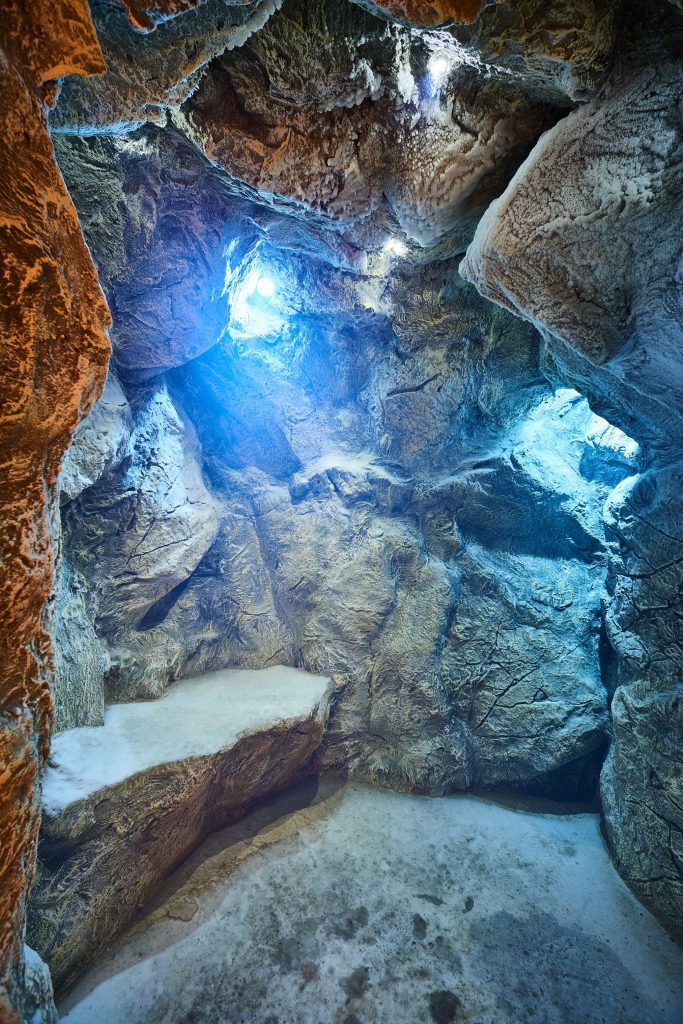 Solarium, MaRhyThe and massage devices
Solarium
The Ergoline vertical device is of the highest class and provides fast, effective and safe skin treatment in accordance with established world standards.
The solarium has a reliable protection and allows the body only useful alpha rays, which give the skin an even chocolate complexion.
Matrix-rhythm therapy device (MaRhyThe)
MaRhyThe™ (pronounced MaRiTe, shortened from Matrix-Rhythm-Therapy) is a modern method of combating a number of diseases of the muscles, joints and nervous system.
Its action is based on the scientific fact that the structures of a healthy organism vibrate rhythmically 8-12 times per second.
In case of trauma or illness, the rhythm is disturbed and the metabolic processes in and around the cells are slowed down.
The device produces mechanical pulsations that restore normal vibration and that way unlock the process of self-healing.
It is used successfully in acute injuries of muscles and tendons, arthrosis, rheumatic diseases, postoperative edema, etc.
Supports lymph circulation and the removal of waste products from the body, used also against cellulite.
With such a device astronauts protect themselves from muscle atrophy.
Theragun Elite
Deep-tissue massage device made in the USA.
Deep tissue massage focuses on the deep muscle layers and surrounding tissues.
Helps with injuries and chronic pain.
Gym
Fully equipped with Technogym appliances
It has two treadmills, cross-country and exercise bike, two bench presses for back and abdominal presses, one bench for training with dumbbells, one-sided crossover (adjustable reel) and a Swedish wall.
Cardio training strengthens the heart, increases endurance, speeds up metabolism, reduces stress and balances hormones.
The bench press for back and abdominal presses is the most used device for developing the lumbar muscles, which helps to build a healthy, stable, power-balanced and functional abdominal girdle.
The dumbbell bench press allows you to train each side of the body individually, helps burn excess fat, build muscle and increase endurance.
The Swedish wall develops a sense of balance, increases strength and flexibility.
The one-sided crossover is used to diversify the exercises for triceps, extension, biceps flexion, and abduction/adduction.