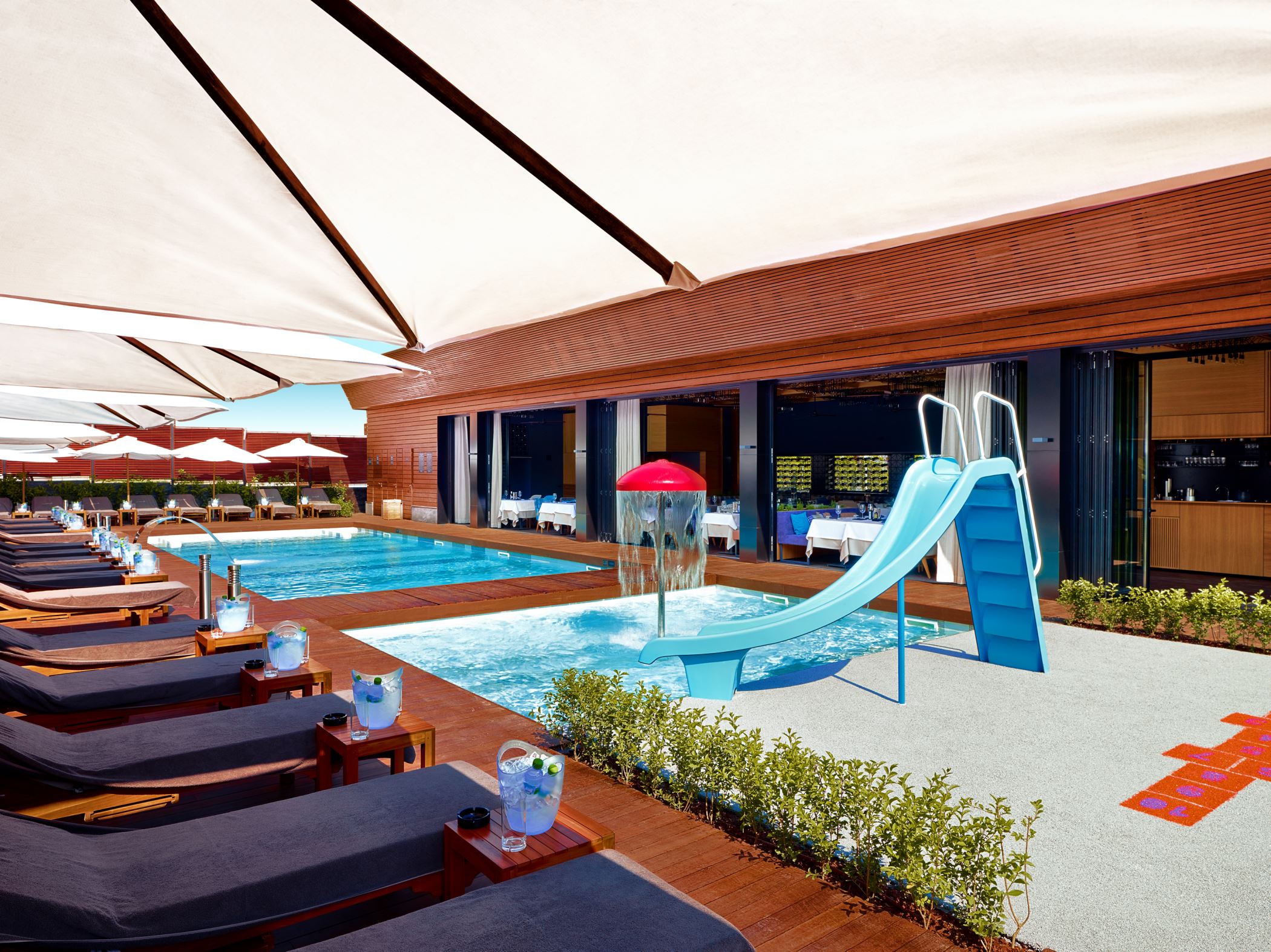 In this luxury hotel in Bansko is thought out and crafted every detail for your carefree relaxation of everyday life: from possible different ages of children – their needs, options to parents to decide for themselves to spend their holiday in a great location. The service is also perfect, so at this five-star hotel the whole family feels good and fun. This is seen by the international organizations in the tourism industry – coincidentally hotel "Lucky Bansko" is the highest score among all hotels in Bulgaria given by the largest international tour operator TUI UK, certified by
Travelife as eco hotel. Furthermore, "Lucky Bansko" is a member of the prestigious American Luxury Group, which is a leader in direct access to the world's premium luxury hotels! But do not be startled by the international level of the hotel – it is for the offered comfort and entertainment, otherwise the prices are quite reasonable. Even there are some discounts – in the SPA center at the hotel as for all guests 20% discount from current prices for the period 1 April to 30 November. But let start form the accommodation.
You have choice from 67 Studios, 47 apartments, Presidential designer apartment in mountain style, offers incredible convenience and comfort.
However, all the studios and apartments are well furnished and comfortable, and upon request a baby cot could be add. Starting from Studio Lux (up to 25 sq.m) of an anteroom, spacious room and bathroom, and leads to the 2-bedroom apartment Lux + (up to 83 m2): entrance hall, 2 bedrooms with balcony, separated by a door living room and bathroom; the living room has a triple sofa bed, two small tables and a TV. Whatever you choose, you will have TV, telephone, wireless internet, mini safe and fully furnished and equipped kitchen with coffee maker Lavazza, ceramic hob, toaster, kettle for hot water, refrigerator, microwave, and utensils.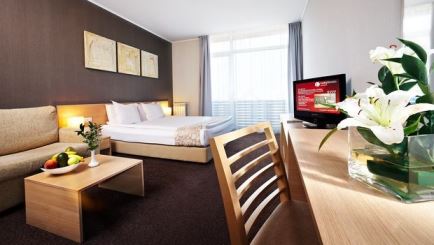 Bathrooms have a bathtub, shower, hairdryer, telephone and SOS system. They are equipped with French toiletries, slippers and a complete set of towels and bathrobes for adults and children. Shatterproof glass are provided in the hotel and all the floors are covered with carpet, which is consistent with the safety of children. As we have said, however, they are looked full – apart hotel "Lucky Bansko" via your hotel is for kids!
There is an outside playground with swings and slides; Kids Club "Lucky" with a variety of fun and games (3-6 years) and professional child minders; Room with computer games for children over five years, two fully equipped computer zones with unlimited access to the Internet. For the whole family is the AQUA complex of the hotel "Lucky Bansko" with two outdoor swimming pools – for children and adults.
Here is the wonderful Italian restaurant "Leonardo", where you will find real Italian dishes prepared from original Italian recipes and with original Italian products.
You will spend time very well at the other restaurant of the hotel – "Le Bistro": also extremely tasty cuisine, modern or traditional Bulgarian meals, selected beverages from around the world; you'll like and elegant lobby bar with a summer garden.
The SPA center even has an indoor pool with built-in hidrojet and  Jacuzzi, heated stone loungers, saunas, steam baths, adventure shower, fitness center, massage rooms, solarium; It offers various healing and relaxing beauty massages and therapies. As you can see, one can spend a great relaxing holiday
apart hotel "Lucky Bansko" without ever leaving the hotel and its complexes.
But do not forget where this hotel is – the entrance of Bansko, near the river at the foot of the unique Pirin Mountain! It also used the maximum and from the hotel at your request can organize trips in the mountains, hiking, horseback riding, fishing, hunting – unforgettable experiences amidst magnificent nature!
So – just choose apart hotel "Lucky Bansko" – the hotel with two consecutive nominations Best hotel in Bansko for 2013 and 2014, according to Portal of Municipalities in Bulgaria. And the assessment "Excellent" by Visit guests describe their impressions on Trip Advisor.
That's all you need!
 
https://www.youtube.com/c/LuckyBanskoAparthotel