It's time for trips, noisy open-air parties, walks in nature, and why not to master extreme sports such as rafting, kayaking or canyoning?
If you also like to try out some of these adrenaline activities, we hope you will be happy to hear that rafting, kayaking and canyoning are some of the extreme sports you can practice in the spring, summer and autumn season in Bansko.
Rafting, kayaking and canyoning
Let's start the description in a row so you can get a clearer information about what each of these extreme sports is and how you can take part in it if that's really what you want.
Rafting
Rafting is a type of extreme sport where the participants sail downstream with inflatable boats on lush, cascading rivers. Typically, the most suitable seasons for practicing are spring, early summer and autumn when the level of the rivers is the highest.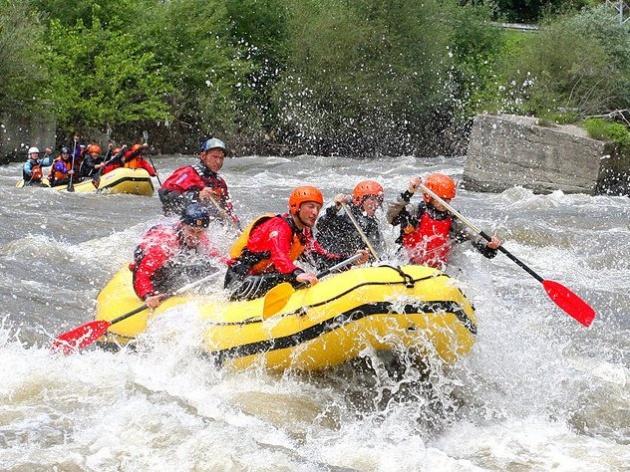 In our country the best conditions for practicing rafting are provided by the Struma and Mesta rivers, and if you are in Bansko at the moment, it is your chance to try rafting in this area.
Who can practice this sport?
The only requirement for you to practice rafting is to be able to swim. There are no age requirements, nor any pre-training requirements, so if you can swim and you are keen to find out what it feels like to overcome the rapids, you can join one of the rafting tours that are organized in Bansko.
How to join in the rafting adventure?
Do you want to feel the thrill when going downstream with a rubber boat on the rivers? You have to simply ask at the reception desk at the hotel where you are staying how to contact the organizers of rafting tours. Almost all hoteliers are working with similar clubs and you will quickly find the ones you like the most.
Downstrean tours in the Bansko area can be organized either along the Struma River or the Mesta River.  
The rafting on Struma starts from the Kresna Gorge, as the length of the track is about 12 km. (the longest rafting route on the territory of the country) and the duration is between 2 and 3 hours. During the sail downstream, it passes through both calm waters and rapids, which maximizes adrenaline. The best time for rafting on the Struma is from March to June and from August to November.
Floating downstream on the Mesta River is more relaxed and allows you to enjoy the beautiful places through which the river flows. The duration is between 2 and 3 hours, and the best time for rafting is from April to July and from October to November when the water level is highest.
Do you need equipment to practice rafting?
The good thing is that you do not have to have your own rafting equipment, as each rafting club has such and will provide it to you. The moment you join the adventure, you will be accompanied by an instructor who will instruct and equip you with a neoprene suit, helmet, life jacket, paddle, and some of the companies also offer neoprene shoes.
Depending on the rafting club you hire, you can take advantage of various rafting packages, including transportation, lunch, organizing games, a combination of rafting with canyoning, or a combination of rafting with sightseeing near the river.
The prices for rafting vary depending on the packages, but generally a rafting downstream is available at prices from 50 to 100 leva per person.
It is good to know that rafting is a team sport and you can not practice it alone, but only in the company of 6 to 8 people with whom you have to work together as a team.
Kayaking
While rafting is a team sport and the floating downstream is mandatory with inflatable boats, kayaking can be practiced individually or with a partner, and the downstream boats are low (almost to the water level) and are made from modern materials.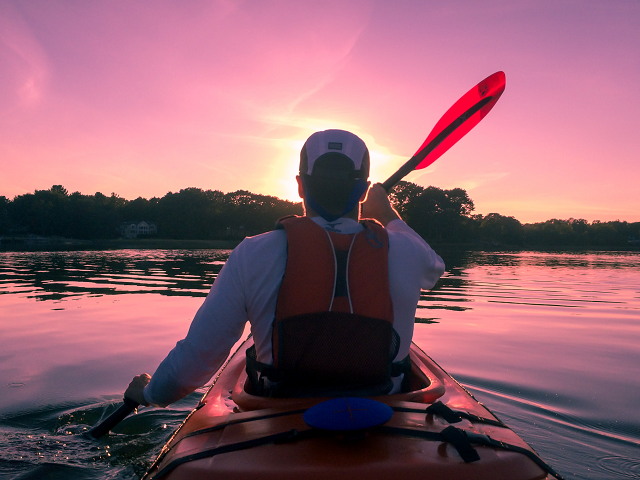 This extreme sport can be practiced by both beginners and advanced, so if you have not tried kayaking so far and want to do it now, it's time to try it … you will not regret it.
If you are in Bansko and want to try kayaking, you can do it again along the Struma and Mesta rivers. The good thing is that this extreme sport can be practiced from the beginning of April until October, so you have more time to enjoy it.
What are the requirements for practicing kayaking?
To practice kayaking there is no limitation (you do not even have to know how to swim) so if you wish, you can sign up for a kayaking tour organized by kayaking clubs in Bansko.
Where can you practice kayaking?
As we mentioned, kayaking is mainly practiced along the waters of the Struma and Mesta rivers, as the extreme journey takes about 3 hours and the length of the trail can be 11 to 15 km.
The kayaking price varies from 70 to 100 BGN, as the price includes: instructor, equipment (neoprene suit, helmet, neoprene boots, life jacket, paddle), transfer to the place for kayaking, insurance, etc. Depending on the kayaking club, additional services can be included in the package, such as professional photos during the floating downstream, lunch, dinner or overnight.
Canyoning
Canyoning is the most unusual of the three extreme sports, but it quickly gathers supporters as it is an extremely fascinating and lifting the adrenaline experience. Generally speaking, canyoning is an extreme downhill ride, crossing through waterfalls and canyons and all this is carried out with the help of alpine equipment for climbing.
Compared to rafting and kayaking, canyoning seems more extreme and fascinating, and if you are one of the people who are not afraid of new challenges, we advise you to join some of the canyon tours that are organized in the Bansko region.
One of the most popular canyoning routes is the Vlahina River Route and most probably your instructors will guide you exactly on it. Canyoning on the Vlahina River is 2.5 km long and lasts from 1 to 2 to 3 to 4 hours (depending on the physical training of the participants and their number).
For whom is the canyoning intended?
Like kayaking and rafting, there are no special requirements for this extreme sport. It is advisable to have some idea of ​​rock climbing, but even if you are a total beginner you can join the canyoning tour.
Before you start the transition through canyons, rivers, waterfalls and sheer rocks, the instructors will provide you with the necessary climbing equipment, carry out detailed instruction and will be at your side all the time.
You are supposed to be dressed in long-sleeved clothing and to have long trousers and have an extra pair of clothes in the backpack. It is advisable to put in your backpack a swimsuit and a towel.
The prices of a canyoning tour vary from 50 to 90 leva per person, and depending on the canyoning club you can take advantage of additional services such as a combination of canyoning with rafting or kayaking, picnic, sightseeing near the river, hiking, paintball, archery or air gun, and more.
Canyoning can be practiced during all seasons except during the winter, but it is most enjoyable to try the extreme sport during the summer so you can get rid of the big summer heats at least for a while.
Who chooses to try out these extreme sports?
Rafting, kayaking and canyoning are for people who want to feel the thrill of different extreme experiences and are not afraid to embark on something new, unfamiliar and exciting. These sports are for people who need to be close to nature and who want to get to know themselves better and their abilities at the same time.
If you also love the reasonable risks, if boredom and monotony are depressing you, then those activities that lift the adrenaline are just for you. And where can you best feel the thrill of rafting, canyoning or kayaking, if not while you are on a vacation in Bansko?
So do not think too much about it, but choose an extreme summer adventure and do it now! If you are with a team, with friends or with your family, then a rafting downstrean ride on the lush waters of Struma or Mesta rivers will be the perfect choice for you. But if you want to be alone with your thoughts or want to find out if you can handle the downstream yourself, then choose kayaking.
Canyoning will be suitable for you if you want to reach the hard-to-reach places in the mountain or want to feel the adrenaline pulsate in your veins when you go down waterfalls, canyons, sheer rocks, or on the bottom of the riverbeds.
All three sports are extremely fascinating, extreme and will leave you with unforgettable memories of an incredible summer adventure. And no wonder if you become a man keen on some of these sports from a man who just wanted to try at least once in his life the thrill of rafting, kayaking and canyoning, and to practice these sports not only all over Bulgaria but in different exotic places around the world.