You have chosen Lucky Bansko SPA & RELAX for your family vacation and you can no longer wait to go to the resort. The only thing that really bothers you is whether your kids will have enough entertainment during the break. If this is something that bothers you, you can calmly collect your luggage because Lucky Bansko is a hotel that pays special attention to its small guests.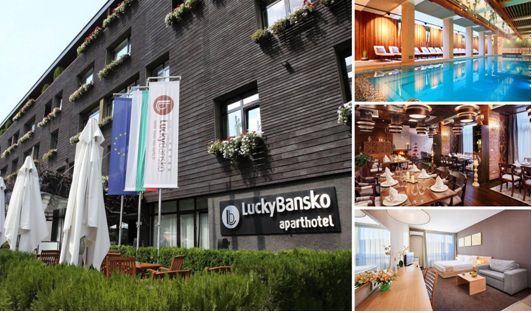 What kind of entertainment for childrenoffers Lucky Bansko Aparthotel?
Long hours of play on the outdoor playground
If your kids are small and like to play climbing, swings, sandboxing or other children's playgrounds, Lucky Bansko has a very well-equipped and certified outdoor playground. On the playground, the children will not only have real fun, but will meet other children their age and make new friendships.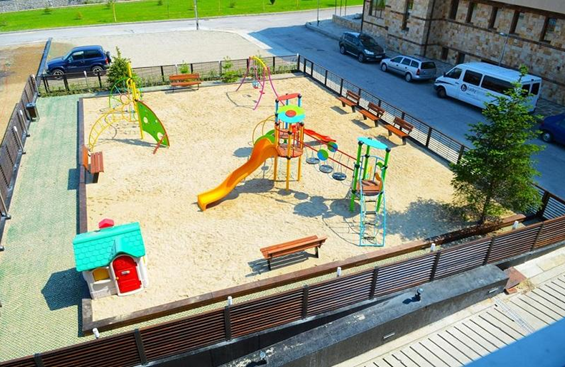 Games in the children's rooms with animators
If you have plans that are boring for the kids or have planned a relaxing, romantic dinner, the hotel has a children's playroom for the little ones. As you relax as you like, your children will draw, sing, dance and play games with experienced animators who will take great care of them. The activities in the children's room are so fascinating that you can be sure that your children will ask you to leave them daily for a few hours there.
If your kids are older and like to play in playstations, Lucky Bansko also has a room for children 5 + years old. The room is equipped with various fun games such as air hockey, basketball, table football, interactive whiteboards and more. During their stay in the room, children are looked after by animators who know how to make their fun unforgettable.
If the kids are an age that they cannot do without computers, there is a special computer room with unlimited internet especially for them. In the room, the kids can surf, play their favorite computer games, listen to music and whatever.
Entertainment in the children's pool
The hotel has two normal size swimming pools and one children's pool. If your children love to swim, the children's pool is available throughout the day. The water in the pool is mineral, purified by special technology, so you can safely let the little ones have fun in it. Pool games are monitored by a qualified lifeguard who closely monitors the safety of the kids.
Relax in the SPA area with mom or dad
Especially for their young guests, the hotel offers massage for children and therapeutic procedures to improve tone. If your child is feeling tired or wants to spend one day in the SPA area with you, you can "pamper" yourself with the SPA treatments for several hours.
Uncovering enigmas in escaped rooms
Lucky Bansko is the only hotel in the resort that has escaped rooms where your kids will experience something really great. There are two escape rooms – "The Mysteries of Egypt"and "The Hacker Room". The first room is for younger children (ages 6 + years), and the second room can entertain children over 7 – 8 years.
Walk with horses around the mountain
Which kid doesn't like horses? We suppose your children adore horses too and will not refuse a lesson in horseback riding or horseback riding in the mountain. If you want to surprise them real, you can contact the hotel reception and book a day for horseback riding. Lucky Bansko is working with one of the most popular horse base in the region and will arrange everything for you.
They will provide you with free transportation to the horse base, and there your children (and you) will have fun all the way to the beautiful nature of Pirin Mountain. Depending on what you have stated in advance, you can entrust the children to an instructor who will show them how to ride horses on a playpen or take a family horse ride around the area.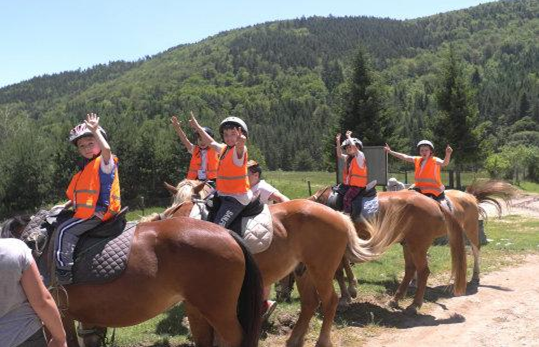 Rock climbing with instructor
If your children are interested in rock climbing, the hotel will help you to organize an unforgettable day full of emotions and fun. Rock climbing is very popular for Bansko sports and there are many climbing clubs in the town that offer rock climbing training to all ages.
Rocks on which climbing is permitted are very well equipped and have varying degrees of difficulty. As soon as you get in touch with one of the climbing clubs, they will ask you about the experience and age of the children and decide which climbing object is right for them. During the climb, the children are equipped with everything they need and are under the gaze of instructors who take care of their complete safety.
Two wheel adventures with mom and dad
The kids have an energyfrom the morning and want new fun every day. But they also want to be with Mom and Dad for a longer time. Therefore, cycling is a very good way to spend all day with your children and give them the fun they crave.
There are many bike routes you can take around Bansko, so it depends on your family where you will go. If you do not plan to cycling and you didn't take bicycleswith you, the hotel can assist you by pointing you to the closest place to rent bicycles for the whole family.
Day trips to different destinations
There are many sightseeingsin Bansko and its surroundings and you can take short walks to a sightseeingswith your children every day. However, if you want to show them as much as possible from this incredibly beautiful part of Bulgaria, the hotel organizes day tripsto Leshten, Kovachevitsa, Dobarsko, Rila Monastery and many other interesting destinations. All you have to do is ask at the reception desk, request a day trip, and the next day you can head to the place you want to visit family.
One day at the summer attraction of Banderishka meadow
Perhaps you associate the Banderishka meadow with winter and winter sports? And you're right, but only in part. Because for several years in the summer the Banderishka meadow has become a paradise for children. Especially for them, it is a summer entertaining attraction where the fun for the kids is endless.
On the Banderishka meadow, the little ones can go down one of the longest water slides in the world, play football, mini golf or try out the tubing chute. For the youngest there are inflatable castles, climbing walls and more fun.
And while the little ones run, play and have fun with their whole soul, you can also find enjoyable activities. You can have a picnic on the grass or sit at one of the cafes and restaurants at the attraction. And you can play games and have fun all family.
You can get to the fun of Banderishka Polyana by getting on the cabin lift that starts from the starting station at the end of Bansko. The lift is a short distance away, but if you do not walk, Lucky Bansko Hotel offers free shuttle service to the lift start point.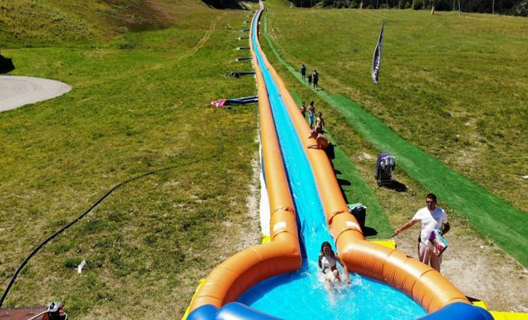 Paintball in the Bansko Forests
Paintball is a very dynamic, fun and interesting game and we are sure that if you offer children such entertainment, they will gladly agree with you. There are several paintball clubs in Bansko, which organize outdoor games and with a little assistance from the hotel you will find the most suitable club.
You can also play paintball family, and you can let your kids have fun with kids their age. The game is completely safe, the kids are equipped with everything they need to protect themselves, and instructors monitor the safe running of the entire game.
Walk to Pirin National Park
Bansko is the "entrance door" to the National Park and it is up to you which hiking trail you will take on a walk through the park. There are many opportunities for you, as hiking trails are of varying difficulty and length. If you are unable to decide for yourself or if you want to hire a guide, the hotel is at your disposal to assist you with everything you need.
Summer language camp during the holidays
The five-star Lucky Bansko Hotel is one of the few hotels in the country that offers the incredible opportunity for your children to learn a foreign language while on vacation. The Summer Language Camp is planned for children from 5 to 15 years old and combines summer children's outdoor fun with extensive English language learning.
By enrolling your children in a language camp, you can rest assured that your little treasures will have real fun(just like summer camp), make new friendships, and learn to speak and write in English. And while they are training, you can rest assured that they are not far from you and at any moment you can choke them.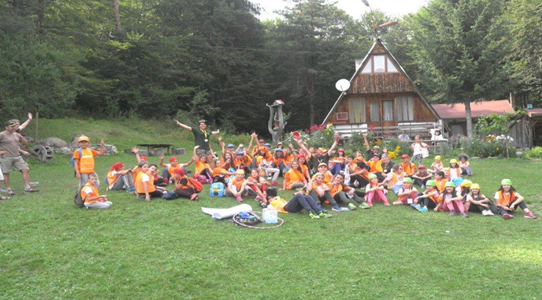 Lucky Hotel Bansko SPA & RELAX makes every child feel comfortable at home. You can safely leave the little ones for a few hours under the care of experienced animators, instructors and teachers and have fun as you please. And if you want to spend the day with your children, the hotel can offer you entertaining entertainment that will make the whole family happy.