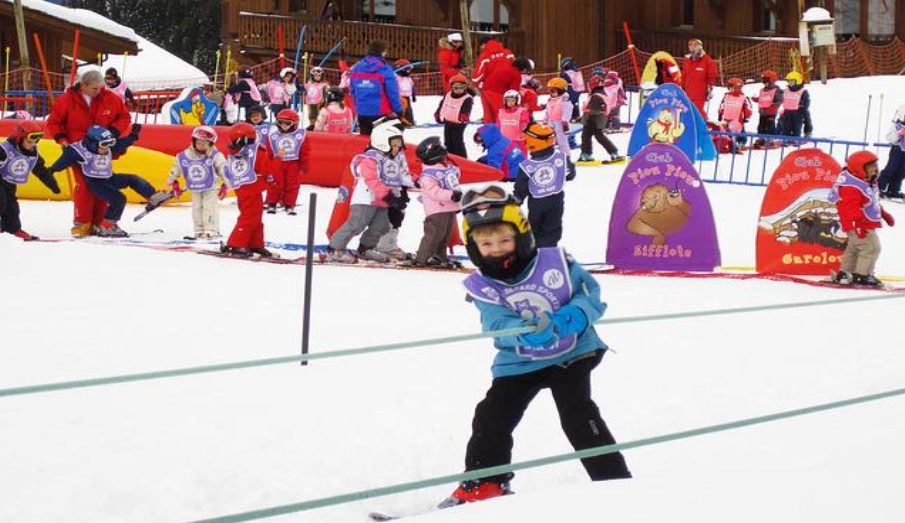 Photo source: pixabay.com
Skiing is one of the favorite winter pastimes for most Bulgarian families. If you are an avid skier, we are convinced that you want to share the love to this sport with your children.
In this line of thinking, we're sure you have a bunch of questions before you bring your kids on ski for the first time.
When is the best time for the first ski lessons?
Experts recommend to bring your children on ski for the first time once they turn the age of three, as at this age they already have the ability to maintain balance, can interact with other children and, above all, can follow the instructions of adults.
But of course, it all depends on the child's personality and whether there is a real interest in skiing. For these reasons, it is not wrong to wait for the little one to be 4, 5 or even 6 – 7 years old before starting the ski lessons.
Private or group ski lessons?
Any expert you ask will tell you that the best option is to look for the right ski school and enroll your child in group skiing training.
We also support this view, as children love to have fun with other kids on their age. And we all know that little ones learn much faster if their lessons are taught in the form of a game.
In addition, ski instructors have a special approach to the little ones and know how to predispose them so that the kids can more easily learn how to stand on skis, how to fall safely, how to wear skis and much more.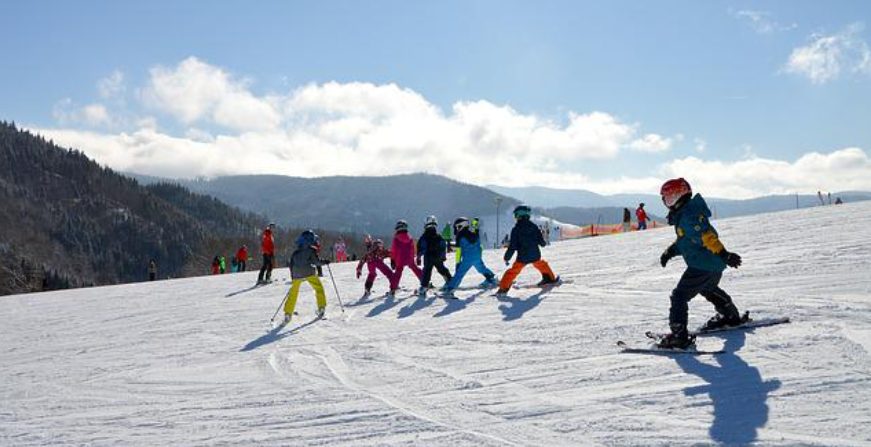 Photo source: pixabay.com
But if the child is too shy, then private lessons would be more appropriate for him, where special attention will be paid to him by the instructor.
Tip: If you are a good skier, you may want to train your child on your own, as you think that as a parent you will find it easier.
Our recommendation is not to take this step, but to leave the training to ski instructors.
We say this because no matter how good skier you are, there is always a chance to teach your child bad practices or not be so patient and instead of betraying your love of skiing, you will repel the little one and they will no longer want to go skiing.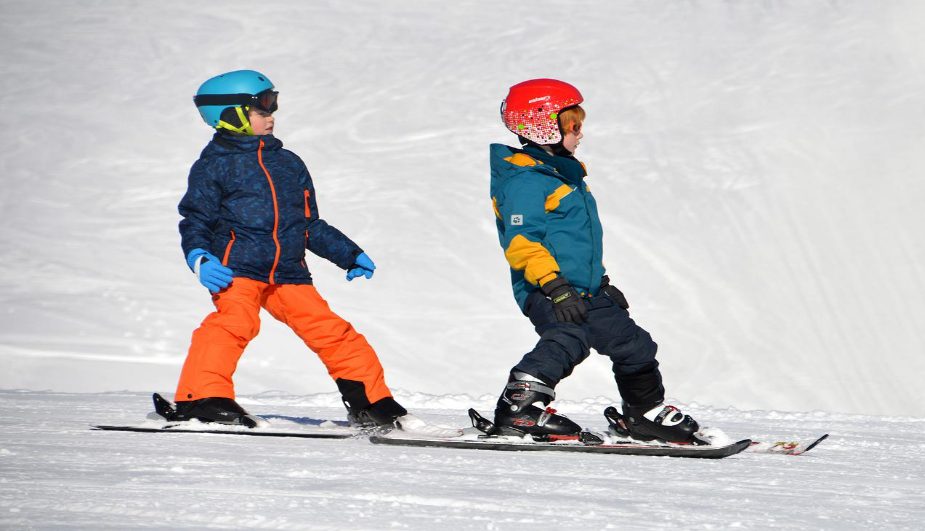 Photo source: pixabay.com
What does the mandatory ski equipment include??
The most important thing is that the equipment is tailored to the age and size and weight of the child.
In other words, the equipment for your little one should be comfortable, in order not to tighten or bother him/her.
It is good to pay special attention to ski boots, because as you know they are quite hard and if they are not comfortable, they can cause redness or sores on the feet of the little one and he/she can refuses to wear them.
Tip: If your child is skiing for the first time, it is better to hire ski boots, skis and even a ski clothes.
We advise you to do this, because children grow extremely fast and if you buy full ski equipment now, your child will not be able to use it next season and you will have to buy completely new equipment.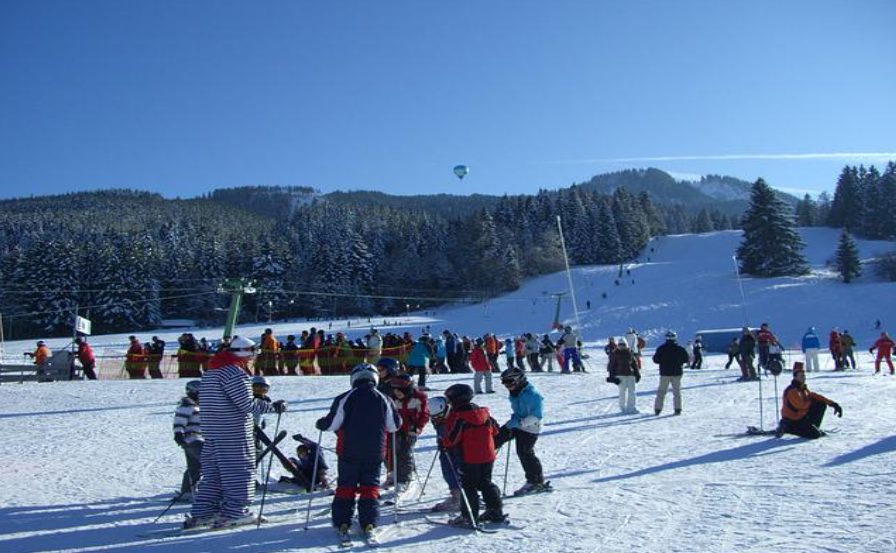 Photo source: pixabay.com
Other mandatory ski attributes?
In addition to the basic equipment, it is good to provide your child with a few more items.
Helmet
Although you can borrow a helmet, the best option is to buy one. This ski attribute is a must not only for beginners but also for all skiers, as it provides protection and protects the head from injuries in the event of a fall while descending the slope.
Ski goggles
They are not mandatory, but we strongly recommend that you equip your child with quality ski goggles, as they will protect his eyes from the cold and strong wind, as well as from the strong sun and the dazzling whiteness of the track.
Clothes
Children are more susceptible to the cold and the few hours they will spend on their skis during the lessons can make them sick.
To prevent this, it is good to be prepared by equipping them with appropriate thermal underwear, several pairs of woolen tights (or woolen socks), at least one fleece sweater, waterproof and windproof jacket and trousers (or a whole ski team), a warm hat and gloves.
It is important that the clothing is light, comfortable and waterproof and provides the necessary comfort and warmth to the child while it is on the track in the mountains.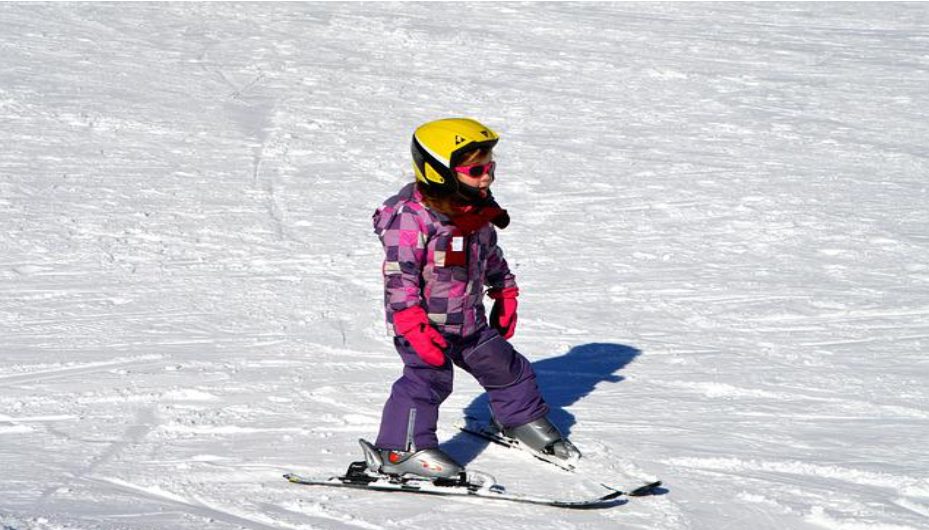 Photo source: pixabay.com
Shoes
In addition to ski boots, the child should have snow boots to wear when not preparing to ski.
Sun protection cream
Children can burns extremely fast on the track. Therefore, before letting your child go skiing, it is good to apply a high factor sunscreen on all exposed parts of the body.
If the little one stays outdoors for a long time, you should resume applying the cream every two hours.
Ski at your favorite ski resort or at a children's resort?
We assume you can answer this question yourself, but let us say our opinion. If the winter resort you have been visiting for years has suitable slopes for beginners, then you can easily plan your family vacation there.
But if you are not sure if the resort has slopes for children, then it is good to change the destination and look for a winter resort that can provide you with a suitable ski school and slopes for beginners in skiing.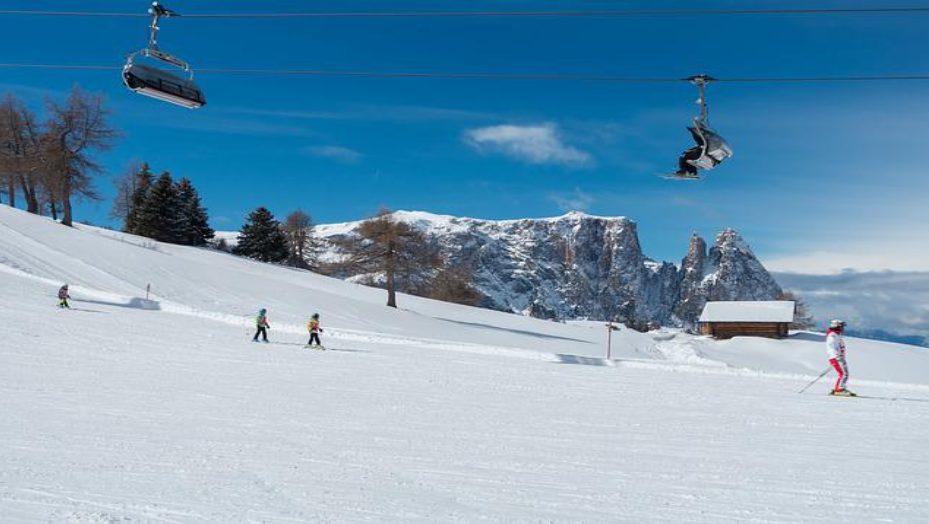 Photo source: pixabay.com
Tip: When choosing a resort, it is good to take into account the altitude.
We say this because if you are a resort at high altitude, this can be a problem for babies and young children. Our recommendation is to stay in winter resorts, which are located at an altitude of 950 to 1500 meters.
A few more recommendations
Do not rush your child to go skiing
As much as you want your little one to start with lessons and love skiing, don't force him/her too much. If it is interested, it will show you that it is ready.
This may not be as early as you would like, but there will come a time when you will notice that the child is starting to take an interest in your skis and try to imitate you, which means it is ready to go for a first ride.
Do not stand aside during ski lessons to watch him/her
When children know that their parents are watching them during lessons, they are more likely to give up and go to mom or dad if they fall or find it difficult to cope on their own.
If you want your child to learn to ski, leave it in the hands of experienced ski instructors and go for tea or downhill. Believe me, this is better for both the child and yourself.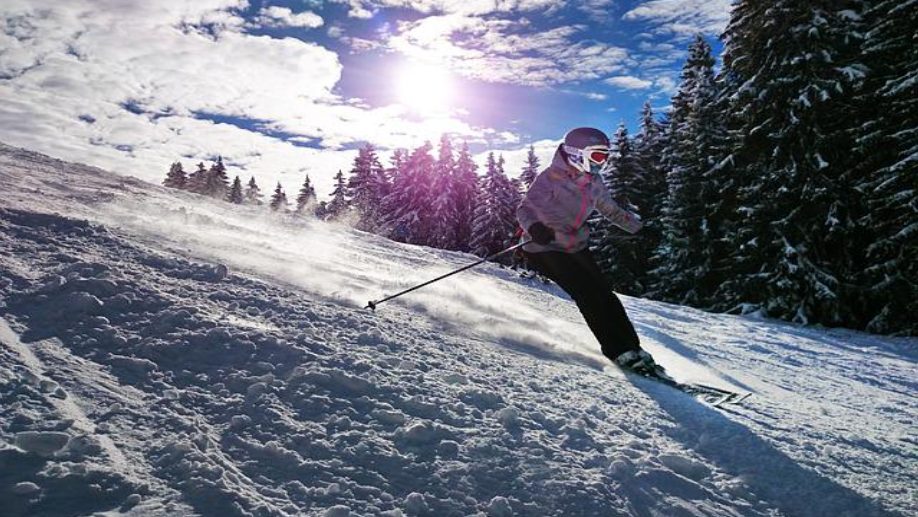 Photo source: pixabay.com
If you want to help the child with skiing, start with the basics
We are sure that as parents you want to teach your child the basic rules of skiing. As we said a little above, it is wiser to leave the training to the instructors, but you can still teach the child how to wear his skis, how to go skiing and how to take a ski stand.
Video: https://www.youtube.com/watch?v=PBlfMXUg22E
Do not keep the child on the track for many hours
The little ones get tired quickly, so it is not recommended to spend many hours on the track.
In this line of thinking, if your child is under 5 years old, two hours on the track are enough for him/her. Then it is good to give him/her a rest – to eat, to change the wet clothes and to take a nap.