If you are a skier, we are 100% sure that one of your dreams is to see your child down the white slopes confidently and with great pleasure. We are sure that you also ask yourself a lot of questions about children and skiing.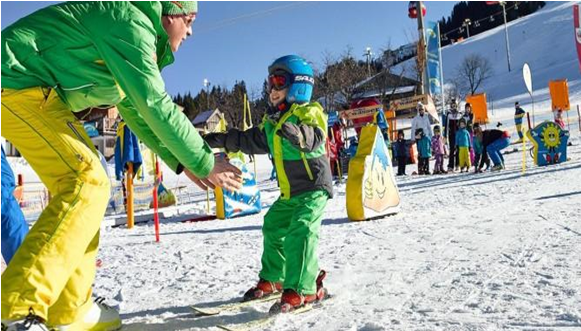 To make it easier, we prepared some tips specifically for you, which we hope will be helpful when you decide it is time to pass on your child's love of skiing.
Seven questions

, which you need answer
At what age is it good for your child to start skiing?
It is hardly a surprise for you to say that this is the most frequently asked question of all parents, without exception. The answer is that there is no specific age for the child to go skiing.
It all depends on the motivation and desire of the child himself. However, experts believe that the sooner a kid gets on the ski, the faster he will learn to skiing.
In this line of thought, most ski instructors recommend lessons begin at age 4. At this age, children can now keep a good balance and transfer weight from one leg to the other, which is important in skiing.
Training from a parent or professional ski instructor?
There are parents who prefer to take care of their child's education on their own. If you are of the opinion that no one but you will be able to teach your child to skiing, no one will forbid you to try. However, if you seek our advice, we strongly advise you to leave the lessons to professional ski instructors.
Why? Unlike you, the teachers are professional skiers and have undergone a number of training courses for ski instructors. They are aware of the needs of the children and know how to teach the lesson in a fun and engaging way.
Instructors apply the following practices to the child:
Application of motivational games.
Assessing when the child should train.
Decide when to let the child just rest and have fun in the snow.
Group training or individual instructor?
The choice of the appropriate form of education depends on the child's personality and his/her needs:
If the child is shy and uncomfortable with larger groups, the best option for him is to hire an individual instructor.
If the child is open and sociable then group skiing is the best choice.
What do the experts advise?
Specialists believe that group training is preferable especially for younger children, as at the same time they learn to ski and make friends and have fun together. According to experts, individual training is only necessary if the child has to be taught to ski in a very short time.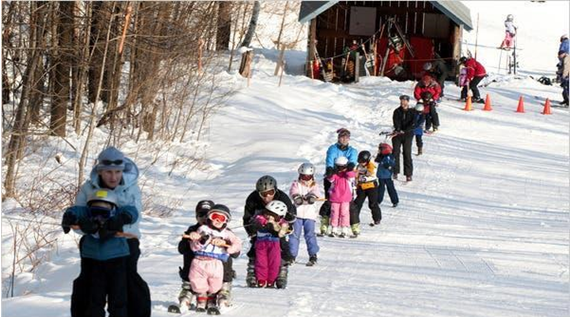 How long does it take for a child to learn to ski?
In order to not only stand, but also to skate confidently with the skis, his child needs time. To do this, he first has to get used to the ski equipment, learn how to put and take down the skis, make basic turns, and this takes time.
Usually, the basic ski lessons are learned after 3 – 4 lessons. Then they are ready to start learning how to make parallel turns and go down the white ski slopes of Bansko.
What is included in children's ski equipment?
Standard ski equipment consists of:
Ski suit (jacket, trousers and gloves)
The ski suit you choose should be warm and waterproof and breathable features. Be sure to pay attention to the quality of the material, the quality of the stitches, and whether the jacket, pants and gloves have a certificate of quality and safety.
Ski
When choosing a ski for a kid who is just going to learn to ski, experts advise you to consider the height and weight of the child. All stores have size charts to help you navigate, but there is one trick you can apply if you are not quite sure which size to choose.
Take the skis, straighten them and "stack" them on the height of the child. If the child is a beginner in skiing, the ideal skiing for him is those that reach his chest or under his chin. If he is already able to ski, then for him the ideal ski is the one that reaches his eye level when you straighten it.
Ski boots
For beginners in skiing, experts advise you to choose ski boots two sizes larger.
For the more confident, the appropriate ski boots are one size larger.
For children with the highest level of preparation, the shoes should be of the normal size (just by measure).
Ski pole
The traditional methods for choosing ski poles are as follows. You straighten the sticks, turn them back (with the handle down) and hold them by hand. The correct length of the child's ski poles is that at which time he or she grasps the ski pole, the arm together with the elbow forms an angle of 90 degrees.
Helmet
A ski helmet is a must-have part of skiing as it protects the child's head from injury. The helmet you choose for your child should fit the size of his or her head (there are size charts to help you orient yourself). In addition, it must be made of high quality materials and must have a certificate of quality and safety.
Glasses
Ski glasses should cover the eyes well and fit on the child's face without causing discomfort. You can buy ski equipment, but it's good to know that the prices of new equipment are quite high.
Therefore, experts advise if your child is still learning to ski not to buy but to rent ski equipment. Once skiing is assured, then you may also consider purchasing full ski equipment.
Which ski resorts are suitable for children?
As skiers, you know that there are resorts whose slopes are not very suitable for children. Therefore, it's a good idea to look carefully at least a few ski resorts and focus on the one that meets your children's needs. If you are not looking for it, we suggest you to consider vacationing in the best ski resort in Bulgaria – Bansko.
Bansko can offer slopes suitable for both professional and advanced skiers as well as beginners. The resort also has several ski schools, one of which you can enroll your child.
Ski instructors working at Bansko ski schools are professional skiers who have an incredible sense of humor and can teach even the most shy child to join the group quickly and learn to ski with their buddies in just one or two lessons.
Choosing Bansko you will not have to look for the right ski equipment for your child as almost all hotels in Bansko have their own ski wardrobes and offer equipment for rent.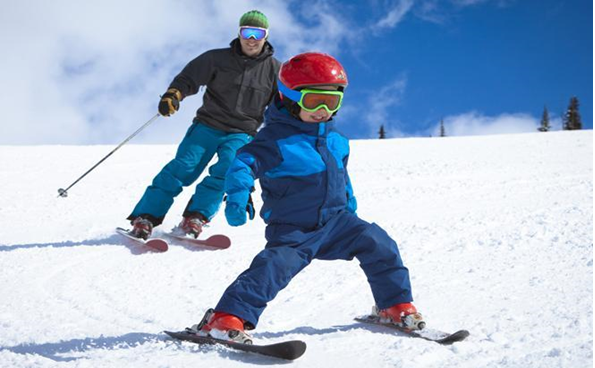 Additional tips for kids and skiing
As much as you want your child to learn how to ski, do not force him to ski if he does not want to. Just leave him wanting and you will see that it will not take long and he will only ask you to enroll him in ski school.
Never leave your child unattended on the ski slope. Allow enough space for him to have fun on his own, but make sure you stay close if you need him.
Don't squeezing for money on ski equipment because it is crucial for your child's safety.
Always take at least one day off from your vacation to ski with your child.