You always wanted to learn how to ski. But you are no longer children and you think you have missed your chance to become, if not very good, at least decent skiers. If you really think that, we will tell you that you are wrong.
Because it doesn't matter if you are a child or an adult – if you want to learn how to ski, you can start training at any time and at any age. All you have to do is register for lessons at one of the many ski schools in our best ski resort in Bansko.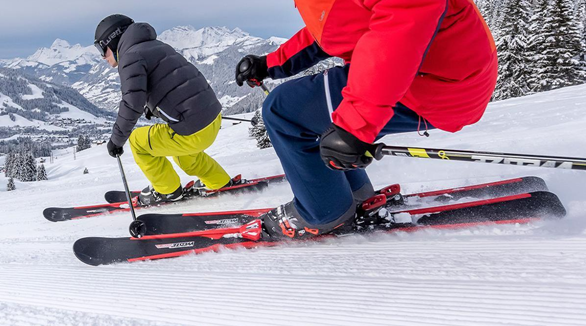 How to enroll ski lessons in Bansko?
Choosing a ski school
If you really want to make your dream come true and learn how to ski, the first thing to do is check out the ski schools in Bansko. There are several very good ski schools operating in the city and all of them have highly qualified ski instructors. Check out the ski school programs and focus on one of them.
Assess your skill level
All ski schools in Bansko offer training programs for beginners, advanced and children. Therefore, you need to consider what your skill level is and orient yourself to the right program.
Enrollment
The enrollment ski lessons in schools is not difficult at all. You just need to get in touch with your chosen ski school and declare your desire to attend the lessons. If you find it difficult to choose a school, ask at the reception of the hotel in Bansko where you are staying, and from there they will recommend one.
Payment of a fee
Once you go to a ski school, you should pay the feeabout ski training. However, before doing so, you must decide whether you want to join a general group, hire an individual ski instructor, or join an individual general group. The difference between the types of training is as follows:
Group training
In group training you will work in a group of 2 to 8 people. Groups are selected according to the participants enrollment level. In other words, if you are a beginner in skis and other members of the group will be at the same level as yours. This way, you won't feel uncomfortable about being uncertain or falling often.
The rest members will do just as well on the skis as you do. The disadvantage is that when you are in a group, the ski instructors are less, which means they cannot pay special attention to everyone. On the other hand, the prices are lower than the prices of the individual ski lessons, and the feeling that you are part of the group is not at all neglected.
Individual lessons
Individual lessons are those ski lessons where you will be the only student and trained by a ski instructor. The advantage of individual training is that the ski instructor's attention will be fully focused on you, which helps you learn the basic skiing techniques faster. Of course, if you hire a ski instructor for individual training you have to be prepared that the cost you have to pay for the ski lessons will be much higher.
Individual group
Many ski schools in Bansko also offer training in an individual small group. This type of training is suitable for families or small groups of friends.
In individual small group training, one instructor trains two people in the group. What is special about this type of training is that each new member of the group pays only a fixed amount per day.
How is skiing training going?
All ski schools in Bansko offer a training program that is convenient for anyone wishing to learn how to ski. So, depending on your preference, you can choose how many days you want to attend ski lessons.
As a standard, training can be half-day(two hours per day) or full-day(four hours per day). Training may also be for a day or a week only.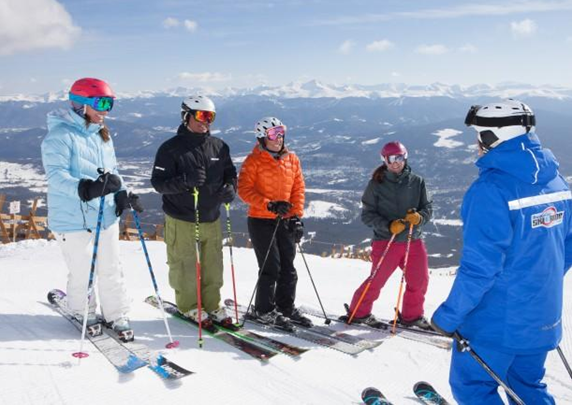 All beginner training goes through, with instructors laying the foundations for skiing. This means that you will be taught how to put and take down skis, how to stand on them, how to fall, and how to make basic movements.
If you have any experience, they will teach you different techniques such as rally bending and more. If you are even more experienced, they will show you how to turn parallel skis and so on.
What is the right ski equipment and how to get it?
If this is your first skiing experience, you do not need to buy your own ski equipment and accessories. Instead of spending a hefty amount of money on skiing equipment that you are not sure you will continue to make full use of, you can rent one.
Ski equipment and equipment for rent are available from all ski schools as well as from almost all hotels in Bansko, which maintain their own ski wardrobes for the convenience of their guests.
The ski equipment you need is the following:
Ski boots
The ski boots depend on your control, grip, confidence on the skis and hence your pleasure and comfort. Therefore, when renting shoes you have The ski boots depend on your control, grip, confidence on the skis and hence your pleasure and comfort. Therefore, when renting shoes you have to be very careful when choosing.
Take a good look at them, check their vending machines. Do not trust the size chart completely, but put on your shoes to feel if your feet feel comfortable in them.
Ski jacket and pants
When choosing a jacket and pants, consider both the comfort and whether these items have good thermal insulation and water resistance.
Ski helmet
The helmet is extremely important when skiing, as it ensures the safety of the head if you fall on the track. When choosing this type of equipment, be sure to put it on your head to make it feel better. Please also note if the helmet has a safety certificate.
Gloves
Ski gloves should be warm, do not sweat your hands and do not leak water.
Glasses
You need the glasses to protect your eyes from both the bright sun on the track and the snow that can fall into your eyes as you go down the track.
Ski
When choosing your first ski, it's a good idea to trust the ski instructors. We say this because skis are different models, sizes and lengths and as a beginner in the sport it will be difficult for you to choose the right ski for your training.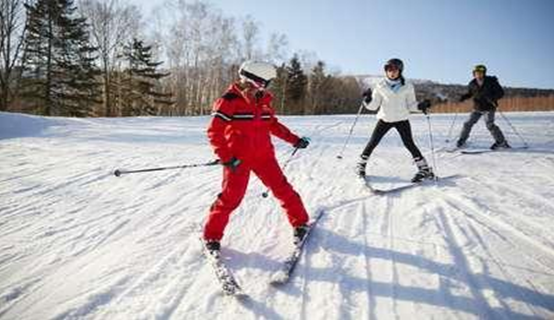 Prices of ski courses at ski schools in Bansko
In different ski schools the prices vary, but roughly, the prices of the courses are:
Group training
Training in a group for two hours a day costs about 55 BGN per person. The four-hour training for a day costs 85 BGN. If you want to attend half-day or full-day training for several days in a row, the price is as follows:
For two days half-day training – 100 BGN, for three days – 140 BGN, for four days – 170 BGN, for five days – 195 BGN, for six days – 225 BGN
For two days full-day training(four hours) you will pay 155 BGN, for three days – 215 BGN, for four days – 265 BGN, for five days – 305 BGN, for six days – 340 BGN
Individual education
Individual half-day training per day for a student costs 130 BGN, for two days the price is 260 BGN, for three days – 390 BGN, for four days – 520 BGN, for five days – 650 BGN, for six days – 780 BGN
The cost of full-day individual training(four hours a day) for one day is 240 BGN, for two days – 460 BGN, for three days the price is 670 BGN, for four days – 870 BGN, for five days – 1060 BGN, for six days – 1240 BGN
When can you ski completely alone?
Your dream of going down the white slopes will become a reality as soon as you pass the training in Bansko ski schools. As we mentioned in the beginning, ski instructors working in these schools are exceptional professionals who will not only teach you to skate quickly but will also share the secrets of this extremely exciting sport.