You have been feeling tired lately. Your self-esteem is low and you feel stressed to the limit. You want to abandon everything and take care of yourself for at least a few days.
If you feel this way, then you need the relaxing and rejuvenating treatments available at the Lucky Bansko hotel's SPA area.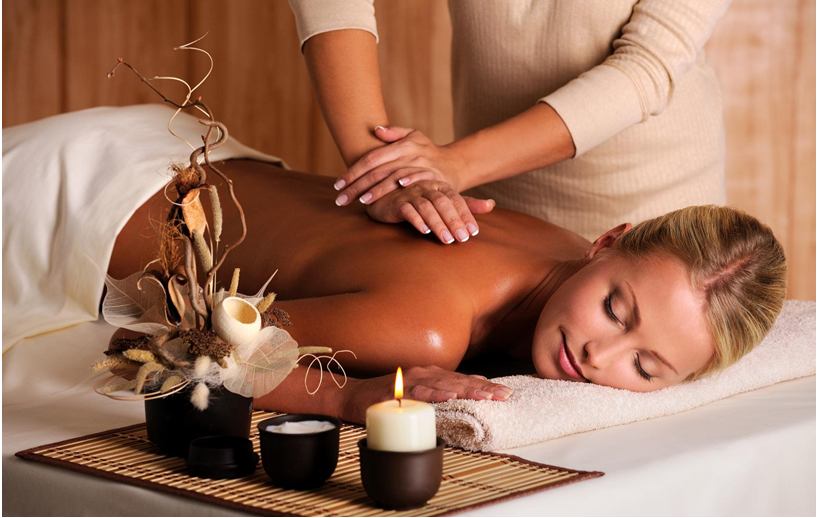 Why we recommend you visiting the hotel's SPAcenter?
Lucky Bansko is one of the best hotels in Bansko, which not only has a very good hotel and restaurant area, but also one of the best SPA centers not only in the city but also in the country.
Body treatments offered at the SPA health and beauty center in Lucky Bansko and their benefits
Massage therapies
The massage is one of the most popular therapies for relaxation, recovery and healing of the whole body. At the Lucky Bansko health center you can enjoy:
classical
deep tissue
aroma
massage with volcanic stones
royal massage
Classical massage
The procedure begins by massaging the large areas of the body and gradually proceeds to the smaller sections. The relaxing techniques that apply to this type of massage:
improve muscle tone
reduce accumulated stress
charge with energy
strengthen joints and tendons
increase immunity
Deep tissue massage
This massage therapy is similar to a Swedish massage, the difference being that with deep tissue massage the pressure is directed to the deep muscle layers and fascia. The deep tissue massage is very useful in:
chronic pain and stiffness in the neck
upper and lower back pain
rehabilitation of injuries, diseases such as osteoporosis and others
Aroma massage
The aromatherapy is a type of massage that uses essential oils. This massage:
Relaxing
reduces stress
Balances
strengthens the immune system
If you suffer from anxiety, insomnia or depression, the aroma massage will help you feel much better.
Massage with volcanic stones
This massage therapy uses warm volcanic stones, which are placed on specific parts of the body (spine, stomach, chest, etc.). The benefits of this massage technique are:
Relieve muscle tension and pain
Reduce stress and anxiety levels
Increasing immunity
Improve sleep and more
Royal massage
This is a relatively new procedure for our country, but the massage therapists at the Lucky Bansko's SPA center are already offering it to their clients. The royal massage is performed on four hands by two massage therapists and involves a combination of several massage techniques(classic, relaxing, Hawaiian and spot massage). This type of massage is the perfect way to:
get rid of joint and muscle pain
improve your sleep
get toned and regain your energy and good mood
Ayurveda therapies
Apart from the popular types of massages, the Lusky Bansko's SPA center also offers Ayurveda therapies and massages, which we strongly recommend you to try. Ayurveda massages are different from all other types of massage techniques and therapies both as a way of performing and as you will feel after a massage.
This type of massage balances the mind, body and spirit, which helps the body recover and heal. Sometimes Ayurvedic massages are also called "oily" as they usually involve the use of warm herbal essential oils.
Ayurvedic therapies like Ayurvedic massage, 4 or 2 arm abangam, 4 or 2 arm powders(also available at Lucky Bansko Hotel Health Center) help to:
Restoration of soul balance
Stress reduction
Detoxification of the body
Improve circulation
Improving overall health
Balancing Pita, Kafa and Vata.
Partial massages
If you need a massage on a separate part of the body, the hotel's SPA center offers partial scalp and face massages, back and legs, neck and shoulders and reflexology. Partial massages are performed by highly qualified specialists, and after the massage you will surely feel not only a great deal of pain relief, but also the accumulated stress and anxiety will remain.
Hammam
There is hardly anything more relaxing than a visit to a hammam(Turkish bath). The procedures in the Lucky Bansko Hotel's Turkish bath are performed in special warm marble beds, followed by a relaxing sauna and exfoliating peeling(KESE oriental peeling, honey and coffee peeling, oriental foam peeling, oriental fairy tale, etc.).
As a result of these procedures, your skin will become silky smooth, fresh and healthy looking. You will also experience a positive effect on the circulatory, lymphatic, respiratory and nervous systems.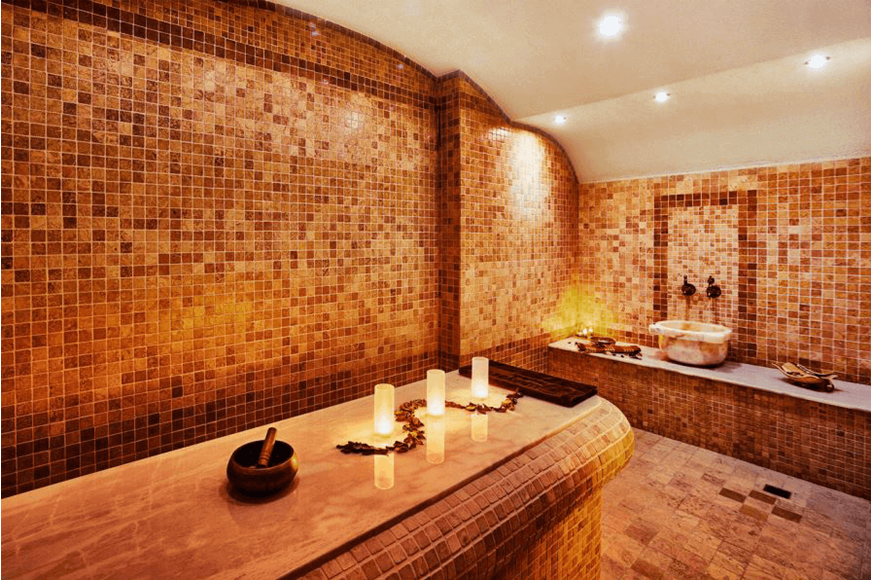 Weight lossand anti-cellulite treatments
The factors that affect the weight and appearance of cellulite are extremely numerous and time is not enough to list them all. The fact is, however, that every second woman in Bulgaria has cellulite.
If you also have a problem with the cellulite or want to lose some weight, the weight loss and anti-cellulite treatments at the Lucky Bansko's SPA and health center will make you very happy.
Anti-cellulite massages and radio frequency body lifting performed by specialists:
reduce cellulite formation
prevent it from occurring
accelerate blood circulation
make the skin of the body healthier, wallier and smoother
If you want to try some other relaxing, restorative andweakening body treatments while in the hotel's SPA area, you can enjoy:
Special THALGO body treatments including body peeling, relaxing SPA therapy, Polynesian relaxing spa ritual and more
Hydromassage bath therapies including relaxation, lymph and anti-cellulite massage
Detox therapies including healing mud, Dead Sea mud, salt exfoliation, seaweed wrapping, etc.
Facial treatments offered at the Lucky Bansko hotel's SPA center
The accumulated fatigue, lack of sleep and stress reflect negatively not only the body but also the face. To help you regain a healthy, youthful look on your face, the SPA center offers great facial therapies and treatments.
The cosmetic therapies include both classic facial massages to improve blood circulation, remove dead cells and refresh the skin, and special therapies such as:
Cosmetic face therapies for THALGO
ACADEMIE face procedures
Therapies with apparatus INTRACEUTICALS
Combination therapies
All cosmetic therapies offered by the specialists in the Lucky Bansko SPA area are absolutely safe and painless, and the results are visible after the end of the first procedure. Depending on your wishes, experts from the beauty center will guide you to the most appropriate cosmetic procedure for your skin type.
The procedures are intended to:
rejuvenate and refresh the skin of the face
reduce and smooth out wrinkles
raise eyelids and contour of face
Relaxation, beauty and more at the Lucky Bansko hotel's SPA Center
Simultaneously with all the procedures we have just introduced you, you can indulge yourself in the warm waters of the hotel's bio pool. The water in it is at a constant temperature of 33 degrees, and for even greater comfort it is equipped with underwater music and a hydrojet.
If after swimming you want to lazy some more in the water area, you can dive into the salt pool, which is located near the bio pool. This pool is high in salinity (as its name implies) as it contains Dead Sea salts. Staying in a salt pool will be very helpful if you have wounds that you want to heal faster or if you want to have more supple and smoother skin.
The Spa center also has a Salt Room, a stay in which it helps with respiratory problems, respiratory diseases, diseases and eczema on the skin and others. Even if you do not have any of these problems, staying in the only halogen salt room in Bansko will help you completely forget about your worries, reduce stress and have a positive effect on your entire nervous system.
After the pool and the salt room, you can enjoy one of the three steam baths available at the SPA center:
The Finnish sauna will detoxify your body and reduce stress levels
The steam bath will cleanse your respiratory system, detoxify your body and make your skin supple and silky smooth
The infrared sauna will cope with fatigue and stress
At the end of relaxing and cosmetic treatments, you can also take care of the delicate skin of your feet by trying out the modern Fish Massage with Gara Rufa fish. As you sip on your favorite drink, comfortably seated with your feet submerged in water, the small fish of Gara Rufa will remove dead tissue from the skin of your feet and make it soft and smooth again.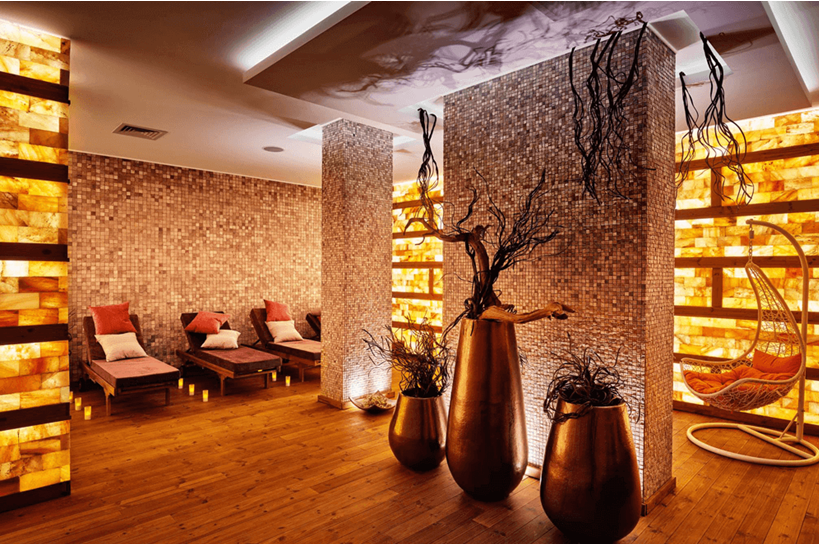 The possibilities for complete relaxation and restoration of immunity, energy and tone at the Lusky Bansko hotel's SPA center are numerous and we cannot list them all. But this is not necessary. Because the best way to take care of yourself is to visit the Lucky Bansko health and beauty center and try out the therapies and procedures that appeal to you the most.
The SPA center employs qualified specialists who will take care of your needs so that you will forget about stress, fatigue and tension in your life for a long time. And thanks to cosmetic procedures you will return home rejuvenated, happy and confident that you can conquer the world if you wish.