Yoga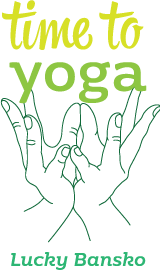 New in 2019*
6/5/4-day yoga course with professional Indian instructor Kamal Kishor
(Massages and mountain hikes included)
6, 5 and 4-day yoga classes with Indian instructor Kamal Kishor are organized at the Lucky Bansko Spa & Relax Hotel.
They are held on according to a schedule announced in advance each month from April to December, inclusive.
Important about the course:
You can choose how long your course will be for a period – 6 days/5 nights; 5 days 4 nights or 4 days/3 nights
The yoga practices you will get to know or perfect are: Satyananda Yoga, Hath Yoga, Raja Yoga, Kundalini Yoga, Tratak, Yoganidra, Naad Yoga, Meditation
Food during the course will be ayurvedic and will be cooked by an Indian chef.
All fruits and vegetables are ozonated before use by soaking them for 2 hours in water beforehand. And legumes are soaked in water for 24 hours. This treatment of food produces removes the toxins, pesticides, heavy metals and other polluters from them.
Eating is based on a full board, three meals a day, including breakfast, lunch and dinner.
In the mornings you will have a glass of live water with lemon for purification, and in the evening you will feel refreshed with a glass of good Bulgarian wine.
The program will include: 3 times a day yoga practices – morning, afternoon and evening,
Massages that are 1, 2 or 3 (50 min each, classic ayurvedic or relaxing) depending on the duration of your chosen course – 4 days, 5 days or 6 days.
Daily mountain excursions
One of the days you will have horseback riding at the incredibly beautiful Perry Volas base
Use of the hotel SPA center with its wonderful bio pools, salt pool, saunas and steam baths, jacuzzi, adventure showers and a fitness center is free of charge for the participants
We will take care of the washing of clothes used during yoga practices.
This is a free of charge service.
You will receive a gift – two T-shirts and a cap with the logo of the program
Accommodation is single or in two at the luxury studios of the 5 star Lucky Bansko SPA & Relax Aparthotel.
The use of Wi-Fi and computer areas in the hotel is free of charge
Periods:
Starting day: Tuesday, Wednesday or Thursday, according to your chosen course duration.
Last day with departure: Sunday.
| | |
| --- | --- |
| 09 – 13 April 2019 | 07 – 11 May 2019 |
| 04 – 08 June 2019 | 02 – 06 July 2019 |
| 03 – 07 September 2019 | 01 – 05 October 2019 |
---
PROGRAM
FIRST DAY (Tuesday, Wednesday or Thursday – at your choice)
Accommodation at Lucky Bansko Aparthotel SPA & RELAX
3:00 PM – 3:30 PM
Afternoon yoga session
4:00 PM – 5:25 PM
Dinner
7:30 PM – 8:30 PM
Evening yoga session
9:00 PM – 9:50 PM
SECOND/THIRD/FOUR DAY
Morning yoga session
7:10 AM – 7:55 AM
Breakfast
9:00 AM – 9:30 AM
Preparation for activities outside the hotel
9:30 AM – 9:50 AM
Gathering point at the lobby bar and departure for transition
9:50 AM – 10:00 AM
Transfer to the mountain
10:00 AM – 10:20 AM
Hike on foot
10:20 AM – 12:30 AM
Return from the hike
12:30 AM – 12:50 AM
Lunch
1:00 PM – 2:00 PM
Time for massage or SPA & Relax
2:00 PM – 4:00 PM
Afternoon yoga session
4:00 PM – 5:25 PM
Dinner at the Le Bistro restaurant
(one of the dinners is at the Leonardo restaurant)
7:30 PM – 9:00 PM
Evening yoga session
9:00 PM – 9:50 PM
FIFTH DAY/SUNDAY
Yoga session (two hours)
7:10 AM – 7:55 AM
Breakfast
9:30 AM – 10:30 AM
Free time for SPA & Relax
10:30 AM – 12:30 AM
Departure
1:00 PM
The yoga course includes:
Single or double occupancy in a Studio Lux;
Steam bath, sauna, jacuzzi, contrast showers, Technogym fitness center from 9:00 AM to 9:00 PM;
Use of indoor swimming pools for children and adults with water temperature of 33 ˚C, salt pool with Dead Sea salts
Salt room (relaxation area) reveted with Himalayan salt.
3 meals per day according to Ayurveda.
Daily – live water and a glass of wine for dinner;
Massages (massages last 50 minutes):
Three massages (classic ayurvedic or relaxing) for the 6-day program
Two massages (classic ayurvedic or relaxing) for the 5-day program
One massage (classic ayurvedic or relaxing) for the 4-day program
a fulltime massage at your choice
Please book your preferred time at the SPA reception;
Mountain hike
Horseback riding at Perry Volas
Gift: two t-shirts and a cap
Daily laundry for yoga clothes
Free Wi-Fi in the entire hotel and two fully equipped areas with computers;
The package price does not include tourist tax and insurance – 1.50 BGN/person per day which is paid on site.
Prices:
The prices for 1 participant with board and lodgr and single occupancy in a Studio Lux for the whole stay are:
for a 6-day course/5 nights/ – 372 EUR;
for a 5-day course/4 nights/ – 318 EUR;
for a 4-day course/3 nights/ – 254 EUR;
Discounts: A second participant, placed in Studio Lux with another participant, benefits from a 10% discount.
Transfer:
Aparthotel Lucky Bansko offers transfer Sofia-Bansko and back for all participants in the program.
Departure date: on the day of the beginning of the program at 2:00 PM, from the central entrance of Vasil Levski stadium with a bus of the hotel.
Price for one-way transfer, per person – 40 BGN, and for return trip: 75 BGN/person.
The transfer is organized with a minimum of 5 guests.
Reservation terms:
Reservation is guaranteed with 50% prepayment/ for online reservations 100% of the amount due is prepaid within 30 days prior to the date of the course.
The prepaid deposit will not be refunded in case of cancellation or change of the reservation!
FOR INFORMATION AND RESERVATIONS:
Satyananda Yoga Tradition
Satyananda Yoga is a system of yoga developed by Sri Swami Satyananda Saraswati and his lineage, which incorporates practices derived from ancient and traditional sources. Satyananda Yoga uses practices in a traditional way, asanas (postures) to balance the body and mind through the physical body, pranayama (breathing practices) to work on the energy body (equated with Ki or Chi in other systems), and meditation to calm and focus the mind. It also takes a broader outlook by teaching and encouraging yogic lifestyles, not only for renunciates but also for householders and lay practitioners. The Satyananda approach incorporates the whole person, not just the body. There is an emphasis on awareness and practitioners are encouraged to learn about all aspects of their personality through Yoga. Change is a process that takes place naturally as a consequence of regular practice with full awareness, rather than by forcing the mind and body to the limit and beyond.
Hath Yoga
The term Hatha Yoga has been commonly used to describe the practice of asana (postures). The syllable ha denotes the pranic (vital) force governing the physical body and tha denotes the chitta (mental) force thus making Hatha Yoga a catalyst to an awakening of the two energies that govern our lives. More correctly the techniques described in Hatha Yoga harmonize and purify the body systems and focus the mind in preparation for more advanced chakra and kundalini practices.
The Hatha Yoga system includes asana along with the six shatkarmas (physical and mental detox techniques), mudras and bandhas (psycho-physiological energy release techniques) and pranic awakening practices. Fine tuning of the human personality at increasingly subtle levels leads to higher states of awareness and meditation.
Hatha Yoga has been described in several classic texts, notably Hatha Yoga Pradipika and Gherand Samhita.
Raja Yoga
Raja Yoga usually refers to the system of yoga that is described in the Yoga Sutras of Sage Patanjali. In this ancient text Sage Patanjali describes eight stages of yoga which are known collectively as Raja Yoga.
Raja Yoga is a comprehensive yoga system which deals with the refinement of human behaviour and personality through the practice of the yamas (restraint) and niyamas (disciplines); attainment of physical health and vitality through asanas (postures) and pranayamas (pranic breathing techniques); management of mental and emotional conflicts and development of awareness and concentration through pratyahara(sensory withdrawal) and dharana (concentration); and developing the creative aspect of consciousness for transcendental awareness through dhyana (meditation) and samadhi (absorption in the universal identity).
Kundalini Yoga
The path of yoga is a series of stages. The progressive awakening of the chakras corresponds to these stages. Kundalini yoga relates to the chakras located at the specific areas in the body which control the circulation of prana permeating the entire human structure. Chakras are beyond the realms of normal perception. In each person, there are myriad of chakras. However, only a few principal ones are used in yogic practice. These few are the ones which span the full spectrum of man's being from the gross to the subtle. These main chakras are : Mooladhara, Swadhisthana, Manipura, Anahata, Vishuddhi, Ajna, Sahasrara.
These Chakras are both real and symbolic. That is, they imply two things:
Centres of subtle energies (Prana) within the pranic body of man, each chakra being associated with pranic (vital) energy at specific frequently levels and subtlety. Each chakra is a switch which turns on or opens up specific levels of the mind.
Progressively higher states of awareness. That is, the chakras symbolize different levels of awareness in man from the more instinctive realms associated with mooladhara chakra to the more intuitive realms associated with ajna chakra. They symbolize the spiritual path.
These two aspects are really two different ways of saying the same thing, for manipulation and control of prana in any of the centres will induce a corresponding state of awareness. Conversely, a specific state of awareness will induce prana to predominate at the corresponding chakra. Each is directly related to the other.
Physical or mental stimulation of the psychic centres can lead to changes of consciousness. This awakens the psychic potential in man and gives him a greater vision and realization of his own reality. This is the purpose of Kundalini yoga. It provides you a basic understanding of chakras and the physical location in the body.
Yoga nidra
Satyananda Yoga Nidra was devised by Sri Swami Satyananda Saraswati from traditional Tantric practices and has had a major impact on the world of yoga. Yoga Nidra is a pratyahara technique in which the distractions of the mind are contained and the mind is allowed to relax. This practice has had a profound transformative effect on practitioners.
People feel that they are relaxing when they collapse in an easy chair with a cup of tea or coffee, a drink or a cigarette and read a newspaper or switch on the television. But this, in fact, is merely sensory diversion. The True relaxation is an experience far beyond all this. For absolute relaxation one must remain aware into the state of dynamic sleep.
Yoga Nidra is a systematic method of inducing complete physical, mental and emotional relaxation. During the practice, one appears to be asleep, but the consciousness is functioning at a deeper level of awareness.
Meditation
While Yoga Sanyas training, Swami Niranjanananda Saraswati (the successor of Swami Satyananda Saraswati) taught many concentration and meditation techniques developed by Satyananda Yoga tradition from ancient scriptures. The practices of pratyahara (stilling the mind), dharana (concentration), dhyana (meditation) and laya yoga techniques, derived from the Upanishads, the Tantras and other traditions. All techniques have different levels and stages of practices.
Below are descriptions of some common Satyananda Yoga meditation techniques:
Antar Mouna deals with the activities of the conscious mind. In Antar Mouna there is awareness of the thoughts and mental activity. The technique involves creating, transforming and finally gaining control of the thought processes.
Ajapa Japa is a mantra repetition practice with breath awareness in the psychic passages. The mantra may be the personal mantra given by a guru or the universal breath mantra 'So-Ham' whose spontaneous repetition is the core of Ajapa Japa.
Trataka involves gazing at one point, generally a candle flame, to induce relaxation and concentration of mind. It is described in numerous scriptures, although it is usually known by other names and varies according to traditions. In the classical hatha yoga text, Gherand Samhita, it is classified as one of the sharkarmas. Because the other five practices of the shatkarmas (neti, dhautiNauli, Basti, Kapalbhati) are concerned only with cleansing the body, trataka seems to be completely out of place – an anomaly in fact. In a sense, trataka acts as the bridge between hatha yoga and raja yoga.
Nada Yoga
Nada yoga is a distinct path of yoga. It is closely related to mantra yoga, japa yoga, kirtan, music and any other path that is concerned with sound. Nada yoga is a simply yet powerful practice. It is a method of tracing sound back through its psychic and more subtle manifestation to the source.
According to traditional yogic scriptures, nada brahman (transcendental sound) is the seed of the manifested world from the gross to the subtle and from the visible to the invisible. Nada is flowing in the living and the non living creatures everywhere.
There are two parts in this ancient practise. Journey started from external sound to Internal path and; To merge in source of the sound. One of the external nada yoga practise namely Bhramari pranayama is an excellent method of settling the mind and removing gross tensions. It can therefore be used as a method of preparing the mind for other meditation practices, or simply as a method of gaining tranquility during times of stress.
Whereas the other practice is a powerful yet simple method of revealing the mysteries of your inner being. Total absorption on the nada can lead to dhyana. One soars into the heights of the inner space. Any of the basic benefits that we have enumerated for other meditative practices can be obtained from nada yoga sadhana.