Throughout human history, people have used rivers mainly for travel or fishing. It is known that for a large part of this period they unknowingly practiced rafting, and the sport began to gain entertainment and popularity only in the early 50's.
In the first rafting, the passengers were completely independent on their vessels and used double-sided oars. In the modernized version, things are completely different. The rafts are fully capable of accommodating several people, and the oars are one-sided.
The entire movement of the boat is perform, thanks to a united team that is thrilled to experience another dose of adrenaline. They, in turn, are guided by a professional guide who controls navigation and speed at all times.
Although the activity was deadly before, today it is one of the safest outdoor sports activities. It is quite possible to meet people of all ages, as well as families participating in tournaments organized by the International Rafting Federation.
If you want to create a new series of unforgettable memories with your friends or relatives, keep reading in rapture. In today's curious reading we will try to present you the basics of the activity and why it is worth signing up for the next tour now.
What is rafting?
The purpose of rafting is to navigate down the river rapids using an inflatable boat that is difficult to turn over. With the help and diligence of your team, the ultimate goal is to finish first at the end of the track, ahead of all other teams.
In general, the sport falls into the "extreme" ranking, as it is extremely challenging and risky at times. The popular activity is practiced in most countries around the world, and absolutely all events are held along natural rivers.
Depending on the type of route, you will encounter two types of games, which are known by the following names:
In slalom, the route is even more challenging because it consists of turns. The driver must be quite precise in order to be able to guide his team properly without creating dangerous situations. In the sprint, everyone must choose the best route and finish first.
It is also important to mention that there are two institutions worldwide. The International Federation is responsible for promoting rafting as well as holding competitions, while the World Championships are intended for professionals at a high athletic level.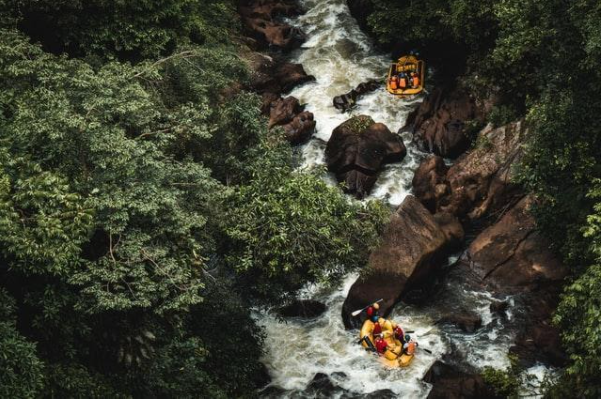 Can it be practiced by inexperienced people?
Definitely rafting is not the leisure activity you do every weekend. Therefore, even if you are inexperienced, you can join the adventure again. The only skill you will need is to be able to swim.
The fun mainly depends on the seasonal water occupation, which is completely logical. The real beginning begins with the onset of spring, when the riverbeds are filled to the maximum. So from March to October, the routes are prepared and waiting for the next daredevils.
However, it is advisable for beginners to join only in the summer and always connect with professional guides. Each river has its own suitable waters, which in no way should be underestimated.
During the summer season rafting tourism reaches its peak. It starts in May and continues until the end of August. Of course, each season has pros and cons, but if you are not a big fan of the cold, then June and August will undoubtedly be the perfect time for you.
What equipment do we need?
Often people have many questions about what they may need to prepare. In most cases, depending on the tour you will join, they will already have the necessary equipment. In case you always want to be prepared in advance, follow our instructions.
Sunglasses are the first most important thing provided there is sun. The glare will reach you in a matter of seconds and will not only make navigation difficult, but can also cause damage. So be prepared with a pair of glasses on hand.
As we said above, warm weather is preferable, but sometimes you may not have such an opportunity and be at the epicenter on colder days. The ideal helper will undoubtedly be the wetsuit, which will protect your underwear from getting wet. In addition to it, do not forget the appropriate shoes.
We advise you to buy ones that are suitable for water use. This will deprive you of the opportunity to slip or be delayed by their soaked state in which they will definitely be most of the time.
Also, not a small percentage of lovers like to wear additional accessories, such as water bottles. Inflatable boats have a specially marked place where you can fasten your bottle. Hydration is important for your well-being, so do it often even while playing.
Keep in mind that safety is always a priority. That is why be sure to wear helmets and life jackets, as they can be life-saving. Separate purchases are not necessary, because they will be provided to you to make sure you are ready for everything.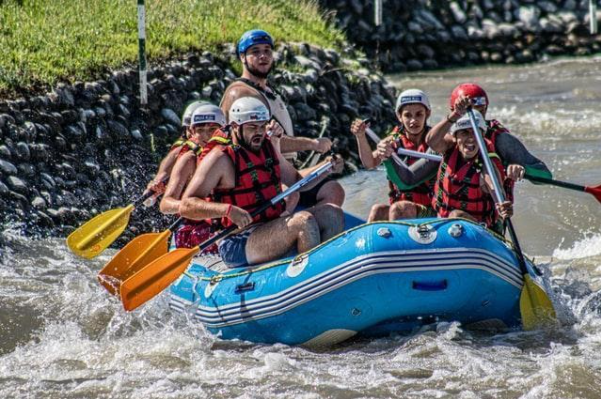 Is it dangerous?
After all, there is no guarantee that an activity is one hundred percent safe, but compared to other types, rafting is considered completely safe. Statistically, there are more deaths and accidents while cycling and even while swimming.
However, it is advisable when following the agency you will join to follow all the prescribed guidelines. Before boarding the boat, listen carefully to the instructions. It will cover the things you can and cannot do, as well as how to react in certain circumstances.
Wearing a helmet and life jacket is essential to prevent falling or, in the worst case, drowning. With them, your adventure will be as favorable and safe as possible.
Although there are few known risks due to the difficulty of the waters, don't worry, as any outdoor adventure activity is. Remember that the river, regardless of its intensity, is always under the control of Mother Nature, not you, so show respect for her and always be ready.
Prices
We have imperceptibly reached the end and especially the moment that everyone is looking forward to. Before moving on to the essential part, however, it is worth mentioning a little more useful information. We hope that you are quite enthusiastic about rafting in Bulgaria, because the most beautiful destinations for it are in our country.
This happens all year round on the rivers Mesta and Struma, which happen to be in the area of the town of Bansko. If you are staying here and want to add a little adrenaline to your vacation, the chances of signing up for the next tour are high. Do not hesitate and book a place now.
With this unforgettable experience you will be able to enjoy both fun and a real dose of excitement. Your enjoyment will be memorable, as the nature around the rivers is beautiful. All this can be yours at an affordable  price.
Usually the package for one descent varies from 50 to 100 BGN per person. Individual descents are prohibited, and teams consist of a maximum of 8 people. The entire duration of the race lasts between 2-3 hours, so prepare in advance with a lot of energy so as not to betray your team.