Other activities
Children Camp
LuckyKids – language camp for children

LuckyKids is a 14-day kids summer camp with intensive English language courses.
It's carried out in June, July and August  at the famous  "Lucky Basko" Hotel, which is surrounded by three beautiful mountains – Pirin, Rila and Rhodopes.
Every year the Hotel is nominated in the top three,  out of the 72 hotels in Bansko.
The camp is suitable for children aged 5 to 14 year old ,with  beginner  and middle levels of English.
All kinds of camp activities and games are controlled by native English speaking teachers.
Children are separated into groups of ten, with one teacher and one animator responsible for each group.
The main goal of LuckyKids camp is to provide 14 wonderful days for your children, full of a variety of games and daily mountain activities. As well as,  English language lessons taught by professionals, based on a specially designed programme to fit the indivdual language needs of your child.

In the morning children have "Circle Time", (where they taught a virtue), after that – lunch at the hotel or a picnic in the mountain.
In the afternoon the children explore the beautiful mountains , where we organise different entertaining activities such as: paintball, biking, horse riding, excursions to Baikusheva Mura,  Lake  "Okoto", visit to the park "The Dancing Bears", at Rila or Rojen monastery, in the church in Dobursko village, where  the incredible icon of Jesus Christ is sitting in a "spaceship", a visit to a trout breeding pond and lots more!
In the evenings the children will be entertained with a variety of fun activities such as: a disco party organised by the animators, swimming lessons, pajama party, night treasure hunt with torches and much more.
We would like to assure you that all the safety measures are taken – the Hotel is designed with special requirements for Child Safety.
The children are under full control all the time: during swimming activities they are overseen by three people – a life guard, a teacher and an animator, during horse riding the children are accompanied and instructed by professional horse trainers and helmets are mandatory, other safety tools and means are provided.
There is a 7-day course option, as well as camp participation with entertainment activities excluding English language course.
A separate group of animators will take care of children with non English language lessons in the mornings.
For more information visit:
Weight-Loss
Weight-Loss
The program LuckyFit will take place in the period
April 1st – November 11th , 2017
Download the brochure here.

Thanks to "LuckyFit" you would have the opportunity not only to lose the extra weight effectively (guaranteed weight loss over of 4%), but to sculpture your body to the desired shape. And the best part of our program is that you would be able to enjoy its results in a short term by attending courses of attractive advantageous costs, being held in an interval of 7 to 14 days. For the busiest amongst you, there is a program "Weekend" which is for 2 nights.
All LuckyFit programs are held within the luxury and comfortable atmosphere of the Five Star Lucky Bansko Aparthotel SPA & Relax, situated in the foot of three mountains – Rila, Pirin and Rhodopes – famous of their miraculous nature all over Bulgaria.
Amongst the lux of Lucky Bansko, you would meet a high level service, everything you may need for a dream SPA vacation. The proximity to the ski slopes keeps the interest of the winter sports' fans to prefer the hotel.
How LuckyFit program would tempt you
The program is a combination between healthy regimen of diet without starvation, suitable to your necessities and various relaxing and entertaining physical activities. Such are functional and combined gymnastics, yoga, morning Chinese gymnastics, intense weight training (thanks to the fully equipped and modern gym of Lucky Bansko), horse-riding hours, swimming with no limits as well as mountain walks on a daily basis.
And the pleasant surprises do not end here! The variety of SPA procedures is obligatory included in the program LuckyFit. They are not only perfectly combined to the healthy diet regimen, but also enable you to let your body and soul having the deserved rest. The SPA package comprises massages, sauna and steam bath.
Furthermore, we don't have to forget the relaxing amusements that Lucky Bansko offers – courses in folkloric and modern dances and excursions to cultural and natural sights of the region.
The healthy nutrition
Except the healthy food, since 2014 our program provide organism purgation using natural methods – daily drinking of "life" water and zeolite or more the so called component of the program "Health with water".
If you are searching more effective and immediate outcomes, we also offer an option for a 30-hours supervised starvation included in your preferred LuckyFit program.
Something for everybody
Our four types of programs are scheduled according to the different necessities of the clients:
"LuckyFit Standard" and LuckyFit Plus" – with them you are losing weigh without painful starvation and hard diets.
"LuckyFit Anti-stress" – a program that remove the stress and has a favorable impact to the mentality, with normal nutrition (no diet). 
"LuckyFit Beauty" – combines anti-stress and weight loss effect of the programs LuckyFit with the innovative therapies for skin rejuvenation, refreshing and lifting. Reduces the cellulite and improve the measurements in the problem zones of the body. Makes the skin fresh and brighten.
Our programs are created by Prof. Bozhidar Popov, chairman of the Bulgarian scientific association of nutrition and diet.
Detailed information about the LuckyFit program can be found at the following link: https://luckyfit.eu
Ayurveda Clinic
The Аyurveda Clinic Lucky Bansko is situated in apart hotel Lucky Bansko.
Аyurveda Clinic Lucky Bansko is the first of its kind Indian Ayurvedic Centre in Bulgaria. It offers a treatment according to the Ayurveda system which purifies, rejuvenates and beautifies your body based on the methods Purvakarma and Panchakarma.
Аyurveda is an ancient science for health and well-being which has been practised for more than 5000 years.
Download the brochure here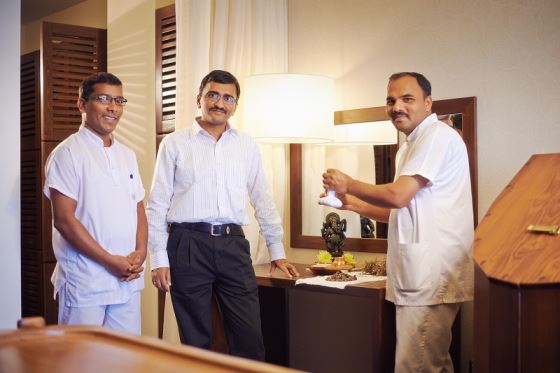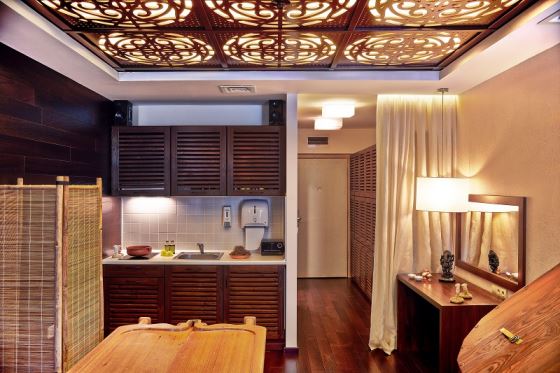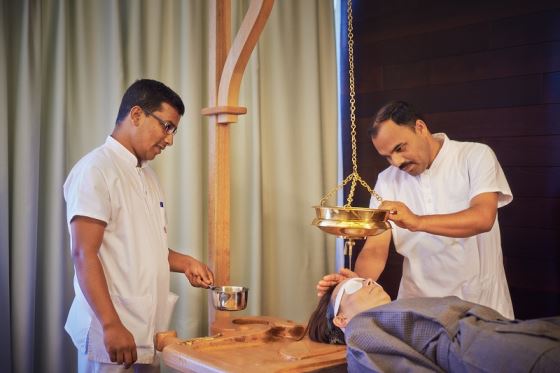 Purvakarma is the combination of external health procedures (includes rubbing oils, herbal sauna, hot intensive compresses, herbal and oil massage, pouring oils over specific body parts, thermal procedures and much more) which prepare the body for internal purification, bringing out the toxins, and which also beautify.
Panchakarmа is the method for internal purification of your body which removes toxins, radicals and heavy metals through a combination of therapies (purgative and laxative therapies).
The combination of the two methods is supplemented with individually selected Ayurveda nutrition schedule that takes your personal Dosha (body type) into consideration.
According to the Doctor here, the best results for your body and its appearance are achieved when there is a good combination of treatment methods of healing Аyurvedа along with detoxification procedures like Purvakarma and Panchakarma, Ayurvedic nutrition, medical gymnastic and relaxation.
The courses are held in 10,15, 20 or 25 day-periods in Аparthotel Lucky Bansko during spring (April and May) and autumn (October and November).
During this period you will be taken care of constantly and this will include medical examination and observation, 2 or 3 daily therapies with original therapeutic oils, Indian herbs and detoxification tea, bio food prepared according to the requirements of Аyurvedа (your personal body type/ Doshas – Vata, Pitta and Kapha will be taken into consideration), rest and relaxation, yoga, mountain hiking and entertainment.
Of course, in case you are already healthy, the focus will be oriented towards purification, rejuvenation and beautification.
What are the advantages of Аyurveda Clinic Lucky Bansko?
India comes to Bansko – you'll get a qualified and adequate purifying programme, without the necessity to travel to another continent;

Our licensed Indian doctor has 14 years of medical practise, taught by the doctor of the Indian Prime Minister, will take care of your needs.

The therapies will be handled by two Indian therapists, who own more than 12 years of medical experience in Аyurvedic procedures;

There will be simultaneous accommodation of no more than 6 people in the centre, so each individual client will get maximum attention and care;

All the oils, herbs and healing materials are imported from India, personally selected by our doctor;

You will receive qualified treatment, combined with full purification, rejuvenation, recovery, energizing and anti-stress effect in 5***** luxury.
What are the effects of Purvakarma and Panchakarma purification on your body?
You will purify your body and it will be free of toxins, pesticides and heavy metals;

Your body will be balanced at an appropriate energy level, your spirit will be released, and your mind cleared;

You will be more energetic, relaxed and happy;

Your immunity system will be strengthened;

You will look younger and more beautiful;

During the course our Indian doctor will advise you on how to take care of yourself in order to be healthier.
What kinds of diseases can be treated by Ayurveda?
Disorders of the Digestive and Excretory systems;

Cardiac disorders and high blood pressure;

Respiratory illness;

Joint diseases;

Dermal illnesses;

Women's fertility issues and sterility;

Mental problems and stress;

Motive disorders.
Our Doctor recommends a 15 day treatment course in the case of lighter disorder and a 25 day treatment course in the case of a more serious disorder, in order to achieve the necessary therapeutic results.
What is included in the programme?
10,15,20 and 25 days accommodation at 5-star apart hotel Lucky Bansko;

Initial, current and final medical examinations – a qualified translator in English language will be provided;

The necessary Аyurvedic procedures and therapies prescribed for you by ayurvedic doctor;

Balarut and Navara rice, and healing oils for wet therapies, prescribed personally for you by our doctor;

Herbs for treatment (payment if extra needed as the treatment will continue a couple of months);

Intake of decoction of herbs, balancing the dosha during the day

3 Ayurvedic nutritious meals per day (mainly vegetarian bio food, milk products included);

Live (ionised) water;

Yoga sessions ( 5 days per week – morning and evening sessions);

Individual plan for a healthy way of living, nutrition and body attitude and consciousness.
Transfer:
Upon reservation, as part of our service we can organise a transfer from and to apart hotel Lucky Bansko.
Reservation policies:
The guests can pay for their programmes in BGN (the price will be calculated according to the rates fixed by UBB) or in Euros.We accept payments by VISA or MasterCard.

Deposit – Every participant is required to make an initial deposit of 25% of the value of the chosen programme, no later than 3 days after the confirmation of the reservation. Our advice is to enroll in advance, as we can accommodate a maximum of 15 guests together during the same period.After the deposit is received your reservation is guaranteed.

Final part of the deposit – the rest of the amount due for the entire programme should be paid no later than 7 days before your arrival.
Annulment policy (Cancellation of reservations):
The deposits are refundable in their full amount no later than 15 days before the date of your arrival at apart hotel Lucky Bansko.

In case of cancellations 7 to 14 days before the date of arrival, the deposit of 25% is non-refundable.

In case of cancellations less than 7 days before the date of your arrival, a fee amounting to 50% of the full amount of the 7 days programme is non-refundable.

In case of early departure a fee equal of the price of two night's package will be charged.

In case of delay (for any reason) the full package fee is payable.

In the calculation of the deadlines, all calendar days (including weekends) will be used.
In order to enroll into the AYURVEDA CLINIC, please contact us via tel: +359 2 806 61 78; +359 879 111 222 or e-mail: info@ayurvedabansko.bg
Yoga
Yoga
4- and 5-day yoga courses with Prakash are organised in Lucky Bansko SPA & Relax apart hotel.
The yoga courses take place 4 times per year – in May, July, September and November. Yoga exercises are held personally by Prakash.
Тhe courses for 2017 will be organised in the period 15-19.11.2017
The meals are based on Ayurvedic nutrition on full board basis.
The 4-day course includes one relaxing massage.
The 5-day course includes two relaxing massages.
The daily mountain tours to the most beautiful places in Pirin, Rila and Rhodopes mountains, will help you to relax your body and mind, as well as to free yourself of the accumulated stress and recharge yourself with energy.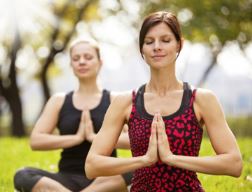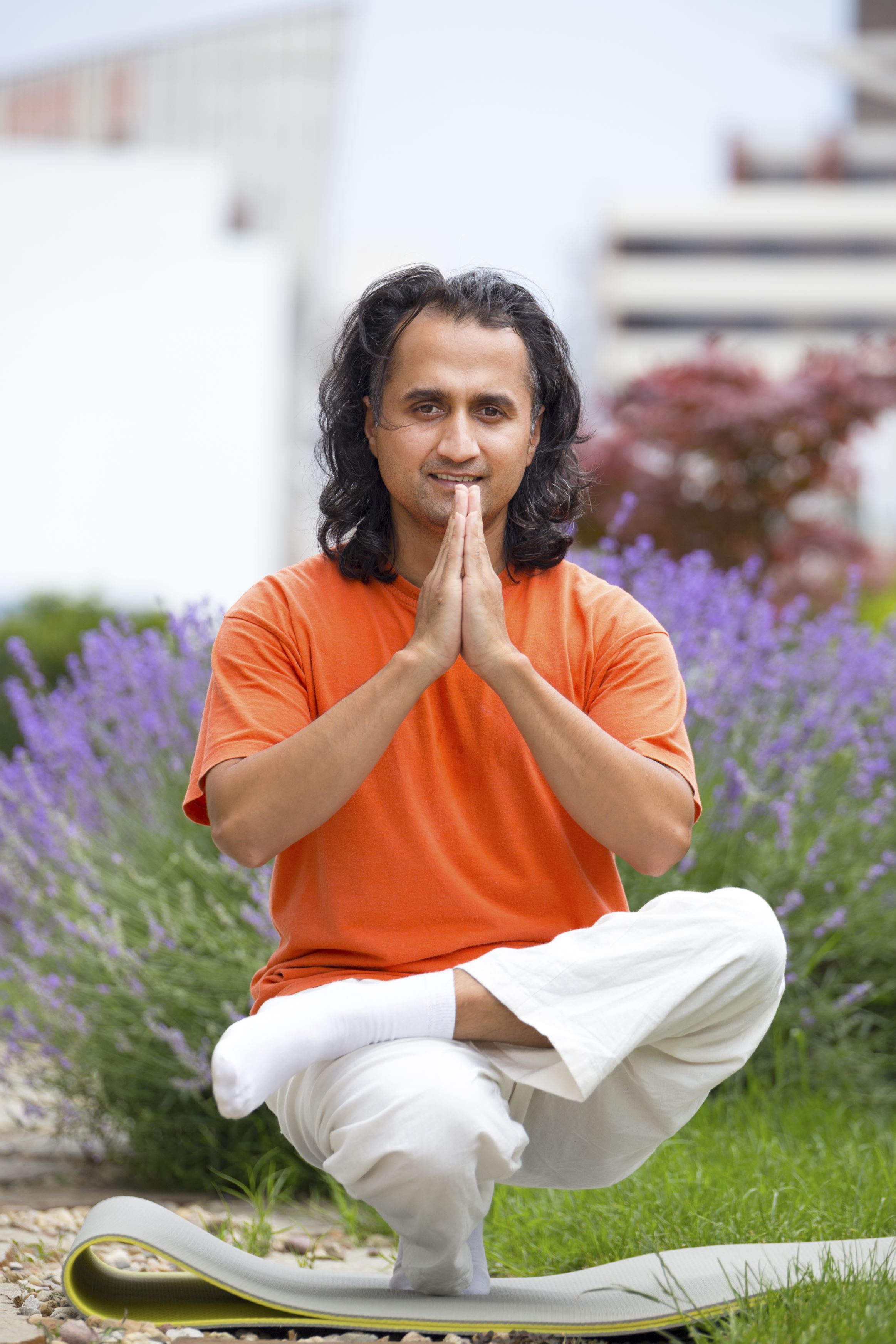 Rates:
The rates are per person on full board, accommodated in Single Studio Lux:
4-day course (3 nights) – 419 BGN;

5-day course (4 nights) – 556 BGN.
Discounts:
Second participant accommodated in Studio Lux together with other participant, gets 10% discount.
Transfer:
Lucky Bansko apart hotel organises a transfer from Sofia-Bansko and back for all participants in the programme.
Date of departure: The day of the beginning of the programme, 14:00. Departure is from the main entrance of stadium "Vasil Levski" by hotel bus.
Price for one-way transfer: 40 BGN per person. Price for 2-way transfer: 70 BGN per person.
The transfer is organised with a minimum of 5 enrolled guests.
PROGRAMME
4 and 5- day Yoga courses with Prakash
15-19.11.2017
Important: 5-day course starts on Wednesday, and 4-day course starts on Thursday – one day later. Both courses end on Sunday.
DAY ONE / WEDNESDAY

Check-in
14:00 – 17:30
Yoga
17:30 – 19:30
Dinner
19:30 – 21:00

DAY TWO / THURSDAY

Hot water with lemon
07:15 – 07:30
Yoga
07:30 – 09:30
Breakfast
09:30 – 10.00
Preparation for activities outside the hotel
10:00 – 10:30
Transportation to the mountain
10:30 – 11:00
Hiking
11:00 – 13:00
Return from the hiking
13:00 – 13:30
Lunch
13:30 – 14:30
Time for massage and SPA
15:00 – 17:30
Yoga
17:30 – 19:30
Dinner
19:30 – 21:00
Dances
21:00 – 22:00

DAY THREE / FRIDAY

Hot water with lemon
07:15 – 07:30
Yoga
07:30 – 09:30
Breakfast
09:30 – 10.00
Preparation for activities outside the hotel
10:00 – 10:30
Transportation to the mountain
10:30 – 11:00
Horseback riding or hiking (by choice of the participants)
11:00 – 13:00
Picnic in the mountain
13:00 – 13:30
Return from horseback riding or hiking
13:30 – 14:30
Time for massage and SPA
15:00 – 17:30
Yoga
17:30 – 19:30
Dinner
19:30 – 21:00
DAY FOUR / SATURDAY
Hot water with lemon
07:15 – 07:30
Yoga
07:30 – 09:30
Breakfast
09:30 – 10.00
Preparation for activities outside the hotel
10:00 – 10:30
Transportation to the mountain
10:30 – 11:00
Mountain hiking
11:00 – 13:00
Transportation from the mountain
13:00 – 13:30
Lunch
13:30 – 14:30
Time for massage and SPA
15:00– 17:30
Yoga
17:30 – 19:30
Dinner
19:30 – 21:00
Dances
21:00 – 22:00
DAY FIVE / SUNDAY
Hot water with lemon
07:45 – 08:00
Yoga
08:00 – 10:00
Breakfast
10:00 – 11.00
Leisure – SPA and Relax
11:00 – 12:30
Check-out
13:00
The "Yoga" course includes:
Opportunity for 4 or 5 day course.

Single and Double accommodation in Studio Lux.

Hiking and horseback riding in ""Perivolas" (by choice of the participants).

Dance lessons.

Use of indoor swimming bio pools for children and adults with 33˚С degrees water temperature, salt pool with salts from Dead sea(9:00 – 21:00);
Salt room (relax zone) lined with salt from the Himalayas. You can find more information on the follow link: https://luckybansko.com/spa-center-c142/

3 meals per day based on Ayurvedic nutrition. Daily intake – living water, vegetable juice and a glass of wine for dinner.

2 massages (50mins) for 5-day course and 1 relaxing massage (50mins) for 4-day course.
Massages carried out according to a schedule in the second, third or fourth day. Please book your preferred time at SPA reception.
Free of charge wireless internet and two fully equipped computer zones.

The rates do not involve a resort tax and tourist insurance – 1.50 BGN for each person, a day, /mandatory, paid on spot/;
Yoga means balance: Concentration, unification of all your strengths – spiritual and physical.
The exercises are not the most important thing. The most important is plasticity – not physical, but spiritual one.
Yoga – this is finding of the balance in our daily lives. Balance and harmony engendered by our deeds for ourselves and for the world around us, by the things we find in the morning, when we open our eyes.
The quality of life is not connected to material objects. No matter how much you acquire and consume. The most important thing is to be able to enjoy your life. To be happy during the time you are achieving your goal.
Yoga is the perfection that comes when we go toward it by our own experiences.
If we learn to behave freely and openly, we will be able to understand and experience ourselves!
The freedom is within us and we are able to find it. It is enough to desire it.
This is yoga – no mystery and secrets.
Find your freedom and the joy of life with Prakash – one Indian yoga instructor in Bulgaria.
Terms of reservation:
Reservation is guaranteed with the prepayment of 50% / for online reservation is required prepayment of 100% of the total amount for the reservation payable at least 30 days before the date of the course. Advance payment will not be refundable in case of cancellation or modification of reservation!
Aqua complex Leonardo with outdoor pools
The open-air aqua complex Leonardo with outdoor pools is for kids and grown-ups
If you wish to get some seaside tan, you don't have to go to the sea.
Aparthotel Lucky Bansko SPA & Relax offers the neat aqua complex Leonardo with two outdoor pools in close proximity to the main building of the hotel. There is a remarkable Italian restaurant in the complex which is a real challenge for the admirers of Italian cuisine and perfect services.
The entire complex is decorated in a Mediterranean style, in light shades in combination with wood and beautiful greenery all around the place. You can gather sun tan while on a comfy lounge made of teak wood or at luxurious pavilions suitable for couples. In addition to the lounges and the pavilions there are also umbrellas and tables.
There are two pools – for kids and for adults, water is warmed up and maintained at a stationary temperature of 29 °C. At regular intervals mineral water from the natural mineral springs in the village of Banya are added to the water in the pools.
The swimming pools have a professional musical sound system and you can listen to music even under water.
The small pool is suitable for children up to 6-years-old because it's 0.57 m deep and has a water slide and a water mushroom with water effects. The swimming pool for adults has a varying dept between 1.45 and 1.60 m.
Licensed lifeguards take care of the safety of the guests in the pools.
Each guest of the aqua complex receives a package of services: a lounge or a pavilion for two, an umbrella, a towel and a bottle of water all for the symbolic entrance fee of 12 leva. If you paid this fee, it allows you to use the service throughout the whole working day even if you leave the aqua complex for a few hours. It is enough to warn the lifeguard that you'd like to reserve your lounge for the entire day.
While enjoying sunbathing, you can order refreshing cocktails, aromatic, delicious and freshly prepared meals, a glass of mature wine or a pizza that can be served at the lounge.
The aqua complex is open from Monday to Friday from 10 a.m. to 8 p.m. from mid June to mid September.
Take advantage of a 50% discount offered to the guests during week days after 4 p.m.
Escape rooms
We offer two escape rooms to spend unforgettable 60 minutes for your entertainment. The goal is to manage to leave the locked room using your logical thinking to solve different puzzles.
Note: Escape rooms only work from January to March.
Escape rooms are the new exclusive market offer for children and adults to test their acuity and spirit!
Come to Lucky Bansko SPA & Relax Aparthotel to have unlimited fun in the escape rooms created for the hotel's visitors.
External visitors are highly interested in the rooms in their search for tempting recreational activities for themselves and their children.
We have two rooms:
Egyptian room – for children over 6 years and adults; and
Hacker's room – for elder children, aged 8 and more
You need to think fast and acutely from the very moment you enter the room in order to find the keys to the puzzles that expect you. You have to complete them in only 60 minutes.
What is interesting about escape rooms is that they have to be visited by minimum 2 and maximum 6 players.
This recreational activity teaches team work, makes you feel part of a team and you need to collaborate in order to win.
While you are wandering around the escape room, a professional team is watching your game and gives you hints in case you need help at a certain moment.
You can see the hints on special screens in the rooms in Bulgarian or English depending on the nationality of the players.
If you prefer so, you can have an animator with you in the room during the game with whom to share the adventure and exit the room as fast as possible and break the record!
After finishing the game bonus photos are taken of the players and sent to the provided email.
Tip: Form a team of 6 players since the 6th player plays for free.
More info on prices and terms and conditions of the room on the website:
Be curious and brave and we'll take care of the rest!