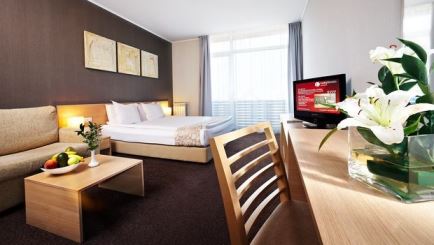 It is applicable also for the family vacation with kids where the hotel provides babysitters for children from 3 up to 6 years old, chairs, bottles, jars, food, diapers, etc.
The comfort, facilities and amenities at this luxury hotel in Bansko are significant part of your dream ski vacation in Bansko. Of course it's not necessary to be a professional skier to enjoy the Bansko and aparthotel Lucky Bansko SPA & Relax and to take full advantage of the ski season but we highly recommend it. On one hand Bansko is a remarkable Bulgarian city with impressive architecture and rich culture. On the other hand Lucky Bansko is your best choice if you are looking for a nice cozy place to stay with your family or colleagues or friends.
Furthermore the hotel is especially build for children – highly safe and secure and also supplied with many attractions and activities for kids. Another great aspect of visiting Lucky Bansko is the opportunity to enjoy the Pirin mountain in the region. Of course if you are keen on skiing there are plenty of activities that you can enjoy on your ski vacation– we supply you everything you need – equipment, professional trainings by personal instructors, free shuttle lifts, VIP and standard ski passes and many more. There are different slopes for beginners, "made progress" and advanced.
In any case the release of adrenaline and the pleasant experiences are guaranteed.
It is possible you have already heard that Bansko is one of the most famous winter ski resort in Eastern Europe. One of the reasons is the high quality of the slopes which was also recognized by international Ski Federation (according to which 90% of the slopes are applicable to professional competitions) and also "Financial Times" awarded Bansko for the best ski resort in Eastern Europe.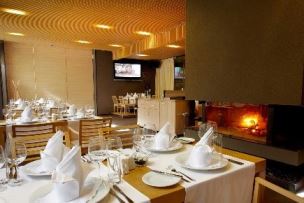 Here are some details about aparthotel Lucky Bansko SPA & Relax that you need to know – you have got large amount of luxury studios and apartments to choose from – 115 – each of them are spacious and stylishly furnished by all international standards for five-star hotel. Whatever you choose you will a have a nice kitchen – equipped with coffee maker Lavazza, in ceramic hob, fridge, microwave, utensils. The same goes for the bathrooms – they are even with the phone system and SOS. Of course there is also a TV with free tv channels, free wifi etc.
Lucky Bansko Aparthotel SPA & Relax offers great culinary masterpieces in his restaurant Le Bistro, and real Italian cuisine at the Leonardo Bansko, which is part of the summer aqua complex of the hotel.
In addition there is a full building insulation, billiards in the lobby, computer room for children over five years old, fully equipped two computer areas for older children. There is another significant part- discounts, free services, free accommodation for minors, you can also check out the offers available.
Do not hesitate – winter vacation is coming, book a reservation in aparthotel Lucky Bansko SPA & Relax now!