Entertainment in Bansko region
For your leisure time
Lucky Bansko SPA & Relax apart hotel provides interesting and varied possibilities for your leisure time. Learn more in advance about the entertainment that is offered by the best hotels in Bansko, and about our packages.
We are sure that every guest will find something suitable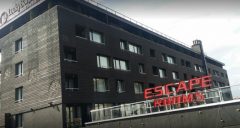 Lucky Bansko SPA & Relax fascinates its guests with perfect service and comfortable atmosphere, as well as with a number of fun that you can enjoy during your stay. For example, one of the biggest attractions of the hotel are the two escape rooms – "Egypt" and "Hacker", available during the winter season between January and March. Also called puzzles rooms or puzzle rooms, they capture our desire for social adventures as they stimulate the intellect and raise adrenaline. It is no coincidence that they are preferred as an attractive choice of entertainment in Bansko by various companies wishing to organize their team building there.
You can train your shots on the golf course or to sign up for golf lessons.
There are so many cultural attractions around Bansko that anyone who loves walks and history will remain fascinated.
We assume that no one will refuse tasting of wonderful wines in pleasant atmosphere. Therefore, we provide opportunities for wine tourism.
Organized groups for hiking, various sports, including extreme experiences – everything you wish for is available. Not surprisingly, our guests always come back again to spend their holiday in Lucky Bansko apart hotel.
Bansko is an attractive center for both Bulgarians and foreigners with their cultural, musical international festivals, which are organized all year round. Among them are the Jazz Festival, Opera Festival, Ballet Festival, Balkan Music Festival. An important place in the cultural program of Bansko is also the Kuker Festival, where you can enjoy an extraordinary attraction in the form of delicious ritual clothing. The Kuker Festival opens every year on January 1 and is the culmination of the Christmas and New Year celebrations in the city.
Another important tourist attraction in Bansko is the children's water slide in the summer. Which is a real attraction for both young and adults. It is also the longest water slide in the entire Balkan Peninsula.
We recommend that you view our packages for winter and summer vacations to ensure your maximum comfort and wonderful experiences bargains.
Of course, we have not forgotten our youngest guests – they also have a myriad of entertainment suitable for their ages. We want to ensure that your family will enjoy your holiday with us.
Make a reservation for one of the best hotels in Bansko now. See you there!