RF lifting and ultrasonic peeling are the new proposal from Lucky Bansko apart hotel for youth and beauty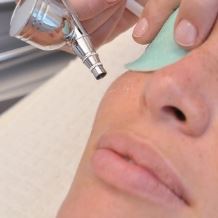 Aging is no longer a problem with the complex apparatus for beautify and rejuvenate of the skin ELITE RESOLUTION OXI.
This is a revolutionary system of esthetic cosmetology, which in addition to the benefits of deep activation of the synthesis of collagen and elastin, lifting and thickening of skin, also saturate the skin with oxygen, reload it with new energy and shine, quickly and efficiently.
The apparatus allows the infliction of sera and ampoules for smoothing wrinkles and for deep moisturizing of the skin with serum ampoule with highly active antioxidants content and anti-aging active agents.
The microprocessor apparatus combines ultrasound with a very high frequency to achieve excellent peeling effect and electrostimulation for refreshment of the facial muscles and drainage.
In the SPA center of apart hotel Lucky Bansko we offer the following therapies for instant lifting effect: moisturizing treatment, base treatment Anti-wrinkle, Anti-wrinkle eye contour treatment, program oxygen stimulant, ultrasonic face peeling.