If you're settling at the last minute of your summer break, you know what "running" is and it's not exactly what you're going to come up with. If you're accustomed to betting on comfort and security, you know that it's time to check out when and where to relax royal.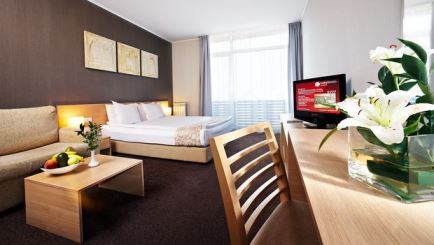 You should see the offers of Lucky Bansko Spa & Relax Hotel. They guarantee a luxurious break among five-star comfort, tranquility and plenty of entertainment for every taste. They are suitable for families and young children, with more children, and for whole families or friendly companies.
Moreover, the conditions of the hotel's luxury studios and apartments, and the services offered, allow for complete seclusion if one desires. In any case, you will not care for anything.
The studios and apartments are spacious, bright, fully soundproofed, with wonderful mountain views. Furnished and equipped according to the most modern international requirements in the hotel industry.
With them, you'll have everything you're used to and at one time you may wish for it: from wireless internet via TV, naturally with free movie channels, to a minibar and a safe.
The bathrooms are superluxurious and have French quality cosmetics, and in the kitchenettes there is everything needed – fridge, ceramic hob, microwave, coffee maker, etc. To the utensils and utensils.
Adding a room service, really, one can not leave the studio or the apartment, immerse in peace and coziness. While the entertainment offered at the hotel and outside the hotel is numerous and attractive, it tempts everyone to see and experience them.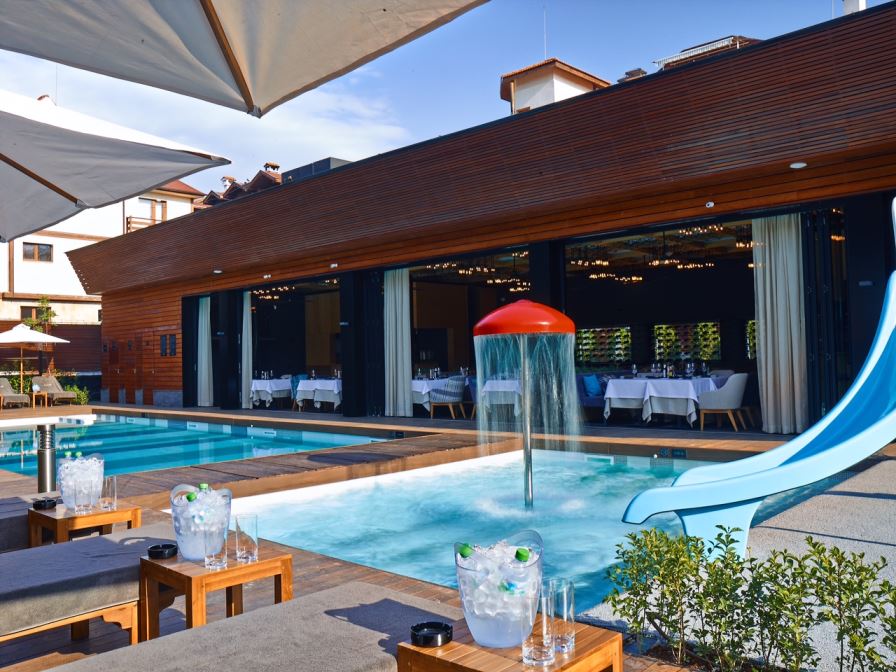 Especially attractive for children. For the younger (between 3 and 6 years) there is a children's playground with numerous toys and activities. For the larger there is a room with computer games and two computer zones, fully equipped and with unlimited internet access.
The hotel also has a children's playground with a slide, swings, climbing frames. Free walkers, strollers, teats, jars are provided for the smallest ones.
When we mentioned the free services for a family vacation at the Lucky Bansko Spa & Relax Hotel, we have to say that there is a possibility for free accommodation for children under 18 years of age.
From now on entertainment and pleasure begins for the whole family. You can relax in Leonardo Aqua Park to the hotel. The aqua complex has two outdoor pools, one for small children – up to 6 years old and a water slide. The other one is for the adults, the water in both of them is constantly heated, there is a savior.
At the pools you will be able to sit in comfortable lounges or luxury tents and order from the Italian restaurant Leonardo, which is an integral part of the aqua complex. Your choices will bring you cocktails, chilled wine, food. All this will be in the background of the pleasant music that professional sounding allows to be heard underwater.
And you can also choose unique beauty or healing therapies in the modern SPA center of Lucky Bansko apart hotel. It has procedures that are unique not only to Bulgaria but can also be found only in the 20th place in the world. Even if you feel Hollywood stars – here they have an introsutils apparatus for deep-skinning serum developed in nanotechnology. The effect is very fast, it is one of the most preferred therapies in Hollywood.
There are many things to say about the hotel, but we also have to mention the entertainment outside the hotel that is organized – various sports, including extreme, hunting, fishing, mountain tourism, cultural, wine tourism…
Indeed, the entertainment is numerous and for every taste. Just have a look at the offers of Lucky Bansko Spa & Relax 5 stars and choose – The Royal Holiday!