2020 is coming to an end and you can't wait to say goodbye to it and welcome the New Year 2021 properly. On New Year's Eve you want to shake off all the negative emotions and moments, to forget at least a little about Kovid – 19 and to have real fun in a quiet and beautiful place in the mountains.

And why not celebrate the New Year's Eve 2021 in Lucky Bansko Aparthotel?
The five-star hotel is located in our most popular ski resort Bansko and is among the ten TOP hotels in Bulgaria. Located just 450 meters from the center of the resort town, Lucky Bansko can offer you everything you long for. Here you will find a relaxing holiday, impeccable service, an amazing SPA area, a well-maintained luxury hotel and great packages for the New Year holidays.
Your safety during your stay at the hotel is taken care of by qualified staff who clean and disinfect precisely both the rooms and all common areas of the hotel. Disinfectants are applied in many places, the recommended distance of 1.5 – 2 meters is strictly observed, and masks for employees and guests are mandatory.
What is the minimum stay for the holidays around the New Year?
If you want to be part of the celebrate the New Year's Eve 2021 in Lucky Bansko Hotel, now is the time to make your reservation. The New Year's offer of the five-star hotel is valid from December 27 to January 2, 2021.
The minimum number of nights on the special offer includes four + nights with a rich New Year's program at a price of 389 BGN per room. As an additional bonus, the price of the holiday package of 4 nights includes a 15% discount.
Of course, you can always stay longer to enjoy the New Year's Eve and the white slopes of Bansko. In this case, if you buy a package of 5 nights the discount calculated in the price is 18%. And if you stay for a package of 6 or more nights, the calculated discount is from 22 to 27%.
Regardless of the number of nights, if you travel with children up to 15.99 years, they are accommodated free of charge.
What does the New Year's offer of Lucky Bansko Hotel include?
Nights in a luxuriously furnished room
All rooms, studios and apartments in the hotel are equipped with everything you need for your comfortable vacation. They have comfortable bedrooms, a modern living room and a kitchenette equipped with a coffee machine, sink, hob and cupboards with utensils.
Rooms are equipped with flat-screen TVs, a stocked minibar and a direct dial telephone with the hotel reception. The bathrooms are spacious, comfortable and equipped with all necessary toiletries. During your stay you also receive free packets of coffee, tea, water and small chocolates as a compliment from the hotel.
Rich breakfast
A rich international breakfast, coffee, tea and natural juices await you every morning in one of La Bistro's stylish restaurants.
Free services included in the package price
The relaxation and SPA area has a hydromassage shower, ice room, two Finnish and one infrared sauna, jacuzzi, shock bath, aromatic steam bath, salt room and others. The spa area is completely free during your entire stay and you can enjoy all the SPA services it offers.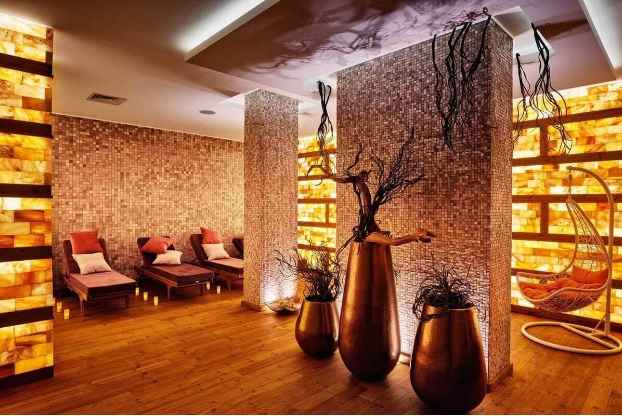 Lucky Bansko has indoor pools with a constant water temperature of 33 degrees and a pool with Dead Sea salts for complete relaxation, which you can visit whenever you want to relax completely.
The well-equipped gym is free for those of you who want to maintain their figure even during the holidays.
If you have small children, they will be fascinated by great computer rooms where they can play for hours on their favorite games.
Children's playground and hall
Especially for the youngest guests of the hotel (from 3 to 6 years) there is a children's playground, where animators and babysitters take care of the little ones. The staff at the children's playground are highly qualified and will take care of entertaining the little ones while you relax in the jacuzzi or steam bath of the SPA, work out in the gym or swim in the warm indoor pools.
If you have older children who no longer need a babysitter, there is a special room prepared for them, where they can have fun for hours while you relax or have a drink with friends in the lobby bar.
Ski wardrobe and transport to and from the ski slopes
If you are a skier or snowboarder, the hotel has two ski wardrobes from which you can rent ski equipment or store your own. The transport directly to the slopes is also completely free and provided by Lucky Bansko.
Evening transport to and from the center of Bansko
If you decide to take a walk, attend one of the many outdoor Christmas and New Year events or just want to try the famous Bansko cuisine, the hotel also offers a transport service to and from the city center.
High speed internet in all areas of the aparthotel
Whenever you want to browse something on the Internet, play a game or reply to a work email, you have completely free internet no matter which part of the aparthotel you are in.
What awaits you on New Year's Eve?
The stylish restaurants of Lucky Bansko will work for you on New Year's Eve:
"La Bistro"

"Atlantic" Banquet Hall

Italian restaurant "Leonardo"
The New Year's menu, which will surprise you, is not only delicious, but also very diverse.
The price of 122 euros per guest includes rich and varied salads, appetizers of seafood temptations, main dish which is a selection of cheeses and dry appetizers, a mouth-watering dessert and of course a New Year's banitsa with good luck.
The price also includes alcohol of your choice, ½ a bottle of wine, water, soft drinks and a glass of high class champagne.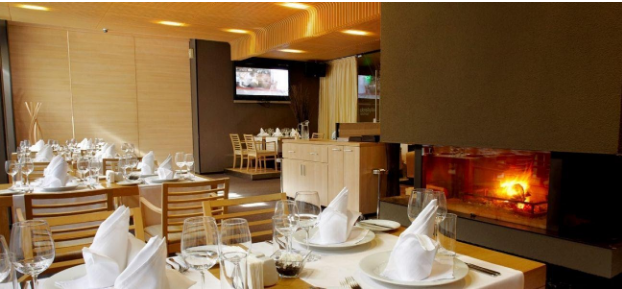 As soon as you settle down comfortably, a special New Year's program will start at 20.00, which will make you forget all your worries.
The great "Banski fukli" will take care of your good mood, which with their songs and dances will make your adrenaline jump to the heavens and your legs will dance by themselves. You will also enjoy the amazing dancers from the Estreya formation, who will amaze you with ethereal dances and heart-warming rhythms.
And while you're getting tired of dancing, Mag Zane will enchant you with his magic so that you forget everything around you. After the dances, surprises and prizes for the children on the dance floor, you will be invited not by anyone, but by the extremely talented charmer Simona Zagorova. The young singer will charge you with a very good mood and pleasant emotions and you will not think long before you "spin" on the dance floor with your loved ones.
You will say goodbye to the old one and you will welcome the New 2021 together with the exclusive and loved by all generations Miro, who with his hit performances will make you dance to exhaustion on the dance floor. The celebration will last until the morning, when your festive mood will be taken care of by some of the best DJs in Bansko, who will satisfy your every musical desire.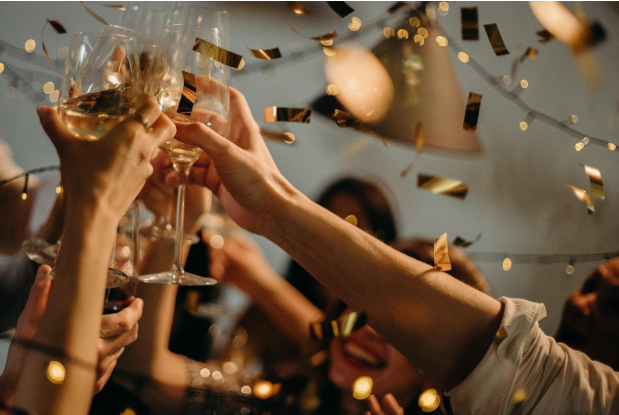 Do you want to say goodbye to 2020 and welcome the New 2021 in a beautiful and peaceful place where you will feel cozy and comfortable? Do you dream at least for a while to forget about worries, pandemic and all the unpleasant moments you experienced in 2020?
Do you want to celebrate the New Year in pleasant company, in a luxurious atmosphere, with delicious food, very good emotions and to have fun from the heart until the morning?
Celebrate the New Year's Eve 2021 in the cozy and stylish atmosphere of Lucky Bansko Hotel – one of the ten TOP hotels in Bulgaria.