You plan to vacation in Bansko, but you want the hotel you stay at to have a swimming pool. This is a very good solution, as you can combine a holiday on the mountain with the coolness by the pool.
Your decision is great, but in order to choose a nice hotel in Bansko with a pool, you need to take the time to find out if the pool meets all the criteria.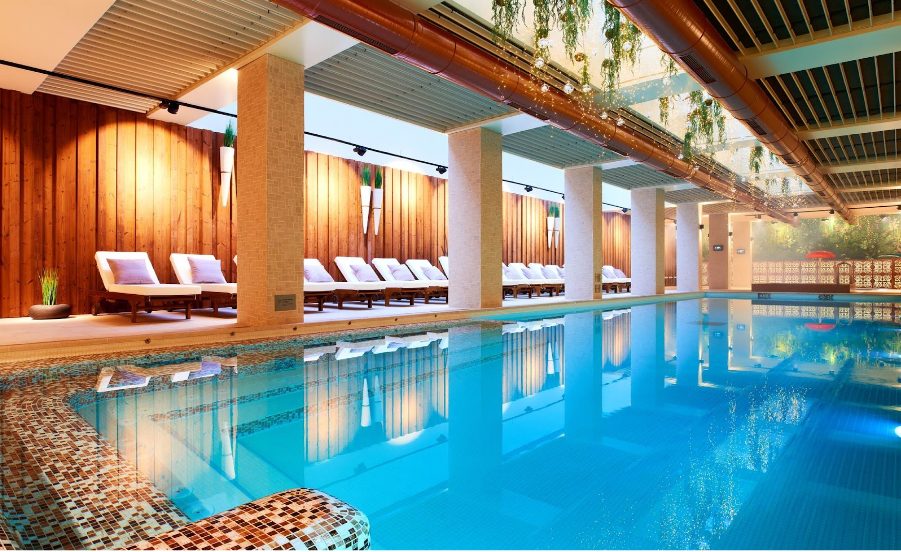 Image source: luckybansko.bg
How to choose a hotel with a pool in Bansko – 6 important details that you should take into account
In order to help you, we asked experts who indicated some of the important criteria that must be met by the hotel pool where you plan to book your holiday.
Size, depth and location of the pool
Before booking a hotel in Bansko with a pool, it is good to make sure that the size and depth of the pool meet your preferences.
For example, if you vacation with a large company and like to spend hours in the water, it is good that the hotel's pool is larger.
If you are planning a romantic weekend getaway, the better option is to have a smaller pool, as it creates a feeling of greater intimacy.
As for the depth, if you are only adults, the classic depth of the pool is a good choice. But if you have children with you, then the hotel in Bansko must have, in addition to a pool for adults, a pool for children with the appropriate depth for them.
The location of the pool in the hotel is also important. Some hotels have both an outdoor pool and an indoor pool, which, according to us and the experts, is the best option.
Type and method of water purification
When choosing among the many hotels with pools in Bansko, it is important to pay attention to their methods to clean the pool water.
The most common methods of cleaning pools are several.
Among which:
Chlorination

: Chlorination is one of the most widely used methods of disinfecting pool water because chlorine kills bacteria and viruses in the water quite effectively.




Many hotels in Bansko (and not only there) still use this technique to keep the water in their pools clean, since chlorination is

the cheapest possible disinfection method

.

Salt electrolysis:

This disinfection method converts pool salt into chlorine.

Ultraviolet (UV) disinfection:

This technology uses

UV rays

to destroy bacteria and any other microorganisms that are present in the water.

Combined technology:

Some of the luxury hotels in Bansko use different combinations of methods to achieve more efficient water cleaning and reduce the use of chemicals.
5-star Lucky Bansko, for example, purifies and disinfects the water in its pools using water ionization, sea salt electrolysis and ultraviolet light.
Hygienic standards
Before making your holiday booking, no matter if you are staying for one night or more, be sure to check the reputation of the hotel and make sure that it adheres to strict hygiene standards for pool maintenance.
Regular cleaning and sanitizing of the pool, as well as regular testing of the water for quality and the presence of bacteria and chemicals, are essential for your health.
Also, pay attention to whether the hotel in Bansko with a pool that you have stayed at offers clean towels and whether showers are located near the pool.
Lifeguard presence
Check if the hotel provides professional lifeguards at the pool. This is extremely important, especially if you are vacationing with small children or do not feel very confident in the water yourself.
The professional lifeguards are highly qualified and can take care of your safety (of you and your children), so remember to find out in advance whether the hotel where you plan to book your holidays in Bansko has trained staff.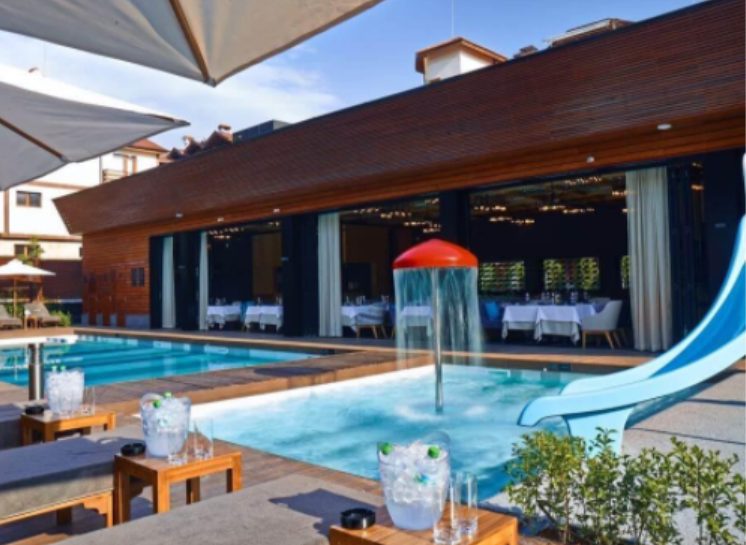 Image source: luckybansko.bg
Services included in the price of the stay
At first glance, it seems that the services included in the price of overnight stays are not of great importance, but in fact they are important and quite a bit.
We say this because, depending on the type of hotel with a pool and its policy, the price of the holiday may (or may not) include additional services such as the use of free sunbeds, umbrellas, towels, jacuzzis and much more.
Some hotels offer bed and breakfast, free spa use, etc., etc.
For example, aparthotel Lucky Bansko offers completely free use of an ultra-modern spa center, jacuzzi, steam bath, salt room and many more free services that you can take advantage of as hotel guests in its holiday package offers.
Additional extras from the hotel
It is a good idea to find out if your hotel in Bansko with an outdoor pool (or an indoor pool) offers other, additional extras that you can take advantage of for free or with pay.
Again, we give as an example the hotel complex Lucky Bansko, which tourists define as the best hotel in Bansko for spa holidays. And this definition is with reason, as the hotel offers several additional extras.
Among which:
Free use of indoor, indoor mineral pool;

Using a pool of Dead Sea salts;

Free organized mountain hikes with a guide;

Organization of picnics, horse riding, paintball for hotel guests;

Free use of children's corner, game rooms and children's club for the little ones;

Free accommodation for children up to 15 years old and many other extras.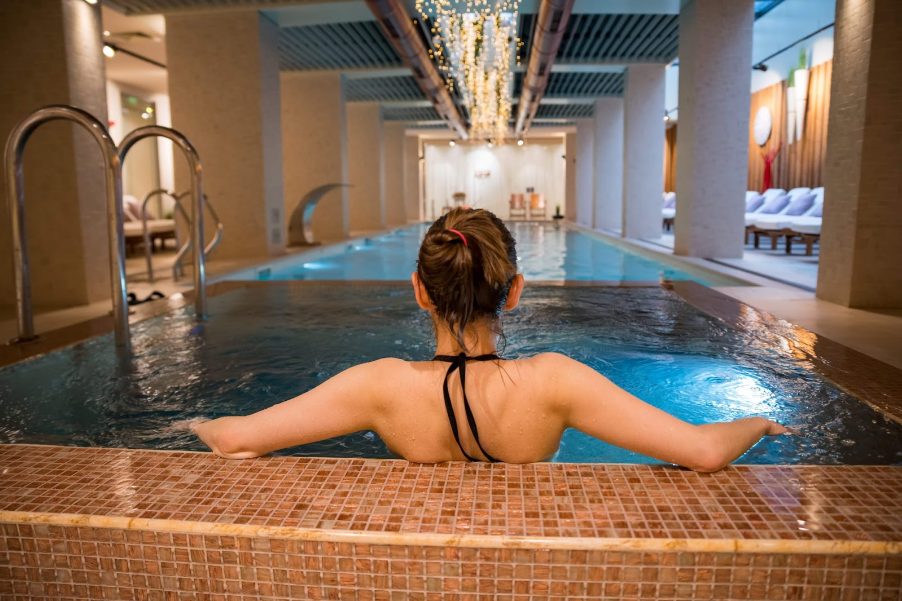 Image source: luckybansko.bg
Trust in the quality and safety at Aparthotel Lucky Bansko 
In Bansko, you can find many hotels with pools, and which one you choose depends on your personal preferences. But if you want to spend a truly peaceful and completely safe spa holiday, we recommend staying at Aparthotel Lucky Bansko.
As mentioned above, the hotel can offer you both perfect service and many additional extras and free services.
The hotel has two bio pools (for adults and children), which are disinfected using innovative technologies and have high water quality.
In addition to the two indoor pools, the hotel also has a unique salt pool with Dead Sea salts, in which you can relax for complete spa relaxation.
And while you and your children are having fun in the water, your safety will be ensured by professional lifeguards who will keep an eye on you and respond at the first indication of a possible problem.